How to Effectively Approach SAP to Azure Migration and Ensure Business Continuity
Originally published: August 06, 2020
Updated: October 20, 2023
7 min. read
Business Applications
Running SAP on Azure promotes major cost savings, enables unprecedented agility, and drives real-time transformations with the enterprise core. For most businesses, it's no longer the question of whether SAP to Azure migration is happening but more about how to orchestrate it with the least disruption possible.
How to Effectively Approach SAP Migration to Microsoft Azure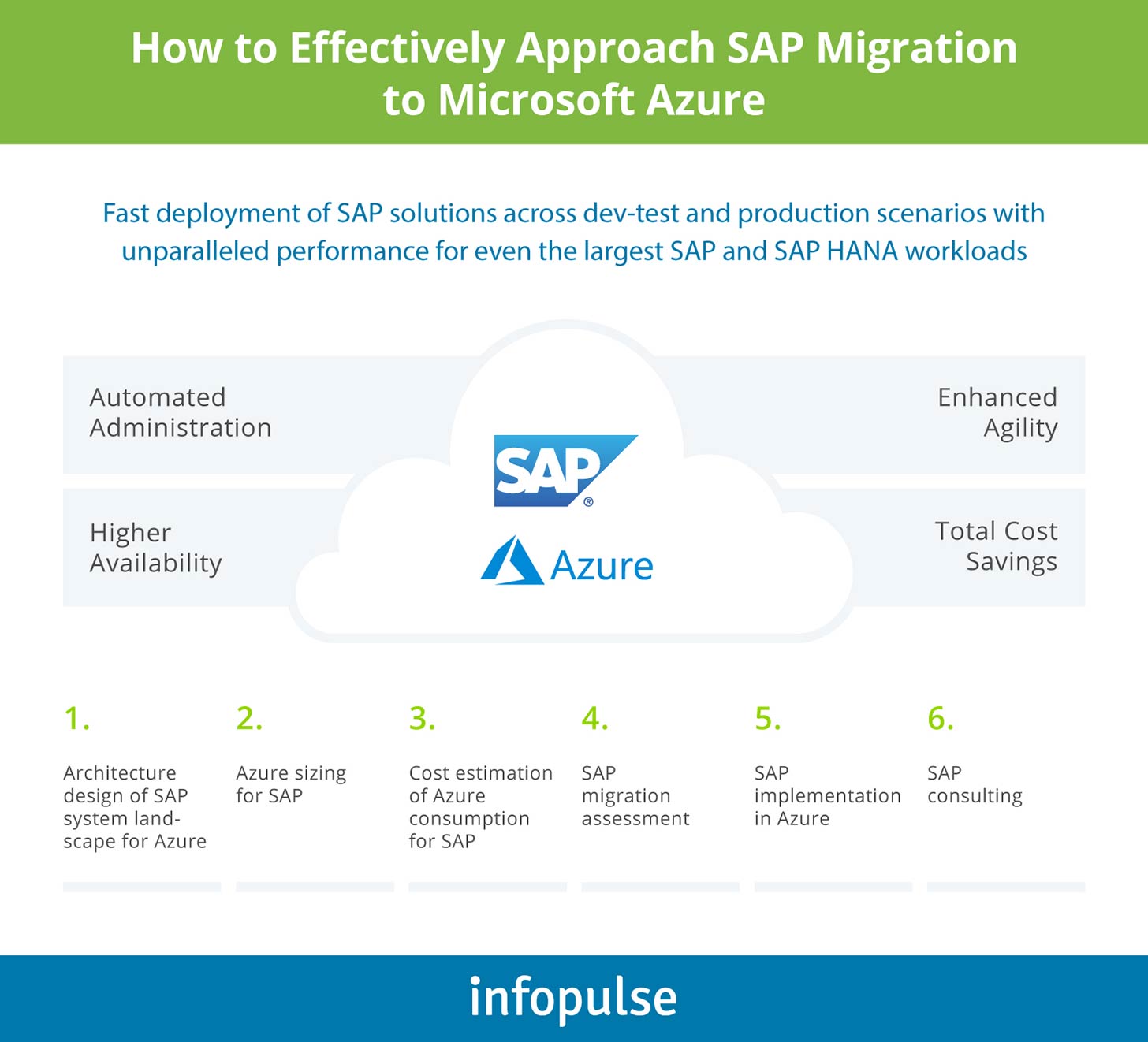 Start with an Azure Migration Readiness Assessment
SAP to Azure migration without a detailed roadmap is like driving a new route without a GPS — you will eventually get where you would like to be. However, your journey may be cumbersome, and you may miss several critical checkpoints on your way there.
That is why we always recommend planning ahead and conducting Azure readiness migration assessment first. After all, moving a complex product like SAP can be hard to get right and expensive to get wrong.
What a basic readiness assessment should cover:
Investigation and formalization of the new SAP on Azure use cases and integration opportunities.
In-depth analysis of your current SAP architecture and preparation of the new to-be state, which include:

Storage provisioning, allocation, and performance.
Network bandwidth and hybrid connection requirements definition.
Selection of appropriate OS, SAP apps and database (DB) version.
Formalization of the new data backup and disaster recovery policies.
A high-level overview of your monitoring requirements.

Analysis of the different methodologies for SAP migration to Azure cloud for databases:
Further analysis of different cloud migration strategies for SAP applications:
The final definition of the migration scenarios and new system architecture development.
Cost estimation of Azure consumption and TCO of your deployment.
The initial readiness assessment requires in-depth knowledge of both Azure and SAP ecosystems, as well as the technical aspects of moving large databases.
An official SAP partner, Infopulse has extensive experience with SAP products and offers a 1-day migration readiness assessment workshop via Azure Marketplace.
Plan a Proof of Concept Cloud Migration to Identify the Business Value of Azure Adoption
Depending on where you are on your cloud journey, you may have already started deploying some of your workloads to Azure. Considering that SAP is one of the most significant and most critical workloads, it's best to start with a PoC (proof of concept) migration before moving the entire system to Azure. Doing so will allow you to proactively address all the issues around the network and data security, scalability, and resource availability before attempting full-scale migration.
Our dedicated SAP Center of excellent has worked out the following approach to PoC migrations:
Preliminary analysis of the local SAP architecture to determine the best contenders for a pilot migration.
Selection of the new target systems/environments for executing test-migration and planning the transition. Here's how to get SAP instance on Microsoft Azure for different types of applications: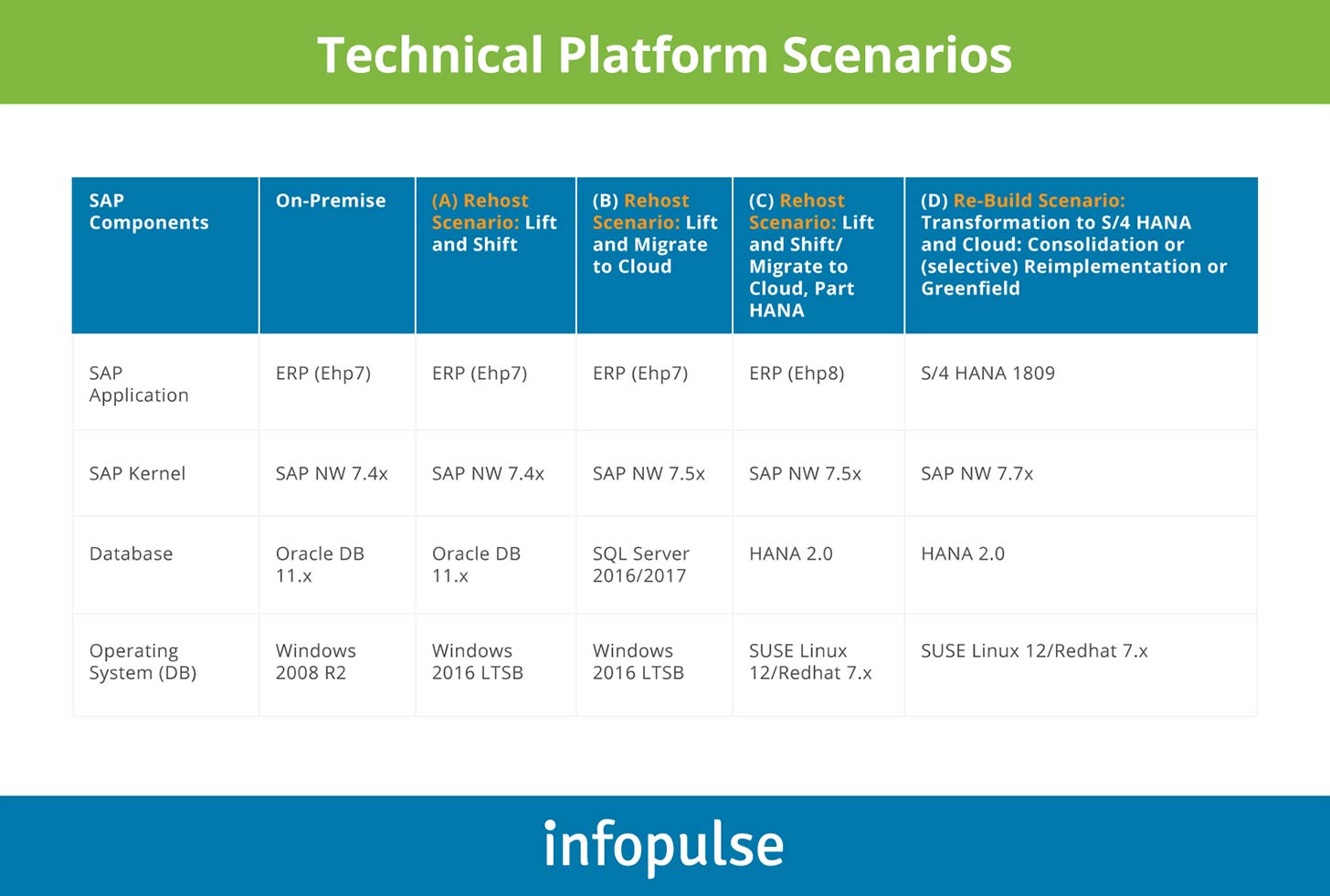 Azure right sizing for SAP: determine the amount of the resources required to run an SAP application/instance and estimate cost consumption. Typically, successful SAP migrations can reduce the storage costs by 60% and generate 40-75% in TCO savings. Treat these figures as ballpark rates to configure your infrastructure further.
Allocate the required Azure VMs, prepare the target cloud environment, and carry out the test migration according to your roadmap.
Full-Scale SAP Migration to Azure: a Comprehensive Approach
Now we'll take a look at a more comprehensive migration scenario. Let's assume that you plan to execute complete data migration from SAP BW to Azure Cloud.
SAP Business Warehouse (BW) is a highly critical system for most businesses, often designated for storing sensitive data. To ensure complete security and business continuity, we suggest approaching the matter in the following way:
Assess your current SAP environment and architecture. Your goal at this point is to understand the different layers of the new cloud solution and right-size each piece of the architecture to the new cloud environment.
Conduct an IT infrastructure readiness assessment.
Data migration: This is the most critical step where you'll have to proactively track any data deviations between SAP BW data and source system data to avoid any inconsistencies.
Post-migration maintenance and support:
Finally, start experiencing the full scope of business benefits of agility, high performance, and innovations that your new SAP on Azure deployment has to offer! You can learn more about the exact gains from our case study, which highlights how we helped a large pharma company execute a successful migration from Oracle DB to cloud SAP HANA.
Common SAP to Azure Migration Questions Addressed
Why Move SAP to Azure in the First Place?
In short, because the benefits of doing so are hard to ignore:
Cost savings: at least 30% reduction in Azure provisioning and build for complex HANA environments.
Proven ROI: the average payback time on Azure investment is nine months.
Automated DR and lower security costs for running SAP.
Higher team productivity: up to 30% of workforce productivity.
Digital innovations: migrating SAP on Azure enables access to new competitive technologies.
You can learn more about the reasons to migrate from our previous blog post.
How to Install SAP on Azure?
Check which SAP workload scenarios are supported on Azure virtual machines.
Determine suitable Azure VMs for your scenario, along with the right OS release and SAP HANA release.
Decide whether you'd like to use a guest OS image with your license or build a custom system image for SAP HANA.
Strategize the optimal network configuration of the VM.
Apply the latest patches to the operating system once the VM has been configured, and then apply any necessary tunes for SAP HANA.
Choose the optimal Azure storage type for SAP HANA.
Ensure that you have correctly configured the Azure Write Accelerator.
Verify that you have Azure Accelerated Networking enabled on the VM(s) deployed.
Refer to the official guide for installing SAP Hana on Azure for more details.
How to Use Azure in SAP HANA?
We wish there was a short answer to this question, but there's none. There's a myriad of different SAP on Azure use cases and digital transformation initiatives your company could pursue.
You can review some of the most popular ways to supercharge your SAP applications with the cloud here.
On the other hand, you can contact one of our experienced SAP and Azure experts directly to receive personalized consultation on the best use cases and potential migration scenarios of your SAP infrastructure. Let's get in touch!