Article
When Is the Best Time to Invest in XR Technology?
Originally published: April 04, 2023
Updated: May 17, 2023
6 min. read
Innovations
Digital Transformation
Digital Experience
Yesterday. Joking, of course. The short answer is now. But, please, keep reading the article to explore our well-reasoned argument.
In 2030, on a regular business day at a construction site of a new skyscraper, robots are doing the "heavy lifting" while construction workers operate them from a glass office using advanced technology. At 4 PM, a construction team leader is invited to a virtual meeting via a hologram and uses a VR headset to attend the meeting and present any progress to virtual participants.
We are not too far away from such a scenario. However, to reap the rewards of investing in extended reality in the near future, leaders must take action now and make strategic investments in this cutting-edge technology. According to Accenture's research, 98% of executives believe that the constant advancements in technology have become more trustworthy in shaping their company's long-term strategy compared to economic, political, or social factors. Today, extended reality is seen as one of these future-proof investments.
XR is Already Penetrating Every Industry
Even though virtual reality has been with us since the 90s, it's only nowadays that the technology has finally achieved some maturity that is being translated in measurable outcomes for businesses. The proof is in the numbers: the VR market size was valued at 21.83$ billion in 2021 and is expected to grow at an annual growth rate of 15.0% from 2022 to 2030.
Extended reality (XR) technology which is an umbrella term for augmented reality (AR), virtual reality (VR), and mixed reality (MR), is an enabler of the digitally enhanced worlds. It is as far-reaching as it sounds. This is evidenced by the fact that the enterprise adoption of AR is continuing at a respectable pace of 66% CAGR through 2026, despite the dominance of consumer hype in the headlines. For instance, in the chart below you can see how the top deskless-worker industries such as agriculture (858 million workers) and retail (497 million workers) are set to benefit from the adoption of extended reality technology.
Top Deskless-Worker Industries to Benefit from Extended Reality Technology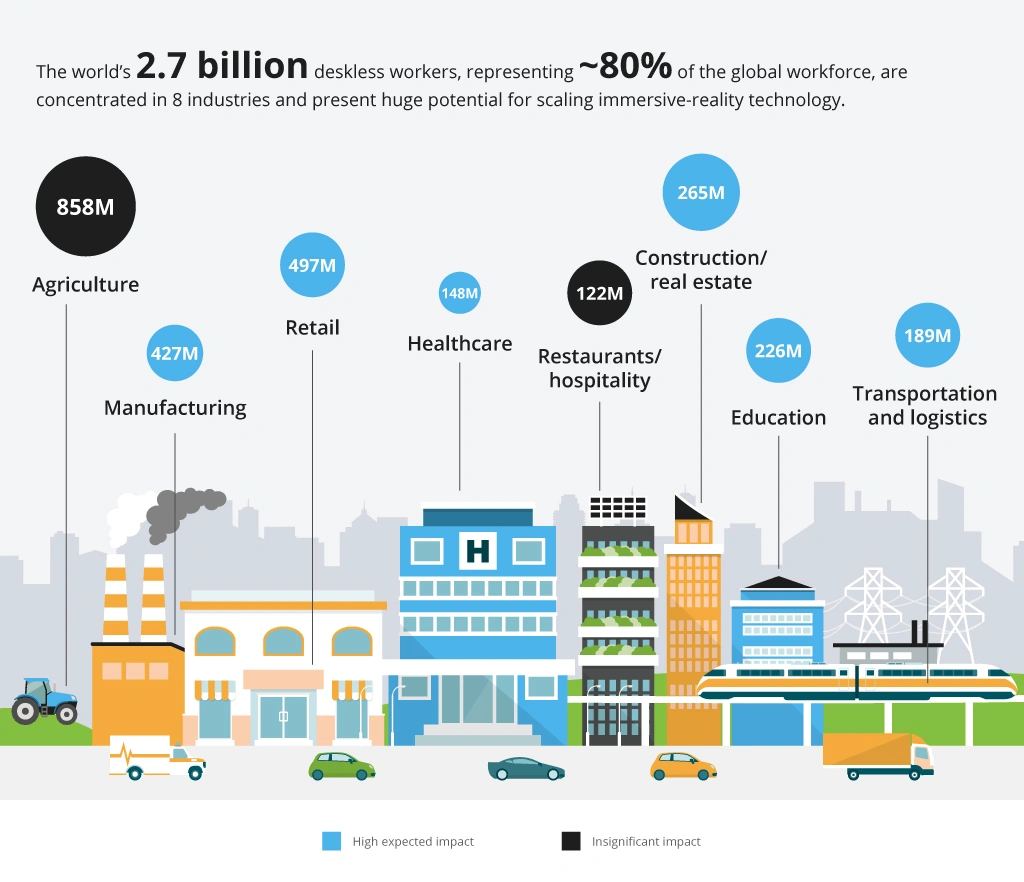 Unfortunately, an outdated idea that XR is only limited to the consumer markets of video games and retail experiences still persists among stakeholders. While in reality, a global and extensive wave of digital transformation pushes the development of smart objects designed and managed via digital twins across various industries.
To get a taste of the XR business potential, try to imagine the saved costs and enhanced efficiency of the Chinese news agency Xinhua that launched a virtual newsroom with an AI-powered anchor broadcasting the news 24/7. However, if such a use case doesn't seem so science-fiction anymore, consider a Metaverse phenomenon in full swing at the moment: full-scale virtual worlds actively sell real (virt-real, to be precise) estate property. In 2021, property prices out there rose 700%. As a digital piece of the platform, a plot of land can be used for building gaming experiences or accommodating various types of assets.
As you see, leveraging extended reality development presents a compelling opportunity to transform key business operations and drive innovation across the enterprise and beyond.
The Scope of Application When it Comes to Extended Reality in Business
How can those extreme examples of XR implementation be applied to my agricultural/manufacturing/retail/healthcare/education/construction business? A wonderful question to ask. Let us spell it out for you.
1. Scalability of training and education
Investing in XR technology now is the best time because of its scalability in training and education. Immersive virtual environments improve the standardization and retention of on-the-job training for non-desk professionals and facilitate complex learning in fields such as medicine and vehicle maintenance. The success of these implementations have been demonstrated in real-world case studies.
Some build immersive learning environments to help medical students learn complex interrelations between body systems. On the other hand, we created an interactive VR learning platform for a global vehicle manufacturer that allows their technicians to undergo engaging trainings in Oculus Quest devices. You can read the full case study here.
2. Product design and development
Investing in XR now is the best time as it has a proven reputation in gaming and entertainment and all this accumulated experience and expertise is being utilized in enterprise use cases. AR allows for rapid prototyping and testing, significantly reducing time-to-market and development costs. The pandemic accelerated the digital transformation of industries, as seen in the successful NFT auction by Christie's, which sold a purely virtual asset for a high price. An NFT (non-fungible token), a piece of digital art recorded in a blockchain, was sold for $69.3 million and paid for in cryptocurrency. Digital novelties of such a scale pave the way for virtual assets to become tangible products in the future.
XR-related Use Cases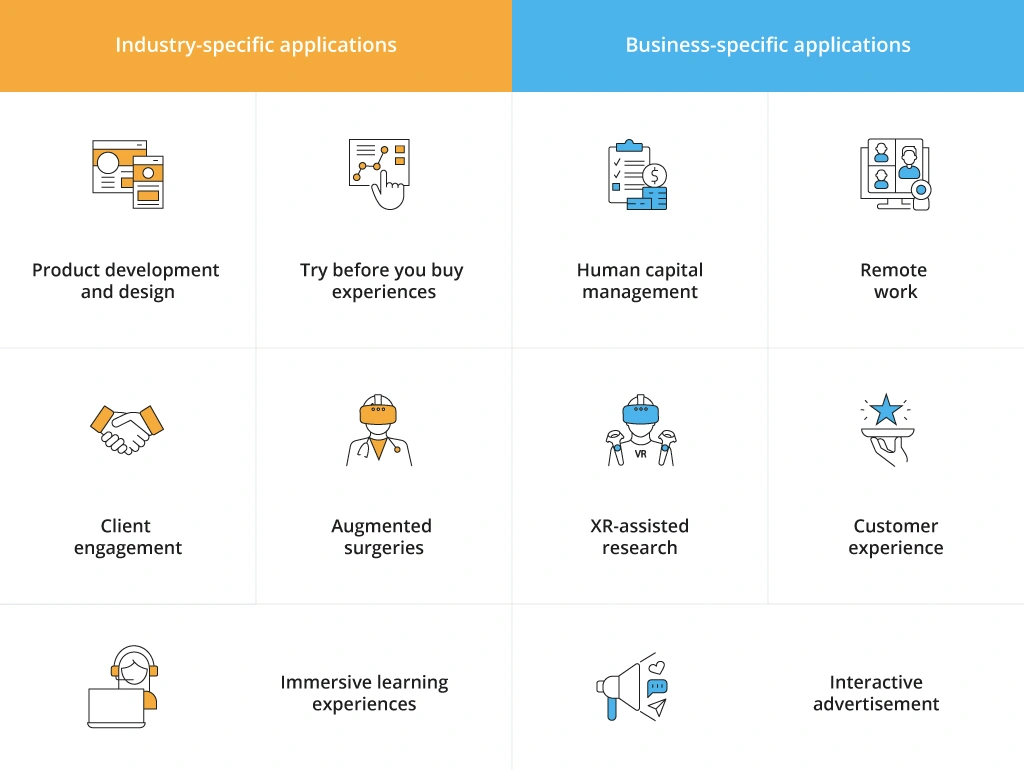 3. Enhanced situational awareness
Investing in extended reality technology now is the best time because it enhances situational awareness in critical industries such as aviation, disaster management, and manufacturing. Using VR and AR technologies such as smart glasses can increase the accuracy of situation assessment and decision-making in real-time.
The rising trend of AR-powered systems, particularly in the automotive industry, is improving navigation and passenger safety. At Infopulse, we developed an AR-powered infotainment system for improved vehicle navigation and assisted driving. Find out how smart camera functionality can be fully integrated with augmented guidance. By the way, the automotive industry is leading the way in investing in AR. Advanced navigation solutions and ADAS systems combined with computer vision and IoT strengthen passenger safety and transform cars into smart computers.
Case studies like these demonstrate the growing investment and adoption of XR in various industries, making it a valuable opportunity for investors.
4. Employee productivity in the remote mode
Investing in XR now is the best time as it provides solutions for desk employees during the sweeping remote work era. The shift to working from home has resulted in increased productivity levels, but remote workers often struggle with feelings of loneliness and lack of communication with colleagues.
Extended reality offers a solution through immersive virtual realities, promoting collaboration and team-building activities in a digital workplace. This has led to the growing trend of virtual enterprise worlds, making it a promising prospect for technology investment.
5. Skyrocketed customer engagement and another-level marketing
Investing in XR now is the best time as it offers innovative solutions for emotional brand-customer connections in an increasingly digital world. To turn brand ubiquity into Reality, it is imperative to transition towards omnichannel communication that spans multiple platforms and devices.
XR provides a solution by gamifying the customer experience and increasing engagement rates through AR applications. This allows customers to become active participants in the shopping experience, personalizing their journey and delivering immediate, tangible results. That's why, investing in XR technology now offers valuable opportunities thanks to the increasing focus on immersive and personalized experiences.
Virtual Final Thoughts
We hope that we have supplied you with enough evidence in our article to support our bold claim that the best time to invest in XR is now. VR and AR are gradually getting entrenched into emerging business models that blur the line between physical and virtual worlds. What is a potential benefit of applying extended reality solutions? In short, it's future-proofing your business for the global move into the digital where we are all heading right now.