Article
5 Steps to Embrace Digital Workplace
Originally published: August 10, 2021
Updated: July 10, 2023
7 min. read
Cloud & DevOps
Innovations
Business Applications
What does it take to bring different kinds of the workforce that has tasks in the office and the field? Businesses already have some answers to that as they move away from heavy legacy systems and numerous applications that no longer meet the demands of the modern digitized corporate world. Striving to increase the agility and productivity of an organization, the management seeks alignment between the first-line specialists and information workers.
Industry leaders gradually choose to adopt digital workplace trends. Airbus, for example, decided to bring Capgemini on board to help it with operational transformation. The aerospace trailblazer signed a 5-year deal with the tech consultants to redefine its collaboration approach, enhancing a number of working tools.
What is a digital workplace promising? Digital workplaces offer businesses the power to tackle new challenges even in the most turbulent market situations and economic climates. With more room for flexibility, agility, and process efficiency, digital workplaces can give organizations an edge that is not available with 'old-school' approaches to doing business.
Perhaps unsurprisingly, the market share projections are 90.52 billion USD by 2028: more and more organizations battle high operational costs, adopting cloud-based alternatives to traditional tools. Beyond that, Global Workplace Analytics suggests that more than a quarter of the staff will work from home on a regular basis by the end of the year. Thus, companies think of ways they can make it a long-term option and not just use it as a crisis management method.
So, what should you consider to smoothly transition and adopt a digital workplace?
1. Create Guidelines
Supporting associates while shifting to digital is essential when making such a leap. Only close to 40% of the workforce report that they do feel adequate support from senior management. What might seem like red tape for one associate, can be the key to success for another, appreciating standards and support.
While many businesses concentrate their efforts on a smooth customer experience, they forget that their workforce are the ones driving revenues and shaping those customer journeys.
When undertaking a digital and cultural revamp, a top priority of any organization should be equipping associates with the work plan they require to continue delighting customers. While there are many ways a business can approach a digital upgrade, it is viable to enhance the overall productivity and business continuity by offering users a cross-communication and collaboration roadmap much needed in times of transition.
2. Bring C-Suite on Board
Much like a brand has its own ambassadors, your digital workplace transformation shall have your senior executives at the forefront, presenting the initiative in a positive light. Leading by example, managers inspire and encourage the change spiral from the top further down.
When they motivate subordinates to embrace digital workplace trends rather than formally force those onto them, they gradually build a foundation for future-ready teams.
Deloitte points out shifts in management style in the pre- and post-pandemic business landscape. In its Human Capital Trends research, the company reports changes in numbers that emphasizes how important it is nowadays to have leaders of a different breed: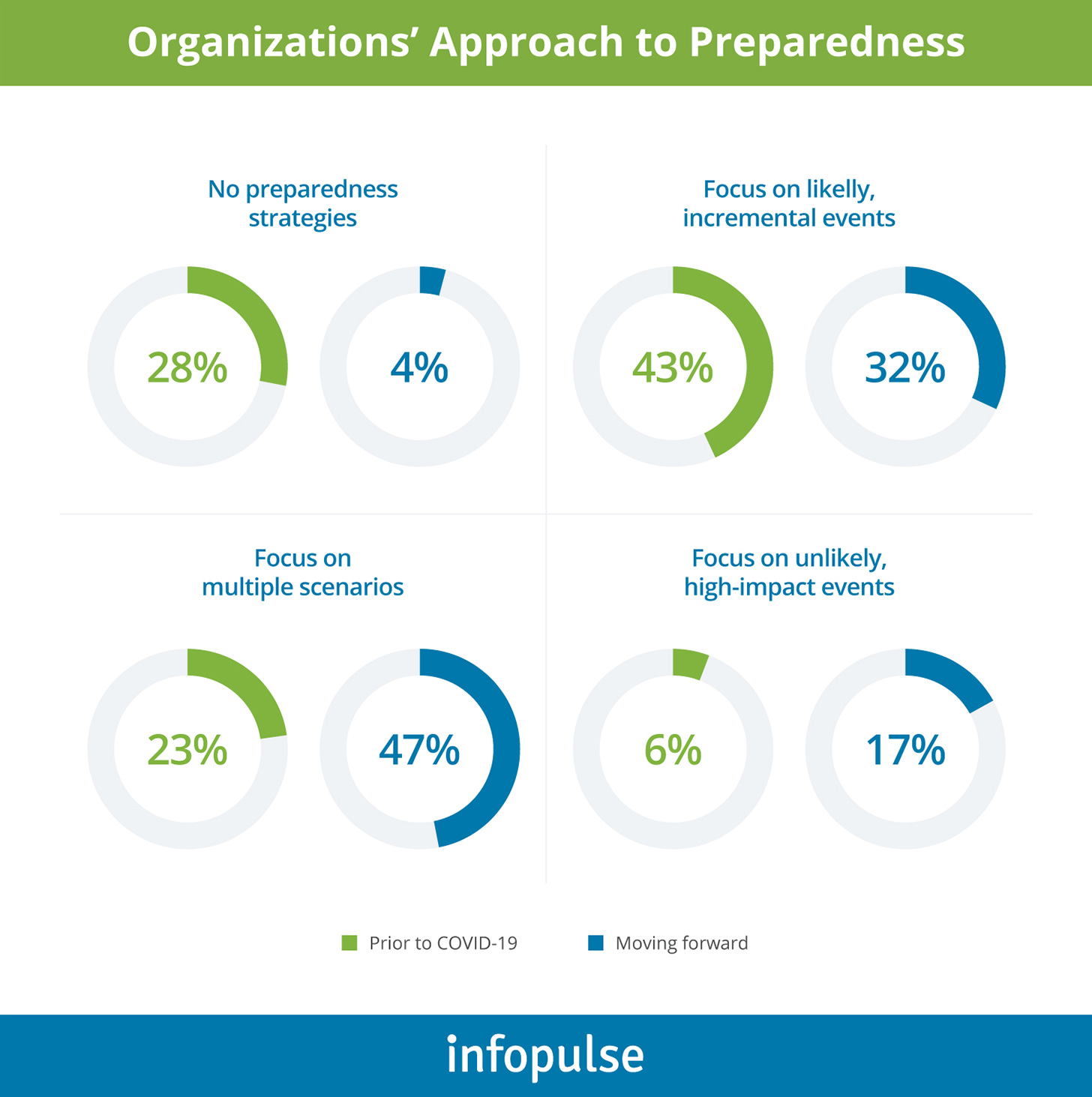 Strong and committed leaders can show their staff what is possible. Using their own story, they can prove that digital technology in the workplace can serve as the main drive for organizational change, where each employee contributes to the overall success of a business.
3. Audit Your Tech Tools
Sometimes less is more, yes. At the same time, it is essential to build a digital HQ – a comprehensive set of essential tools. The newly coined term stands for a unified platform that, like the Swiss Army knife, has it all but no redundant extras. The basics might include communication, tracking tools, cybersecurity instruments, and electronic document management, among others.
For instance, Microsoft Teams can work as one of the instruments digital HQ is made of. The Microsoft product has the essentials under one roof and, thus, can guarantee a smooth digital workplace experience across the whole organization if paired with other digital instruments.
The recent statistics show steady growth in the number of Microsoft Teams users, who favor agility and this powerful instrument, ensuring fast and seamless online collaboration:
Remember that technology will add value to the everyday tasks of your teams. When planning and rolling out your transformation project, it is critical to ensure they have exactly what they need and are not overwhelmed by unnecessary tools that add zero value to their performance.
It often happens that the investment in software does not bring the desired outcomes. The reason behind the inconsistencies between expectations and reality could be a poorly designed and implemented adaptation process.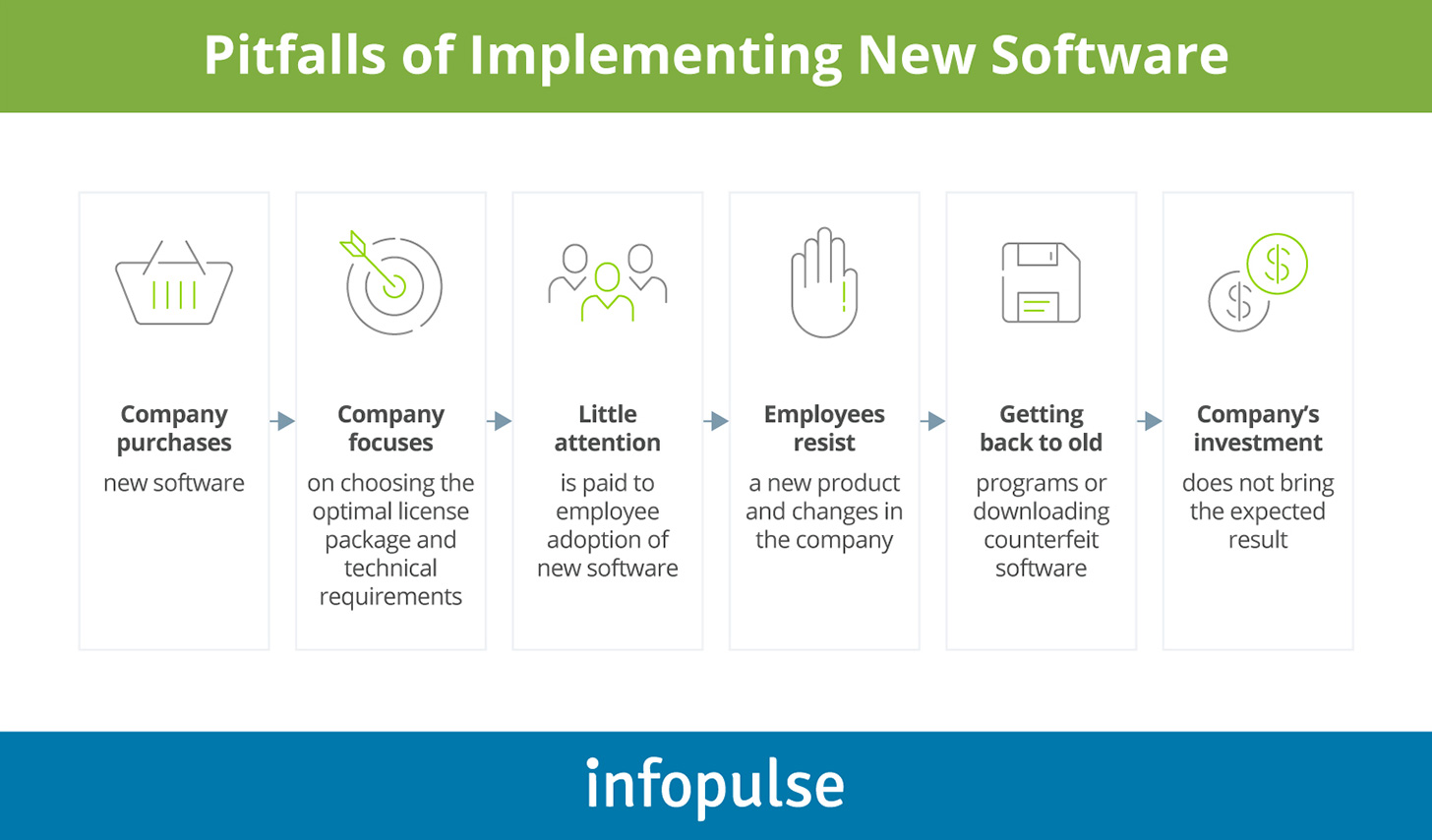 Businesses focus too much on software selection, skipping the onboarding of employees that need to get comfortable using a newly bought tool.
In addition, according to Deloitte, when business and technological strategies become increasingly interconnected, corporate executives admit that their company's past tech preferences were capping the strategic opportunities on the horizon and negatively affecting business flexibility.
4. Showcase Employee Benefits
What is a better approach to motivating your workforce to adopt a change than showing its ultimate benefits?
Microsoft, for instance, capitalizes on its greatest asset – employees. The company shifts its working approach towards digitally geared daily tasks to enhance employee experience. At Microsoft, the Productive Enterprise initiative is a new way to redefine employee journey through self-service collaboration, intelligent instruments, and seamless access to the necessary tools that all together create an employee-centered working culture.
Gartner discovered that during 2020-2021, the attitude towards an employer changed to an extent where it started playing a significant role in employees' lives and directly affecting their physical, financial, and mental balance. Thus, an employer's authority has changed as well, affecting, as a result, their ability to persuade and influence.
Choose different time slots to onboard different employee groups. This split is necessary since the advantages of certain tools you want to introduce might differ for each user group.
Furthermore, it is good to have supporting evidence of tangible improvements when trying to convince the workforce. At the end of the day, once backed by data, use cases, and success stories, any initiative can become an attractive call to action with a certain sense of urgency to explore it.
5. Review and Refine
Once you have made the first steps towards digital workplace transformation, it is time to check how your squad feels about the initiative. Use the information from your associates to feed it back to your adoption roadmap – it will help you to create more meaningful employee experiences and generate a more visible business impact.
Let us not forget that an organizational transition begins in the minds of C-suite managers, but the ideas will get appreciated and embraced by an entire company. If your business is scattered across multiple branches, you might opt for increasing collaboration between subsidiaries and HQ to get more benefits from adopting digital workplace solutions.
Usually, people are hesitant or even resistant to changes that seem like heavy lifting at first glance. Thus, communicating innovation and its benefits to personnel is crucial to generate the desired outcomes and not to push employees to look for greener pastures because of a sudden shift.
Readiness Checklist: Three Key Areas to Access
Now that the main enablers of the digital workplace are clear, let us elaborate on the things to access before adopting a digital workplace strategy. Define, present, and assess your organizational readiness for a change. How can you do this? Lay out a number of factors that play a critical role in your digital transformation initiative, including but not limited to the following aspects:
#1 Vision
Vision is your canvas for determining and channeling the desired outcomes of the transformation project. Short- and long-term results should be narrowed down and communicated to respective process owners that would share the details with their team members. As a result of a clear vision definition, you will have the transformation scope of work at hand that will serve as a compass for your further actions. Thus, if you are ready for a change, things to tick off here are:
Communicate the vision of the transformation initiative results so that everyone at your organization can clearly imagine the post-implementation picture. This will inspire your employees to devote a certain amount of time to this, sometimes extracurricular, task.
Tailor your implementation strategy as well as a framework along with the RACI matrix to have the process owners responsible for each piece of the project and others informed, accountable, and consulted if needed.
Create a team with wide functional expertise: bits of specific knowledge put together can help find unique approaches to tricky situations you might face along the way.
#2 Necessity
Necessity is a compelling need to initiate and implement the transformation initiative. Think about it in this way: what will be a negative impact on your organization resisting the change and not going forward with digital workplace transformation?
Compare 'As Is – To Be' models to see your current and future states.
Define KPIs to move gradually to a digital alternative.
See where you lag behind and improve on those indicators.
Perhaps, you will lose the cream of the crop talents. Or you might miss additional sales volumes that are possible to generate once you add agility to your operations and remove a manual component, choosing to automate routine tasks. Weigh all the if's: they will help you clearly see what your business needs to improve on and how to do it, infusing a digital component into the workplace.
#3 Budget
Budget: your ambitions to transform will go in line with your financials or the sources of additional funding you can employ to launch the project. Your business might be mature enough to embrace the change but not ready to encounter the costs necessary to implement it.
For example, you might have heavy and slow-moving legacy systems that need a major upgrade before you embark on a digital workplace journey. Therefore, securing the required funds to cover the upcoming costs without disrupting the current operations is essential. The options might be:
Stable cash flow with enough incoming funds to cover the upcoming costs.
Step-by-step implementation to lessen the financial burden.
Good credit score to opt for a loan if necessary.
Crowdfunding or IPO if your business is still not public.
Conclusion
Digital workplace tools evolve rapidly, offering SMEs and large-scale enterprises alike greater flexibility, next-level connectivity, and seamless communication opportunities. The earlier you start embracing the new trend, the faster your initiative will generate desirable ROIs.
Drop us a line to begin your workplace transformation journey with our experts in digital strategy development!