Key Technologies Powering Digital Transformation in the Manufacturing Industry
Originally published: February 22, 2019
Updated: July 03, 2023
15 min. read
Innovations
The Fourth Industrial revolution is here. Digital transformations in manufacturing are happening at an increased speed, even among the slow-to-move corporations. Increased digitization is expected to contribute up to
14% to the global GDP
gains by 2030, equaling to $15 trillion in today's value, through increased productivity and wealth.
Today, however, only 10% of global manufacturing companies have a mature digital product and service offering and multichannel interactions with their customers. If you are about to begin your digital journey, you should pay close attention to the four underlying disruptions in the manufacturing sector:
Rise in data volumes, connectivity and computational power.
Increasing role of big data analytics and business intelligence.
Emerging forms of human-machine interactions through AR and IoT.
Improvements in applying digital insights in the physical world such as advanced robotics.
Below you will find a more detailed outlook of these key technologies making the most impact in the manufacturing sector.
1. Big Data and Analytics
What new technology was integral to the industrial revolution 4.0.? The definite answer is Big Data. Data is the new "oil" of the digital manufacturing, enabling the creation of truly connected and automated ecosystems, functioning with little-to-no supervision.
The impact of data stretches across the entire value chain and product lifecycle in the industry 4.0:
Ideation: early data provisioning can help companies develop more in-demand products and features.
Prototyping: Data empowers better decision-making and guide companies towards selecting the optimal set of features for new offerings.
Development: Optimize efficiency and manufacturing productivity with the help of big data analytics. Determine where common bottlenecks occur and how to eliminate those.
Maintenance: Predictive maintenance, powered by ML and industrial IoT, can help you minimize equipment downtime and maintenance costs.
The additional value brought in by Big Data analytics further extends to logistics, supply chain management and reducing waste. For instance, Fero Labs' AI-powered analytics system has helped a manufacturer in the steel industry to eliminate a wasteful practice, which resulted in 3 percent of steel being lost. The analytical solution was able to cut down that waste by 15%.
Without data, all the other digital innovations in the industrial sector are nearly impossible to unlock. The wrinkle, however, is that currently, most enterprise data remains siloed. It's "stuck" in legacy enterprise resource planning (ERP) systems, industrial control systems, and spreadsheets used by engineers to keep track of supplies and people. Getting ahold of that data is the first step towards innovation.
According to SAP Industry 4.0 report, the next two productivity factors will play a major role in transition to smart manufacturing:
Operational data: With increased automation – the ultimate goal of industry 4.0 transformations – the number of sensors in the machines, equipment, and logistics vehicles also grows. More entities within your ecosystem will start generating and exchanging data. Connecting these units to one data lake is essential to make the insights accessible to the entire network. Establishing connectivity is the first essential step for any Industry 4.0 initiative.
Advanced analytics: The increased amount of data requires new methods for analysis. AI and machine learning will allow companies to gain better insights from their data.
2. Autonomous Robots
By 2023, the global industrial robot market is predicted to reach $73.5 billion. Several companies are already deploying autonomous mobile robots (AMRs) to transport materials across the factory floor, help with fulfilment and logistics.
By connecting such robots to a database or a programmable logic controller, their actions can be coordinated to a great extent, making it an integral part of your team. For example, Mobile Industrial Robots (MiR), a Danish company that produces and deploys autonomous and mobile robots, recently partnered with Kamstrup A/S to upgrade their intralogistics setup. Four sensor-powered MiR robots, equipped with conveyor top modules, were programed to transport semi-finished and finished products around the company's production facilities. The robots were connected to the company's ERP system for coordination. This allowed them to effectively overtake the minutiae logistics tasks, while the human teams could focus more on actual assembly and production. Post-adoption, the manufacturer managed to nearly double their production capacity and maintain its delivery of only 72 hours.
Human-robot teams are also becoming present at the assembly line manufacturing. Airbus has already created a synergic team of human managers using smart glasses and tables to review tasks and dispatch instructions to a robotic tool for execution. Such smartified approach has significantly accelerated the company's manufacturing process.
3. Cloud Technology
Cloud computing and Industry 4.0 come hand in hand. As digital transformation will require more data sharing cross-sites and often cross-geographies, the cloud has become an integral technology for enabling integration 4.0 – seamless, real-time connectivity between multiple systems. Deploying new services and functionality in the cloud also enables you to add more data-driven services for production systems.
Cloud-based machine learning solutions like Microsoft Azure Cognitive Services allow manufacturers to streamline communication between all the connected elements in their ecosystem. Data, generated by equipment, systems, sensors and robots, can be immediately collected and shared with other branches of your system to automate material provisioning, intralogistics, maintenance and other manual tasks.
The cloud is a powerful collaborative tool for industrial companies that can change the culture of data management by breaking the existing silo between different systems and departments. Cloud storage also makes access to information more consistent, as due to its elastic nature it can accommodate huge volumes of data without performance hitches.
4. Industrial IoT (IIoT)
Industry 4.0 assumes increased digitization of all devices involved in the development, production, distribution and maintenance processes. By powering different elements of your ecosystem with sensors, you can unlock several major benefits:
Greater connectivity leads to improved performance management and measurement; data-driven decision making and problem-solving.
Agility and speed. Automate the low-value tasks and establish current bottlenecks, slowing down your production. Any deviations can be instantly flagged and inspected, meaning that your business will experience less downtime and become more responsive to changes.
Accessibility. Equip your employees with instant access to the necessary information and smart tools at the right time.
Read more about the current industrial IoT use cases and the benefits they generate for businesses.
5. OPC UA
OPC Unified Architecture is the new M2M protocol developed to improve data exchanges between connected machines and devices. It establishes the standards for those data exchanges in terms of security, connectivity, compatibility and reliability for IIoT devices, employed by the Industry 4.0. The OPC UA standard is open-source, and it has been taken on and improved on by several major industry players. Using this protocol you can easily connect to an ecosystem of vendors, and create a custom portfolio of IIoT products within your facility.
OPC UA combines two mechanisms to enable connectivity:
A client-server model. In this case, OPC UA clients employ the dedicated services of the OPC UA server. Such P2P approach enables a secure and confirmed information exchange processes, but has limits in terms of the number of connections.
A publisher-subscriber model. An OPC UA server creates configurable subsets of information available to any number of users. This broadcasting approach enables an unconfirmed "fire and forget"-style exchange of information.
At the moment, Microsoft is the only cloud provider that uses both OPC UA client-server and publisher-subscriber model as part of their IoT platform.
6. Augmented Reality (AR)
By 2021, the majority of AR/VR spending will be for industrial maintenance. AR-based systems can aid your teams during inspections and largely improve the quality control procedures. For instance, Airbus's Supply Augmented Reality Tool (SART), allows the maintenance team to superimpose a digital mock-up over "As Built" reality during the inspection. This model helps identify faulty parts requiring repair or replacement. At the end of the session, a comprehensive report is automatically dispatched to the management.
Furthermore, AR systems can be connected to various IoT gadgets used by your team to increase their productivity and skills. Overlaid text or visual instructions stream through a smart helmet or glasses can help your technicians and production workers to their jobs better. For instance, GE recently benchmarked a technician's performance during wiring a wind turbine control panel with and without an AR headset. The person's performance was 34% higher when wearing a headset.
7. Artificial Intelligence (AI) and Machine Learning (ML)
In the context of this post, we'll examine AI as an umbrella term for machine learning and deep learning – the two key technologies further extending the spectrum of digitalization in the manufacturing sector. Powering IIoT devices and enabling better data analytics, they help companies to procure new insights and gain better visibility into their processes.
Additionally, ML enables greater scale of automation. Factories can deploy "computer vision" for production of microparts. The AI-powered high-resolution cameras can pick up more details and defects than visible to a human eye. When such a system is connected with a cloud-based data processing framework, those defects are instantly reported and a further response is automatically coordinated.
Machines are now capable of dealing with even more complex image recognition tasks thanks to advances in deep learning, and artificial neural networks in particular. Recently, our team helped a client in the metal manufacturing niche develop a new solution for capturing readings from old gauge equipment. The AI-system we have developed copes with the image recognition task in less than 2 seconds. Read more about this project in our case study.
Machine learning is an integral technology for predictive maintenance. Smart factories operated by LG rely on Azure DocumentDB and HDInsight to collect production histories, and Azure Machine Learning solution to further optimize their systems' performance and predict failure before it occurs.
Generative design is another prominent use case of artificial intelligence in Industry 4.0. Such solutions, powered by AI and cloud computing, allow engineers to generate thousands of design options in a few clicks – by inputting basic parameters such as height, strength, material options etc.
Companies like Airbus, Under Armour and Stanley Black & Decker, are already using generative design to enhance their prototyping process and increase time-to-market. The particular appeal of AI co-creation is that your team receives valuable prompts and ideas they may have never considered before. The insights they produce can be used towards developing products that better meet your customer needs; produce less waste and are more durable.
Industry 4.0 in Action: 4 More Examples
According to McKinsey, the next four groups of digital solutions gained the most traction in the past few years: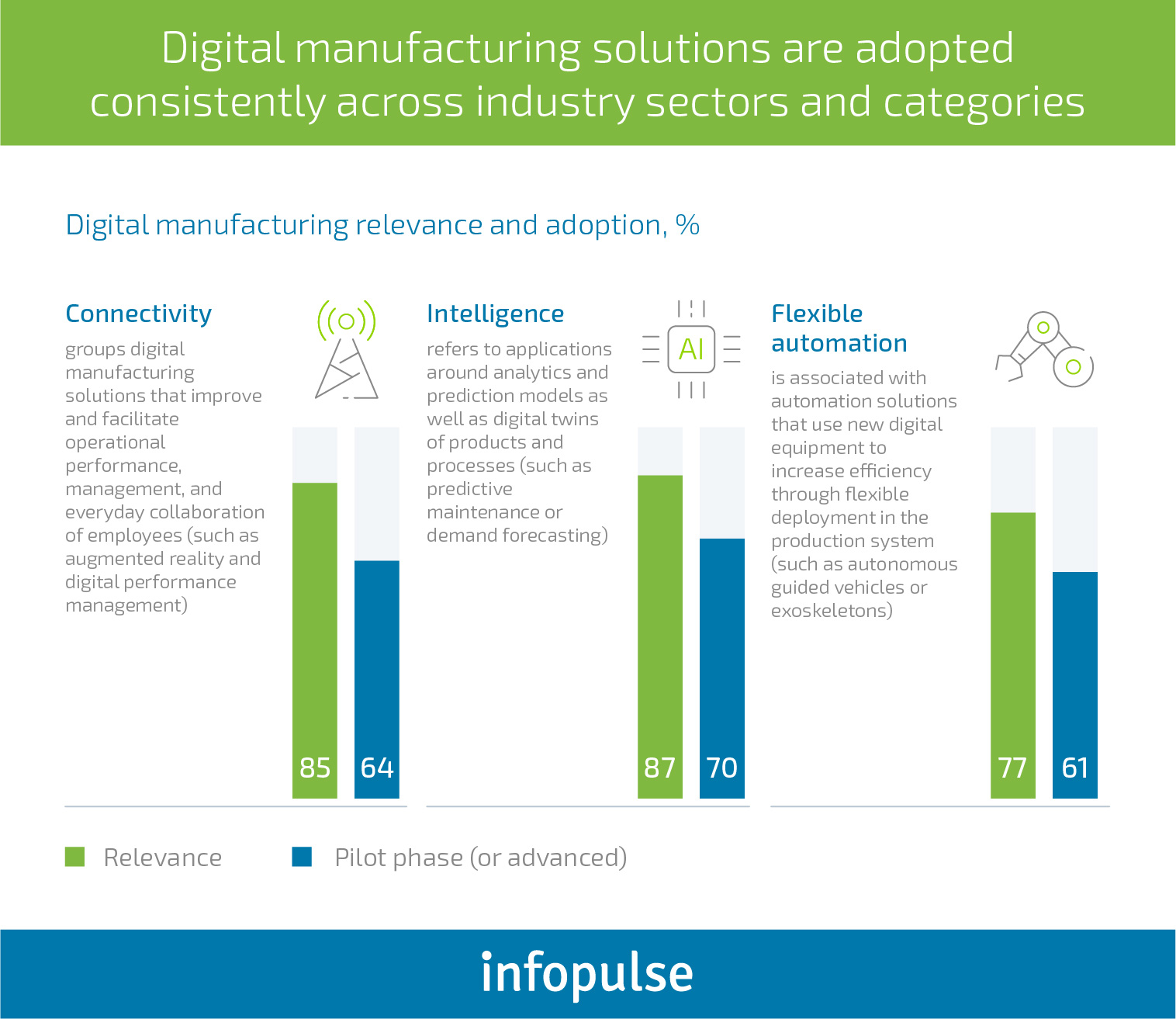 Several progressive companies have already moved their transformative projects from the labs to the factory floors.
Adidas: Production, Powered By Robotics and 3D Printing
In 2017, Adidas opened a revolutionary new plant in Germany, code-named The Speedfactory. Last year, they opened the second "smart facility" in the US. Both plants are fully automated with just 150 people on the ground in the US, monitoring autonomous robot applications at work.
The assembly line consists of three segments:
Engineered knit fabric laser-cut (by robots);
Shaped and sewn into a sneaker (by humans);
Fused into soles (a collaborative, multistep, human-and-machine process).
Robotic automation is the company's solution for responding to shifting customer demands in different markets at a faster pace. In the future, they also anticipate that such approach will allow them to attain "mass personalization" – when every pair of sneakers can be custom-made based on shoppers' individual parameters.
Whirlpool: Sustainability, Driven by Big Data Analytics
The company plans to completely eliminate landfill waste produced by its plants by 2020. To reach this goal, Whirlpool adopted a new global analytics platform, connected to industrial IoT solutions around their manufacturing facilities. This way they can retrieve comprehensive waste data both locally and globally, and measure how close each facility is to hitting the announced goal.
Hirotec: Reduced Downtime and Increased Productivity
Hirotec, a global auto parts manufacturer, has recently completed several major pilot projects. First, the company wanted to find a new way of tackling unplanned downtime that cost the OEM $361 per second.
So they have created a new digital setup that included several industrial IoT gadgets, collecting data and transmitting it to the cloud. The accumulated data is then analyzed by machine learning tools to predict system failures. This setup has helped Hirotec achieve a 100% reduction in manual inspection time for its systems.
Enel: Predictive Maintenance Based on Sounds
The company recently ran a successful pilot of an acoustic analysis solution that records the slightest changes in machine sounds at the company's hydroelectric plants in Italy and Spain. Such smart "listening" enables the company to get a better understanding of the equipment state, detect deviations early on and investigate upon those.
Sensors installed on the machine production lines allow them to capture data such as vibrations, temperature, ultrasounds and other changes that may point to an anomaly. Technicians no longer need to schedule in-person visits to the trouble site – they can access and review the data straight from an app and suggest further steps.
How Manufacturers Should Approach Industry 4.0 Adoption
Embracing the industry revolution 4.0 will require a serious internal push within your organization. There are several specific roadblocks preventing manufacturing companies from unlocking more innovations: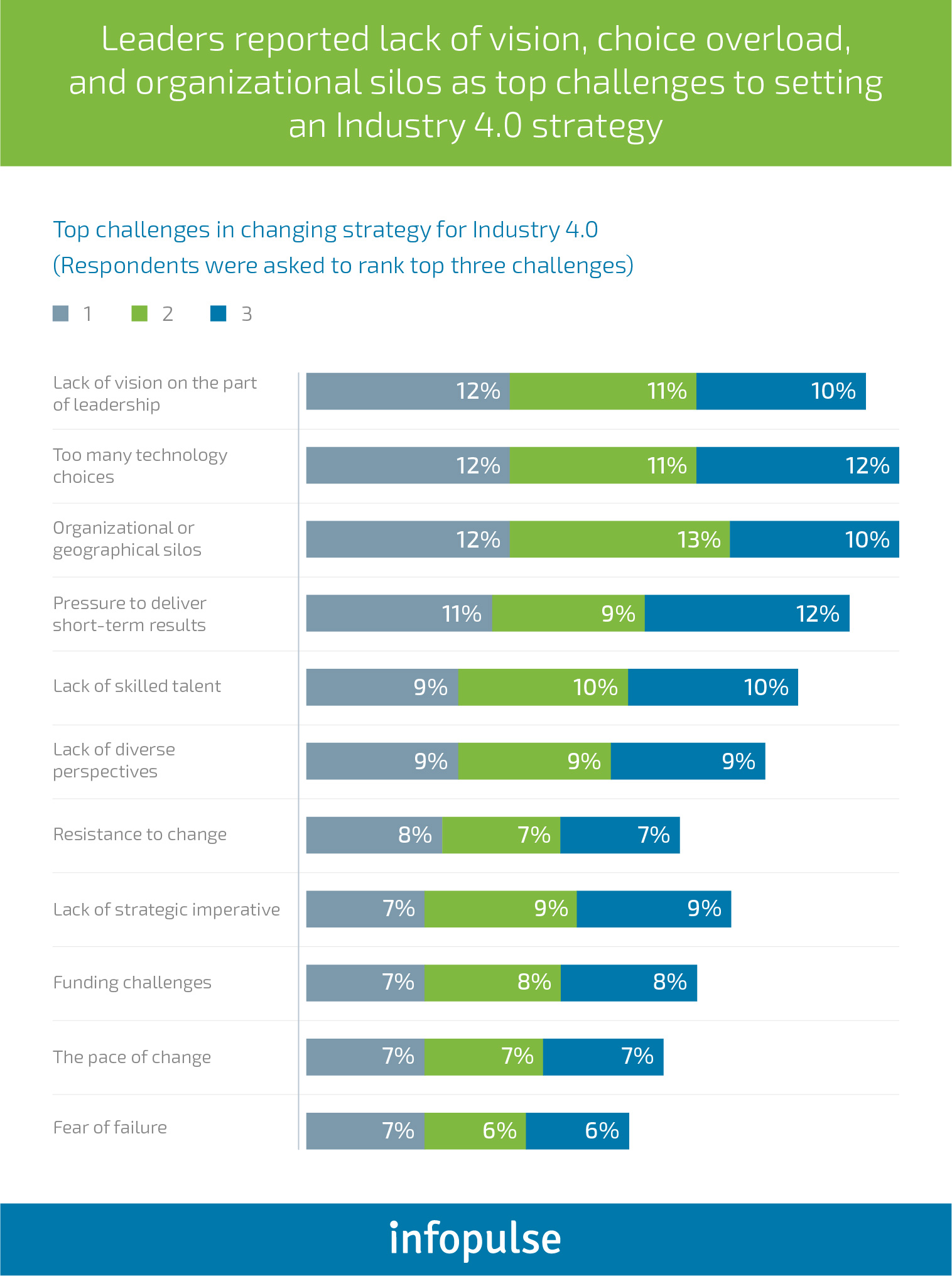 To develop an implementation strategy that addresses and helps overcome these challenges, you can follow the next blueprint:
1. Determine how a digital manufacturing solution can address a specific operational pain point
Digital Industry 4.0 proposes a lot of existing solutions, improving different aspects of your business. So it's easy to lose focus on what will bring the most impact for your company. Study the value-creation potential of different use cases, and align them with your company-specific situation.
For instance, let's take autonomous robots deployment for painting product parts. First, you should estimate the primary benefits of implementing such solution:
Approx. reduction in errors, re-work, risk rates;
Number of parts processed per hour (% of efficient improvement);
How many people can be reassigned to other tasks (% of efficiency improvement)?
Then add up the secondary benefits:
Improved employee working conditions and safety;
New machine data insights that can be applied to further process optimization.
Create a list of clear benefits that will solidify the company's buy-in for a certain solution.
2. Adopt holistic thinking
Justifiable ROI does not mean finding easy and immediate fixes only. "Patch" solutions may deliver immediate gains, but fail to contribute to future endeavours. Take your entire ecosystem into context and investigate where improvements can lead to long-term benefits.
3. Develop ROI road map
It should include a clear definition of the size and scope of the business opportunity, paired with a deep understanding of the IT and operational technologies. Schedule a consultation with IT industry experts, specializing in the technological solution you have chosen to pursue to build your business case.
4. Assess your current tech stack and the level of transformations that will be required
Your new tech ecosystem should score high on the following parameters:
Comprehensive. Assess how your new addition can be connected with existing applications; how data collection process and exchanges will take place.
Scalable. Does your data ingestion pipeline need updates? Can you accommodate new data exchanges?
Analytics-driven. How will it connect to your current analytical solutions? Do they need an update as well?
Integrated. How can you create a successful IT/OT convergence that will help you meet a manufacturer's business needs?
Secure. Cybersecurity should be your top priority. Analyze how legacy and future systems can be securely linked.
For example, if you plan to implement a predictive maintenance system, powered by industrial IoT, one of the common bottlenecks you will face is data collection:
Each of your current devices/equipment have different collection mechanisms. There's no unified way for ingesting and storing all that information for analysis.
Lack of scalability. Your on-prem data center cannot accommodate significantly larger data volumes. So you may consider adopting a cloud storage solution.
Data is delayed up to 45 minutes across the plant. No real-time data connectivity at the moment.
As part of your transformational plan, here's how you could address such challenges before rolling out the future product:
Create a consolidated infrastructure;
Create a designated environment for storing operational data for big data analytics;
Migrate to microservices architecture that will break in the silo and enable the usage of several services globally.
5. Establish strategic partnerships
To accelerate transformation and gain access to the necessary talent, select a technological partner who will help you co-develop the necessary elements of your future system. This way you avoid overloading your in-house staff and/or relying solely on purchases from vendors. The latter may result in losing strategic "control points" when it comes to data ownership.
If you are interested in learning more about implementing the described technologies in your company, schedule a consultation with our specialists. Infopulse team has already helped several manufacturing companies become one step closer to Industry 4.0 by deploying IIoT systems, new-gen analytics tools, and cloud technologies.