How to Develop Analytical Superpower across Industries with Microsoft Power BI Platform
Originally published: April 22, 2021
Updated: November 28, 2023
7 min. read
Data & Analytics
Innovations
Business Applications
Industry reports show that as much as
80% of enterprise data is unstructured
, creating a vast resource that today's companies are struggling to process and navigate. Such data holds the key to fast and efficient decision-making that can enhance business operations, raise profits by
up to 12.5%
, improve performance, and drive intelligent strategy. This is why businesses that are serious about leveraging data need a business intelligence solution in their arsenal.
A part of Microsoft Power Platform, Power BI is a unified, scalable data platform which comprises self-service analytics, interactive dashboards, custom and embedded analytics, mobile analytics, reporting, and more. Power BI provides multiple benefits to enterprises cross-industry, helping them to meet their business needs and objectives.
Power BI Platform and Its Benefits
Power BI is a cloud-based business intelligence solution for data analytics, modeling, and management that is especially profitable for enterprise use. The platform consists of apps, services, and connectors that convert a company's raw data into interactive, graphical, and intelligible insights.
Power BI assembles data of almost any type and origin, whether it is in Excel sheets, on-premises reports, or cloud-based data sources. In this way, it gives business owners a complete view of their assets in the form of visually compelling and easy-to-process charts that can be shared with employees and customers, whatever their resources or location.
Capabilities of Power BI
Power BI is an umbrella name that covers a variety of product licenses and services.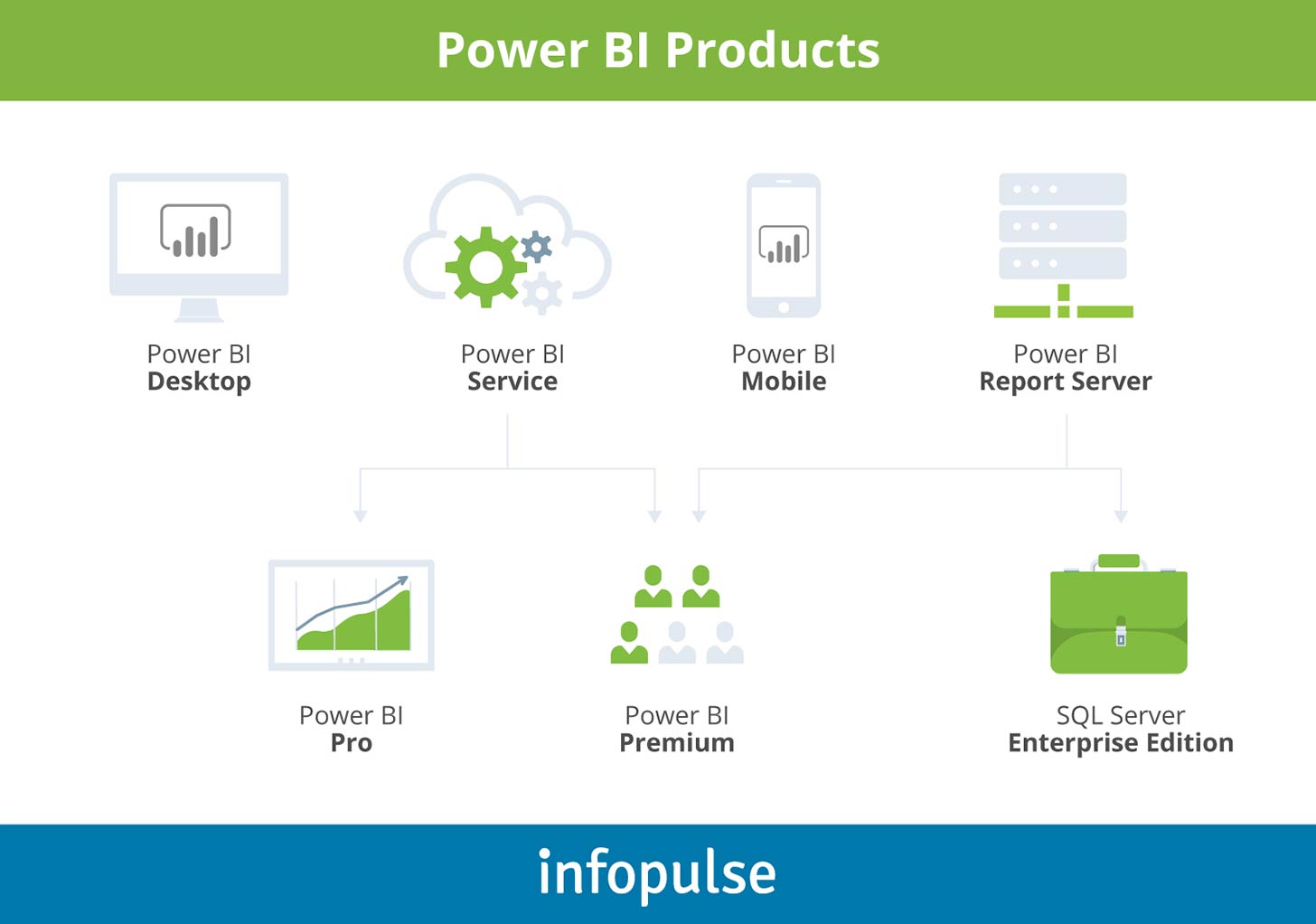 Power BI Desktop and Power BI Pro
Power BI Desktop is the best choice for small teams who do not need large-scale collaboration and integration. It is bundled free with the Office 365 plan. Power BI Desktop is ideal if you are just starting out. Despite being free, it still offers various tools for organizing data, creating visualizations and reports using templates, and exporting and importing data from/to Excel and other tools.
Power BI Pro is an entry-level solution for enterprise users. It upgrades the Desktop product by offering team collaboration on shared dashboards and secure file sharing between Pro users.
Power BI Pro licenses are per-user, and any user you share reports with will need a Pro license to view them. This means it gets more expensive as the number of people who need to view your files (both inside and outside your organization) grows. In this situation, Power BI Premium can be a more cost-effective solution.
Power BI Premium
Power BI Premium is targeted at enterprises with heavy data processing needs. This is what you need if you want advanced AI features or have a large number of users that need to view reports and collaborate in real-time.
The plan is offered at both the user and enterprise levels. With a user license, users get all the benefits of Power BI Pro with advanced AI functionality, while the enterprise (per capacity) license allows you to share up to 10 GB of reporting and data with anyone, regardless of whether they are a Pro user or not. This allows for larger-scale collaboration and better performance if you size the capacity properly.
Simply put, a per-user Pro plan will suit small- and medium-sized businesses that create reports and visualizations but do not share information very often. A per-capacity Premium license is better for sharing information both inside and outside an organization.
Power BI Mobile
Power BI Mobile is a native mobile app for Android, iOS, and Windows Mobile that helps both managers and BI professionals keep tabs on important developments. BI professionals have the flexibility to connect to and interact with data whenever they need it, and managers can get the necessary insights from their devices at any time while on the move.
Power BI Report Server
Power BI Report Server is an on-premise version either delivered in one pack with Power BI Premium or built on top of the SQL Server Enterprise Edition framework. Power BI Report Server is ideal if you prefer to handle Power BI reports behind your organization's firewalls. This version is cloud-ready, so migration will not be a headache if your company needs change.
Power BI Embedded
Power BI Embedded is a range of services that allows companies to use Power BI capabilities of displaying Power BI reports, dashboards, or visualizations with embedded analytics in their own apps. Its target audience is independent software vendors (ISVs) and developers who would like to add Power BI visuals into their products but under their own specific branding rules. You can also choose this Power BI product if you need to share your reports, dashboards or visuals, but without buying an MS Power BI Pro license for each consuming user.
Benefits of Using Power BI
Power BI is a carefully crafted solution made for all types and sizes of business. Some key Power BI features are:
Datasets. Power BI can connect to more than 100 tools, platforms, and databases that produce or store data. For businesses, this cuts the amount of time spent on data capture, access, and evaluation.
Dashboards. The platform's neat, interactive panels allow users to consolidate disparate data and prepare it for analysis and exchange.
Reports. You can create Power BI reports from scratch or use a template to gain valuable insights into your organization's performance.
The list of Power BI benefits is huge. Here are some key reasons why Power BI has established itself as the business intelligence platform of choice for enterprises across the board.
A single platform for data analytics. The Power BI platform scales easily and combines self-service analytics and enterprise analytics in a single product. This does away with the need for multiple analytics solutions, which saves money and reduces security issues.
Seamless integration. Power BI naturally integrates seamlessly with Microsoft 365 and Azure and also connects with multiple data sources and third-party solutions.
AI-driven insights. The Microsoft team is constantly updating Power BI with new AI and ML capabilities through features such as AI-enhanced visuals, interactive reports, and conversational AI.
Customizable design. Among other proven Power BI capabilities, the customizable design ensures that all dashboards and reports have a cohesive look and structure and integrate with the existing corporate style.
Flexible report configuration. The BI space is extensive and dynamic, and so is Power BI's ability to adjust to changing business needs. Power BI allows users to easily reconfigure reports as soon as new requirements appear.
Secure data. Power BI has multi-level security to keep data protected in the cloud, on-premises, or both.
Power BI Use Cases across Industries
Power BI's flexible and user-friendly interface means it can be used on a small scale by regular employees for simple data reporting. At a larger scale, companies can choose to hire certified Microsoft Power BI partners, business intelligence experts and engineers to get maximum benefits from Power BI solutions. With their help, organizations can cover critical data-related requirements and enable the transition of their legacy data management systems to the cloud.
Here you can see the benefits of Power BI in different industry sectors.
Retail and E-commerce
Retail and e-commerce companies have to manage large amounts of information, from supplier data and inventory details to customer behavior, relations, and employee performance. In retail, Power BI can streamline data management processes and help retailers effectively analyze data points to receive actionable consumer insights.
Power BI can also be used to consolidate and present data for streamlining supply chain operations or improving the speed of enterprise reporting. As an example, Infopulse created a single consolidated data warehouse for a large Ukrainian retail company, which led to tighter financial reporting and improved segment offerings.
Energy
Power BI can help companies in the energy sector gain valuable data on energy efficiency by monitoring and tracking energy consumption over specific periods. Additionally, organizations can use Power BI to predict risks associated with power outages and solve other real-time issues. Power BI analytics also drives initiatives for transitioning to clean and sustainable energy consumption.
Infopulse's implementation of Power BI for a leading Swedish energy distributor brought the company the benefits of data-driven decision-making. The solution made it easier for management to access ad-hoc reports and self-service tools, meaning that management decisions are now better focused.
Agriculture
Power BI brings the power of predictive data analytics to industries whose success depends on forecasting. Agribusiness is one such industry: when agricultural companies use advanced tech like IoT devices, Power BI can give them a comprehensive view of data such as weather forecasts, moisture levels, temperature, wind direction, and more. Businesses can then use the dashboards and reports to make better decisions on irrigation, for instance, or take the necessary measures to protect crops against unfavorable conditions.
Power BI for agriculture can scale from reporting tools for small and medium-sized companies to large-scale data storage solutions for international players, like this cloud data management solution Infopulse developed for a major agro-industrial group.
Banking
The success of banking services largely depends on the ability to continuously track general business performance and respond to individual customers' needs. By incorporating Power BI into their data management workflows, banking institutions can understand customers better, pinpoint new digital opportunities, and integrate data silos from disparate applications and services. This does not only help banks to work with balance sheets and track profit and loss, but also to improve user experience.
UK-based Metro Bank is just one example of how Power BI has helped a high-street bank improve its customer banking experience and navigate the explosion of online banking through enhanced behavioral analytics reporting.
Manufacturing
Power BI helps manufacturing businesses achieve better customer engagement and improve efficiency on production sites. Power BI allows businesses to transform data into actionable insights concerning production, sales, security, and revenue — whether it's for better-informed decision-making, eliminating information bottlenecks, or determining international sales orientation and focus. Moreover, analytics and visualization of data from sensors in production facilities help predict hardware issues and prevent production downtime and disruptions.
Other Industry Applications
Business intelligence delivered through Power BI's flexible services can give companies a wide range of advantages across industries:
Secure data and a stronger market position. Infopulse developed an advanced cloud-based data warehouse solution for a major European alarm company, which helped them better manage and store their data.
Waste reduction and improved customer service. When Danish cooling appliance manufacturer Danfoss wanted to help their customers become more efficient, they developed a cloud-based solution based on Power BI that they could use to monitor food temperatures and reduce waste.
Better employee services and logistics. Infopulse's corporate employee transfer system solution for a large pharmaceutical company helped the company meet transportation challenges during the COVID-19 emergency.
Conclusion
Data analytics is a growing challenge for companies that want to ride the wave of rapid change with data-driven decision-making and forecasting. With Microsoft Power BI, enterprises can arrange their data in a clear, easy-to-use way. Business owners become empowered to make decisions in hours, not months, and their employees gain easy access to the data they need for tasks and workflow streaming.
At Infopulse, we have been providing first-class digital services and outsourcing to clients worldwide for over 30 years. As a Microsoft Gold partner with extensive expertise in business intelligence and analytics, we are perfectly placed to help businesses leverage the capabilities of Power BI. Contact us today to learn how our Power BI specialists can help you harness the benefits of customized Power BI in your organization.