Article
What Is Adoption & Change Management and Its Benefits?
Originally published: July 07, 2023
Updated: July 10, 2023
9 min. read
Cloud & DevOps
Digital Transformation
Software Engineering
Infra & Operations
Change is a key word and guiding principle in almost any organization's strategy. Also, change is a constant of our modern landscape in all facets: business, tech, social, economic, you name it. Whether it be organizational, process, or direction alteration, the complexity of its dynamics and implications calls for a structured approach to transformation. That's why the broad and all-encompassing term 'Change Management' was coined in the 1960s. Let's explore this concept and see how your enterprise can benefit from it.
What Is Change Management?
Change management is quite an intuitive concept, it means exactly what it sounds like. It is a structured process that involves leading an organization through every stage of change, from planning to execution and consolidation. It encompasses how businesses handle alterations like adopting new technologies, modifying existing processes, and redefining their organizational structure.
By providing clear guidelines for implementing software and transforming business processes, change management ensures a smooth transition and fosters employee support and buy-in.
Adoption and Change Management Process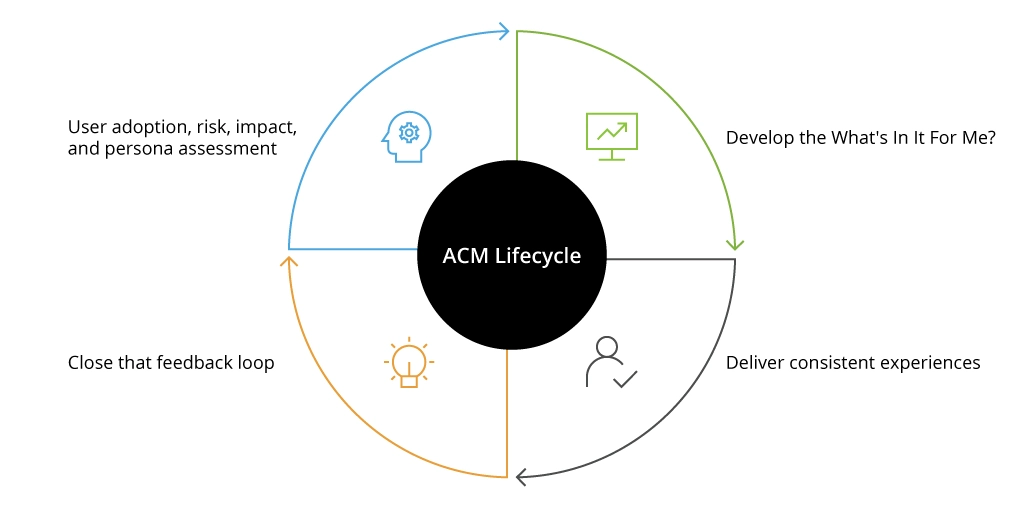 As a concept, adoption & change management sounds easy. But in reality, 69% of change initiatives fail to achieve their goals. The main culprit for that is a pretty stubborn human tendency to resist change.
Usually, people predict a lot of friction with the change logistics, like introducing new technology or revamping business processes. But the hardest and most unpredictable part is the soft part, the one dealing with managing people's emotions, expectations, and concerns.
According to Prosci's 2021 Best Practices in Change Management report, 80% of respondents put effective communication as the most important contributor to project success. This is rather unobtainable if the executive team has no clear strategy to ground change and ensure commitment. That's why wrapping a change management model around an initiative is a sure way to make it last.
Change Management Frameworks
Change management models are quite abundant nowadays. When choosing one, it is vital to specify the needs and circumstances of the organization. It is important to choose a model that aligns with your enterprise's culture, values, and goals and to adapt the model as needed to ensure successful implementation.
Here are a few change management models that have proved their efficiency over time:
Kotter's 8-Step Model: Developed by Harvard Business School professor John Kotter, this model provides a framework for managing change in eight steps, including creating a sense of urgency, building a guiding coalition, and anchoring new approaches in the organization's culture.
ADKAR Model: This model focuses on the individual change process and includes five steps: awareness of the need for change, desire to participate in and support the change, knowledge of how to change, ability to implement the change on a day-to-day basis, and reinforcement to sustain the change.

Lewin's Change Management Model: At its core is an idea that change involves unfreezing the existing state, transitioning to a new state, and refreezing the new state to make it permanent. This model emphasizes the importance of creating a sense of urgency and involving stakeholders in the change process.
McKinsey 7-S Model: Here at focus are seven interconnected elements of an organization, including structure, strategy, systems, staff, skills, style, and shared values. By analyzing these elements and identifying areas of misalignment, organizations can better manage change and ensure that all aspects of the organization are working together towards the same goals.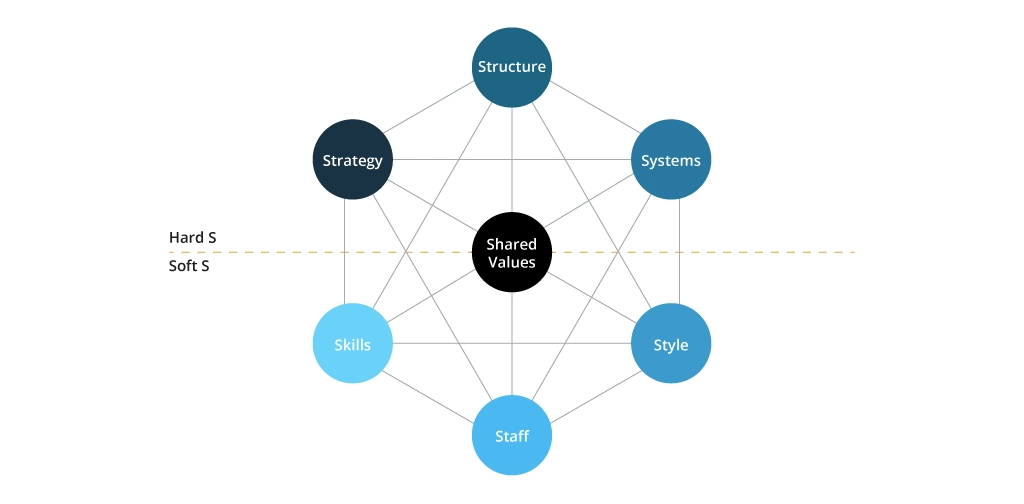 Prosci ADKAR Model: This model builds upon the original ADKAR model and provides a more detailed framework for managing change at the individual level, including tools for assessing individual change readiness, developing change management plans, and tracking progress.
Effective Change Management to Navigate the Constant Flux
Change management is not a one-time event. It is an ongoing process that requires continuous evaluation and adjustment to ensure the change initiative is successful. Why is it so difficult? A huge reason for this is the current and complex business environment that shifts faster than market players can adapt.
Only 50 years ago, the economic climate was relatively stable and predictable. Companies could rely on long-term business relationships with suppliers and customers, and market competition was mostly limited to domestic markets.
How do things look now? Let's see:
Globalization
In 1970, only 20% of the world's population lived in countries with open trade policies.
By 2020, this had increased to over 80% of the world's population, with international trade accounting for around 60% of the global GDP.
Companies such as Amazon and Alibaba have expanded globally, reaching customers in hundreds of countries and territories.
Tech Advancements
In 1971, the first microprocessor was invented, paving the way for the development of personal computers.
Today, there are over 5 billion internet users, and the use of mobile devices has surpassed desktop usage.
Google and Facebook have transformed the advertising industry, using data and algorithms to target consumers with personalized ads.
Regulations
In the 1970s, there were relatively few regulations around environmental protection and consumer rights.
Today, there are hundreds of regulations and laws regarding data privacy, environmental protection, and consumer protection.
The European Union's General Data Protection Regulation (GDPR) has significantly impacted businesses operating in the EU, requiring them to comply with strict data privacy rules.
Considering that approximately 44% of workers' skills will face disruptions within the next five years, viable change management practices should be part of every enterprise's management toolkit to help employees navigate change.
Change Management Benefits
Change management is a crucial process that enables organizations to adapt to transforming environments and remain competitive in their respective industries. The key benefits of this approach are all-encompassing and can be summarized as:
Elevated ROI – adoption management programs have demonstrated a significant return on investment (ROI), with organizations experiencing a return of £6.50 for every £1 invested in such initiatives.
The ROI of Change Management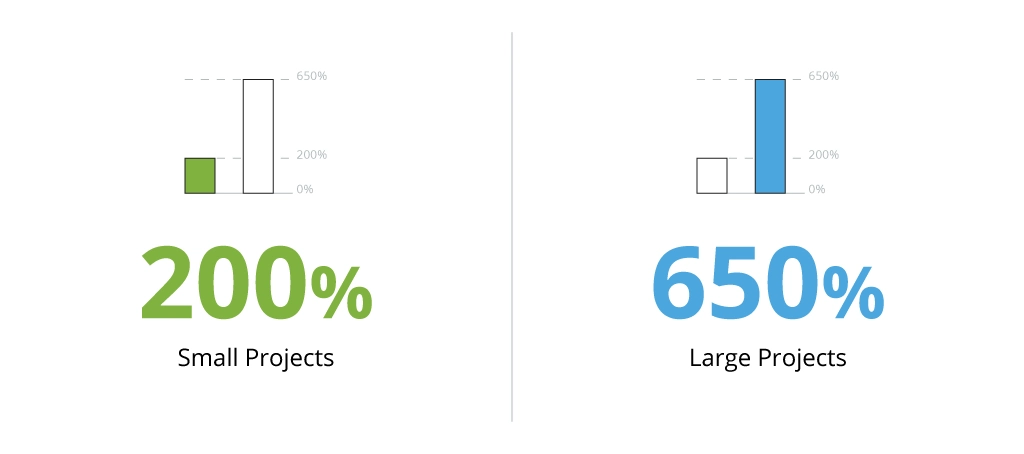 Ballooned Employee Engagement – when employees are involved in the change management process, they are more likely to support and embrace the changes. This translates to higher job satisfaction, improved morale, and reduced turnover rates.
Ongoing Innovation ­– by continually evaluating and updating processes and systems, organizations can remain agile and adaptable in a rapidly changing business environment. For example, when Netflix shifted from its DVD rental model to a streaming model, it was able to remain competitive and disrupt the entire entertainment industry.
Improved Efficiency – is such an overused promise when it comes to deliverables, right?
Research indicates that organizations that employ a structured change management methodology achieve significantly higher levels of efficiency, with 59% achieving good or excellent results compared to only 26% without a structured approach.
Methodology Impact on Change Management Effectiveness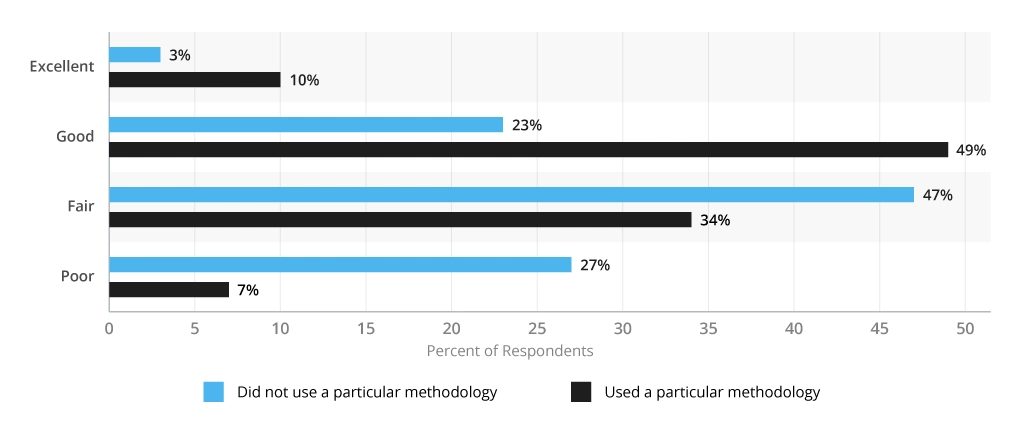 Digital Transformation Requires Adoption & Change Management
Good things take time, digital transformation things take a little longer. Making the global shift to everything-digital relies heavily on adoption and change management processes. The numbers only confirm the overwhelming scope of technology advancements:
According to IDC, global spending on digital transformation technologies is expected to reach $3.4 trillion in 2026, up from $1.3 trillion in 2018.
A study by McKinsey & Company found that 92% of companies believe that their business model will need to change given the digitization of their industry.
From our experience and according to Statista, a leading approach to digital transformation in many organizations is cloud extensions to existing solutions. In the context of cloud services, change management refers to the process of managing changes to the cloud environment in a controlled and systematic way to ensure that changes are implemented successfully.
Change Management in Action
To put it simply, to reap the benefits of newly adopted digital solutions, managers need to first make sure that employees actually understand them, find them helpful, and use them in the most efficient way. Take for example, a massive cloud project we delivered for Delta Medical. One of the criteria we used to measure the adoption rate of the new collaboration tool was the number of messages sent by users, which were 49,000+ messages sent in 6 months. This achievement can be attributed to the adept application of best change management practices by our experts, as well as the committed adoption and diligent follow-through demonstrated by the Delta Medical team.
Infopulse's Managed Cloud Services and all our services related to productivity and collaboration (Microsoft 365, remote work solutions, web and mobile applications, and more) include change management as a key component. We assist organizations in designing and implementing change management processes into their workflows. It іs done through knowledge transfer of various formats (workshops, internal educational hubs, etc.) and other communication strategies that ensure sustainable assimilation and adoption of the introduced changes.
A case in point: our project for Darnitsa pharmaceutical firm, where we applied change management within cloud services to help the organization transform digitally. Infopulse worked with Darnitsa to develop and implement a cloud-based IT infrastructure and applications to support their business operations. Incorporating effective change management practices and metrics helped the company increase efficiency, productivity, and competitiveness.
Conclusion
Change management is not just about implementing new technologies but also about managing change effectively. Organizations that invest in change management as a key component of their digital transformation strategy are more likely to see the successful adoption of new solutions, increased efficiency, and improved competitiveness. Ultimately, change management is a critical factor in realizing the benefits of digital transformation.