We Help You
Collaborate Better
Elevate your employees' efficiency with Microsoft productivity tools for the digital workplace: Outlook, OneNote, OneDrive, Teams, and more.
Improve Data Access
Enable instant access to data storage, file sharing, and real-time editing at any time with Microsoft Teams.
Optimize Scheduling
Keep track of your workflow with Microsoft 365 tools, designed to streamline planning and scheduling with Outlook Calendar and Exchange.
Ensure Security and Trust
Protect your organizational sensitive information with identity verification and data encryption with M365 Security Center in full compliance with data protection regulations.
Empower Productive Learning
Bring knowledge sharing and employee learning into the digital environment with Microsoft Viva.
Enhance Communication
Streamline team communication and employee engagement with empowering capabilities of Microsoft Teams.
Enable Business Intelligence
Turn your data into powerful insights with advanced visualization and analytics tools: Microsoft Graph, Power BI, and more.
Reduce Costs
Reduce infrastructure costs with Windows 365 cloud service, flexible licensing options, and integrations with various Microsoft products.
Microsoft 365 Services
Microsoft 365 Adoption Strategy
Initial infrastructure health check and assessment
Microsoft 365 adoption planning and design
Tailored adoption strategy
Cost-efficient infrastructure implementation
Expert guidance on a successful Microsoft 365 deployment
Mailbox Migration
Seamless migration to Microsoft 365 from other platforms:
POP3/IMAP, Exchange, G Suite, Lotus Notes, AWS WorkMail, Zimbra, and others
SharePoint Design, Migration, Integration
Reviewing and analyzing the existing on-premises ECM; offering content migration or archiving options
Designing data storage and management systems
Migration from legacy systems to SharePoint Online
SharePoint customization options to fit your needs and requirements
Setting up corporate services such as taxi, stationery, lunch bookings, and more
Advanced Security Management and Threat Protection
Setting up threat-protection policies, reports, and automated investigation
Setting up Microsoft Security & Compliance Center for easy compliance management
Configuring threat protection and access control within Azure Active Directory
Deploying Microsoft Defender for automated threat detection and remediation
Building a cloud-native SIEM/SOAR solution (Microsoft Sentinel)
Securing, deploying, and managing all users, apps, and devices with Microsoft Endpoint Manager: Mobile Device Management (MDM), Mobile Application Management (MAM)
Setting up Azure Information Protection
Microsoft Teams Governance
Setting up intelligent business solutions for effective collaboration
Setting up the digital workplace with Microsoft Teams and Microsoft Viva
Migration from Skype for Business to Microsoft Teams
Exchange Hybrid Environment Configuration
Setting up Hybrid Exchange environment for the migration of mailboxes from on-premises Exchange to Exchange Online
Configuring Active Directory
Installing/updating operating system features required for migration
Creating Hybrid Exchange infrastructure
Testing Hybrid infrastructure
Creating a migration plan
Helpdesk
Various license types, which can be scaled up and down based on the company size and needs
Technical support L1, L2, L3
Active Directory Synchronization
Setting up a secure multi-platform (between on-premises and cloud) access to data
Adoption and Change Management
Staff training on Microsoft 365 capabilities
Assessment of current business processes
Assessment of source environment
Microsoft 365 adoption guidance
Microsoft 365 Suite in Detail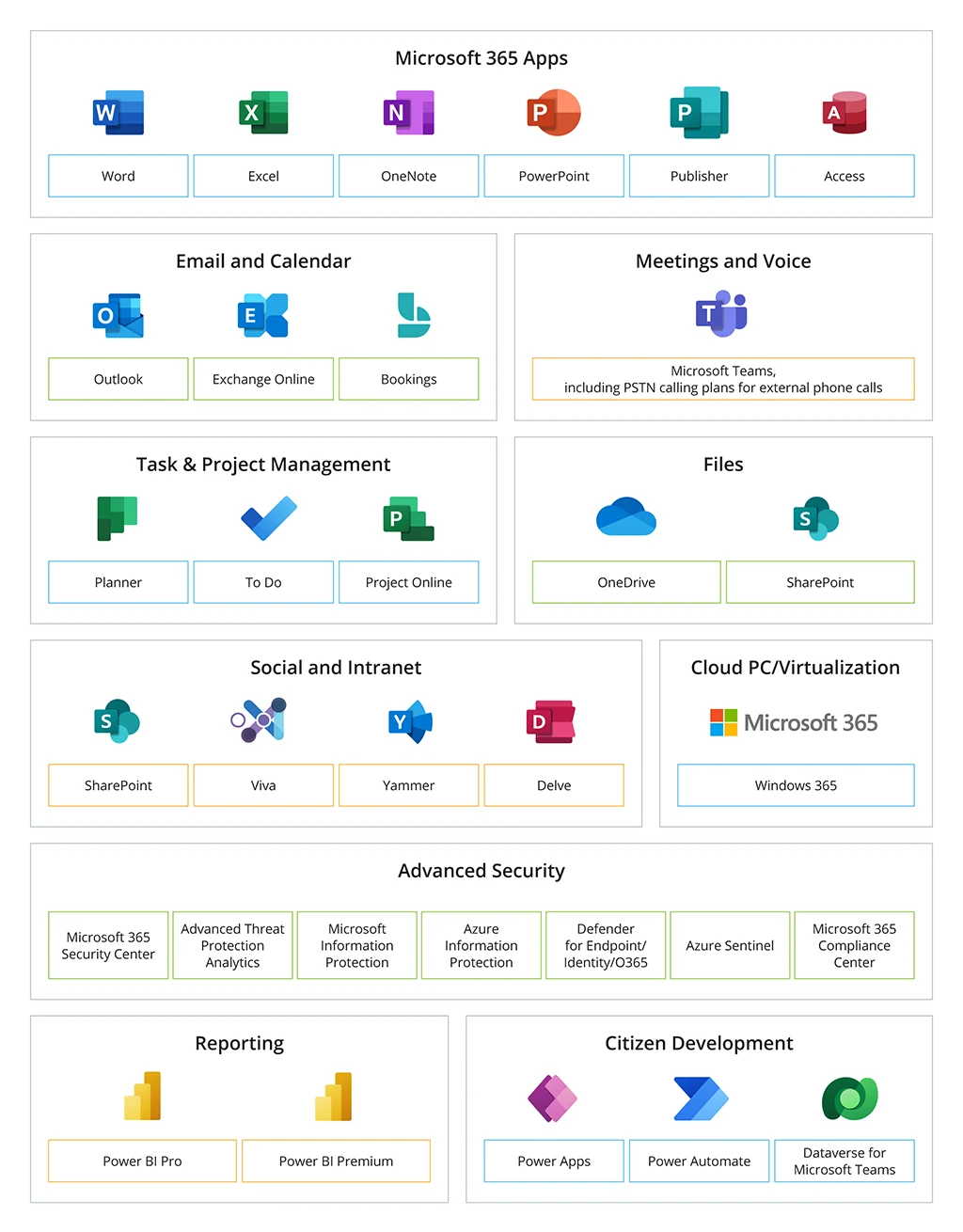 We have a solution to your needs. Just send us a message, and our experts will follow up with you asap.
Thank you!
We have received your request and will contact you back soon.