Article
A Complete Guide to Power Platform: How Modern Tools Drive Business Digitalization
Originally published: September 09, 2020
Updated: December 29, 2022
7 min. read
Data & Analytics
Business Applications
With the digital economy sweeping the interconnected world of everything, data is becoming the most valuable asset of any business. However, massive datasets are of no use when raw and unprocessed, and today
less than 1% of unstructured data is analyzed
at all. To arrange, analyze, and use data wisely is imperative for any company that strives to be at the forefront of digital transformation.
Enterprise applications aimed at scaling businesses and establishing competitive advantages are in abundance nowadays. Yet, when it comes to integrating them with other apps or services, it can become a significant obstacle to effective modernization and digitalization of business. While 97% of organizations report on planning or implementing the initiative, 84% of them are swamped with the challenges of integration and migration.
That is what Microsoft has come to change by redefining the way businesses approach their data. In recent years, the tech giant Redmond has been rolling out components of what is now combined under a single low-code development space Microsoft Power Platform, consisting of:
Power BI – a business analytics service that transforms data into real-time dashboards and reports based on custom-configured criteria;
Power Automate – a solution for building automated workflows between apps and services;
Power Apps – a low-code platform to build customized applications running off a company's data;
Power Virtual Agents – an app for building AI-driven chatbots to automate tasks and responses.
Connect and Rule
Microsoft Power Platform offers enterprises first-class tools and scalable end-to-end solutions to analyze data, build solutions, automate processes, and create virtual agents for seamless service delivery and business optimization. The key benefit of Power Platform is its capability to connect to Office 365, Dynamics 365, Azure, and numerous third-party apps as well as exploiting data from services like Outlook tasks and calendars.
Each of these apps is a separate product and can be used as a standalone application to solve specific business problems. However, the real value of Power Platform comes from using all four solutions. When combined, the service functionality allows for the full coverage of the enterprise's data management process, helping increase productivity and taking your business to the next level. Powered by Microsoft Azure, Power Platform enables savvy companies to receive, process, and analyze any datasets, using applications and automated business processes.
By combining the potential of the Dynamics 365 platform and Office 365 with Power BI, Power Apps, and Power Automate, an organization can benefit from a single data model that gathers all information about a company's business activity. It becomes possible thanks to Microsoft's Common Data Service (CDS) – a tool to securely store and manage your business data on a unified platform.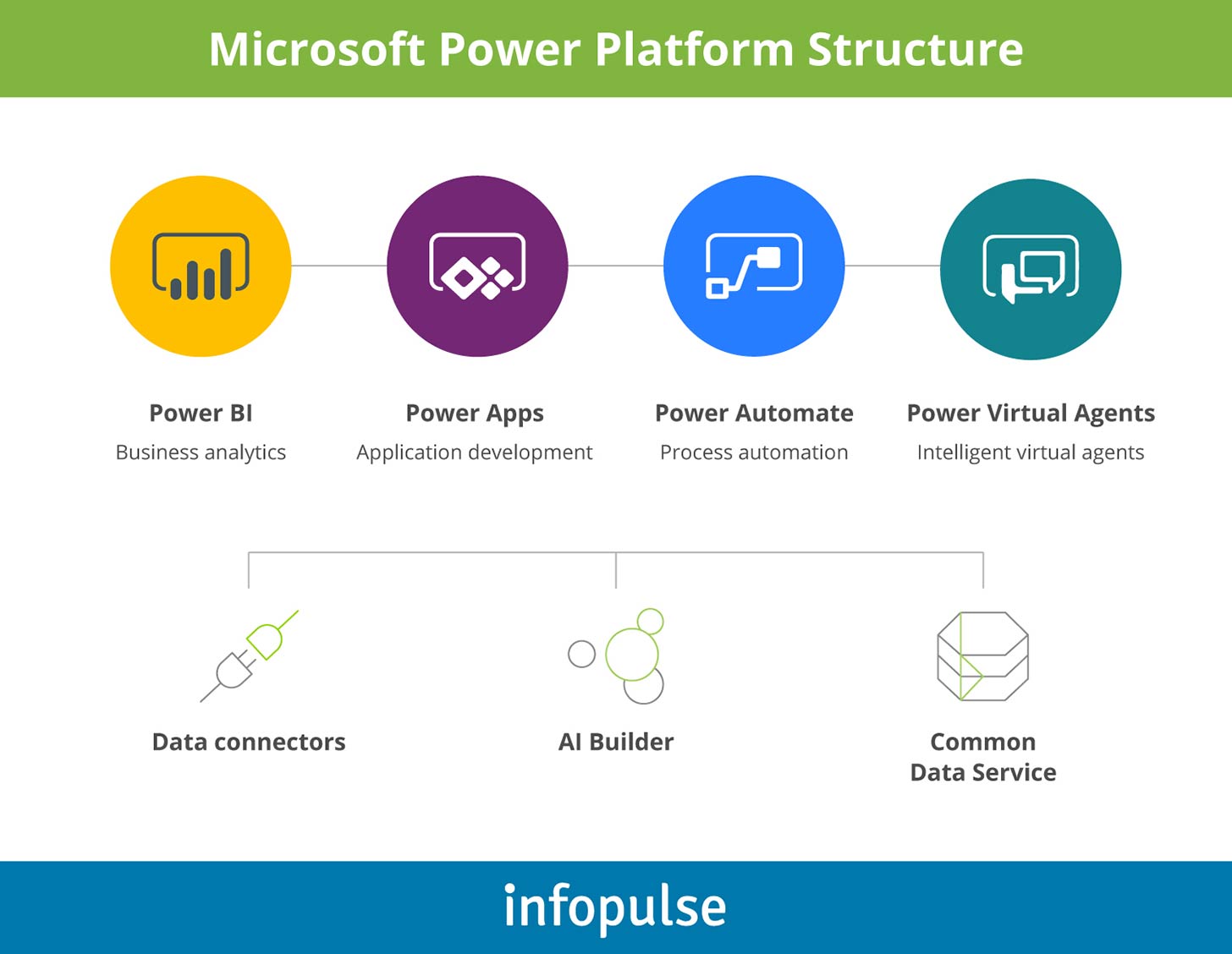 Let's look at each of the products in more detail.
Power BI: Insights That Change Everything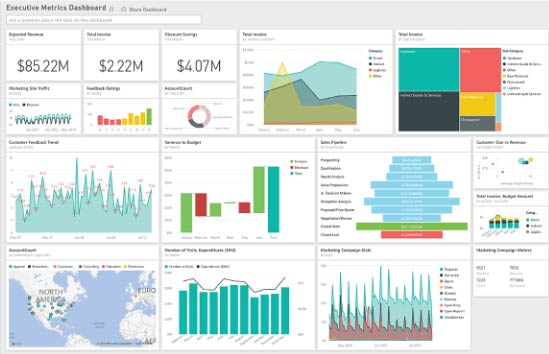 Data is an abundant, omnipresent, and widely accessible resource in the digital economy. It is an undeniable business benefit and competitive advantage at first sight but overwhelming and puzzling on closer inspection.
Indeed, many companies mention that only 0.5% of their dataset is processed due to the complexity and time needed for its operationalization. To eliminate the weak points of traditional business intelligence services, Microsoft introduced an in-memory computing platform Power BI.
Power BI is a business tool for analytics that turns data into real-time visual insights to be presented as dashboards and reports. This application has more than 70 connectors that allow linking it to solutions of various complexity, from the Excel application or SQL servers to platform services like MailChimp or Google Analytics. A user-friendly interface has turned out to be a real game-changer as it grants beginner users easy and hassle-free access to the required data from various business departments (marketing, sales, etc.). On their demand, users can present retrieved data with custom-made reports and dashboards and share them with team members for better collaboration. What's more, a recent update brought a visual personalization feature enhancing user experience with customizable visual components.
In essence, Power BI equips a basic user with an advanced yet easy-to-use tool that turns data into visual and tangible insights aimed at business optimization.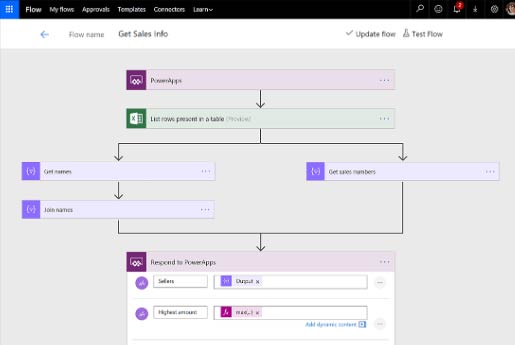 Power Automate: Forget About Repetitive Tasks
The business process management (BPM) market, valued at $8.8 billion in 2020, is booming with a growing demand for the integration of automation and IoT. Praised for its capability to boost productivity and reduce costs, BPM apps are the staple of business automation and optimization – features especially relished in the uncertain times of the pandemic and economic crisis amid the COVID-19 outbreak. To stay afloat under the work-from-home conditions, companies are opting to automate as many business processes as possible. In fact, organizations that adopted RPA solutions to streamline their workflows report 30% – 200% ROI. To deliver great results, it is essential to choose the right app.
Power Automate (former Microsoft Flow) is an optimal solution for automating repetitive, low effort, but time-consuming tasks, designed for building automated workflows across numerous apps and services. Its greatest merit is the capability to automate mundane tasks and processes by choosing a trigger and subsequent steps, communicating with connectors in the workflow, and finalizing actions. A personalized workflow can be created for any business process as long as one can identify a corresponding trigger, like setting notifications when something is created in Dynamics 365 or auto-saving email files to SharePoint.
A Power Automate use case to illustrate the point
Many are familiar with the laborious data collection for marketing research that requires manual processing and transferring survey answers. Power Automate is a lifesaving tool that undertakes the role of a virtual assistant, which collects and stores information from questionnaires seamlessly and automatically. This optimization unburdens company employees from cumbersome tasks and allows them to redirect their time and talent to strategic business goals.
Watch our recorded webinar to learn more about Power Automate vs UiPath:
Power Apps: a Drag-and-Drop Approach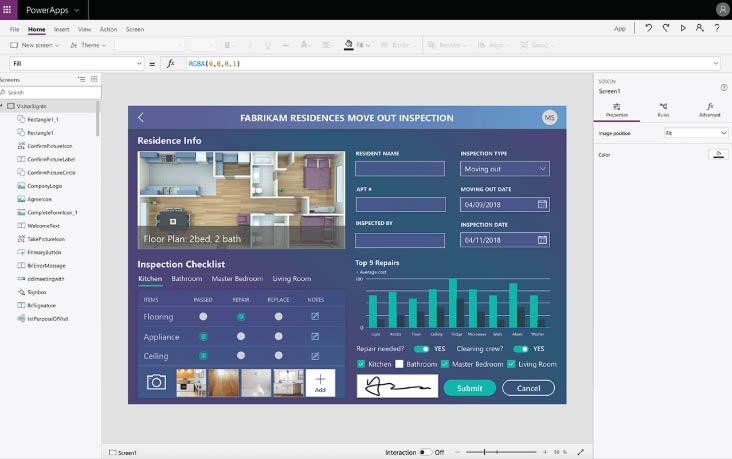 A diversity of business needs and customer demands accelerated the rise of customizable business applications built with minimum budget and technical skills, establishing a new paradigm of citizen development. Microsoft Power Apps, created in line with this new concept, provides citizen developers with a low-code platform featuring a drag-and-drop user interface designed for building and deploying custom applications – both desktop and mobile. This approach allows users to seamlessly add different types of controls, such as text/choice fields, various media (images, video, or camera controls for the phone), forms, and screens to create a unique set of features and options tailored for specific business goals. Power Apps is universal, meaning you can connect data from other services and external data sources (230 built-in connectors) to create anything from a simple contact list application to an expense-processing solution.
A case in point.
For our client, an international provider of audit services, in just 2 months we created an elaborate questionnaire builder based on Microsoft Power Apps for an inspection management solution. Our application helped to streamline the company's work processes and save time during audits and inspections.
Learn more from our success story
.
The possibilities of Power Apps are immense, with some of them including apps for employee onboarding, payroll management, request processing, data policies administration, issue reporting, and many more. The number of usage scenarios depends solely on your business needs and requirements. Do you need to elevate the security of reports or refine the features of your existing applications? Microsoft Power Apps can do this and much more.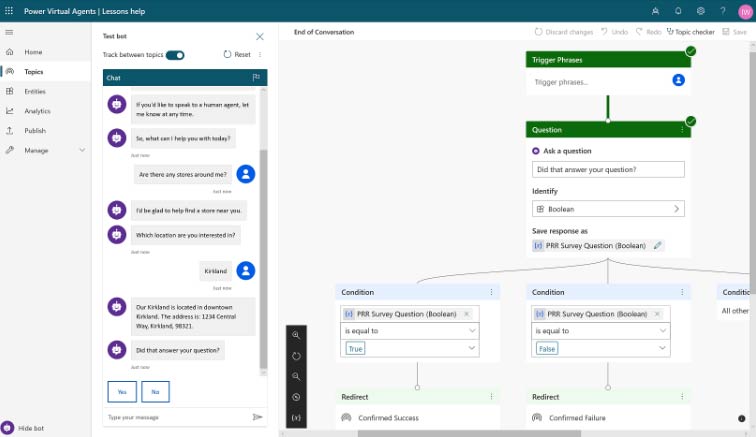 Power Virtual Agents: Your Intelligent Assistants
Chatbots have already been revolutionizing the customer support service by reducing non-stop pressure on call-centers. However, building a complex chatbot for your website can be time-consuming and way too resource intensive. That is where Microsoft's Power Virtual Agents is changing the game.
Power Virtual Agents is a SaaS low-code platform that enables you to create AI-powered chatbots for task and response automation. It empowers businesses to build their own intelligent virtual assistants featuring conversational AI without seeking expert help from intermediaries and data scientists. The analytics dashboard, which gives you access to engagement, escalation and abandon rates along with customer satisfaction, allows you to fine-tune your intelligent assistant to your criteria.
One Platform to Rule Them All
Even though Power BI, Power Automate, Power Apps, and Power Virtual Agents are great products on their own, they present the greatest value to enterprises when working as a whole. To get a better idea of how organizations can benefit from Power Platform, let's take a look at the case of the British airline company 'Virgin Atlantic'. Before 2018, one of the largest airlines used paper-based audits, where engineers had to fill in papers manually in a legacy SharePoint 2007 list environment. Virgin Atlantic board decided to digitize that process by turning to Microsoft Power Platform solution to create a safety and compliance audit app. As a result, it simplified engineers' duties drastically, since performing audits with corporate tablets increased buy-in from engineers, visibility of areas for improvement, and automation of audit scheduling.
Bottom Line
Automation and digitalization have never been that easy and affordable as with Power Platform. A low-code environment gives you the ability to create customized apps to streamline your business processes and refine decision-making without the need to bring developers. Create your modern suite of business applications on the fly, whether it be incident management, customer surveys, procurement solutions, or any other business process management solutions.