Multi-Cloud vs. Hybrid: How to Choose the Perfect Solution for Your Business
Originally published: March 17, 2021
Updated: June 08, 2023
8 min. read
Cloud & DevOps
Cloud computing has become critical for digital operations. However, a single cloud no longer suffices to maintain the growing spectrum of businesses' current needs and future ambitions. By
2023
, organizations are projected to rely on at least ten clouds to meet their IT needs fully. Yet, few managers today have a formal strategy for transitioning to multi- or hybrid cloud operations.
Multi-Cloud vs. Hybrid Cloud: What is the Difference?
A hybrid cloud setup assumes usage of one (or several) public clouds, along with private cloud(s) deployed on or off-premises. Hybrid cloud architecture aims to augment the company's existing hardware (data centers) with extra public cloud solutions to gain sufficient resources for running digital operations.
Example of hybrid cloud infrastructure: you are running an Optimizely e-commerce website with Azure Web Apps. However, you are hosting your SQL databases locally on a private cloud on-premises for extra security.
Read more about hybrid infrastructure use cases on Microsoft Azure.
In a multi-cloud environment, companies mesh two or more clouds, either private or public, to support various workloads and service verticals. Each public cloud may operate independently from others. Though more frequently, a multi-cloud strategy assumes connectivity between multiple public cloud services and a private cloud. Respectively, a hybrid cloud is a common use case of multi-cloud.
Example of multi-cloud architecture: You can host customer-facing SAP applications on Microsoft Azure but rely on Google Cloud for running big data and predictive analytics workloads.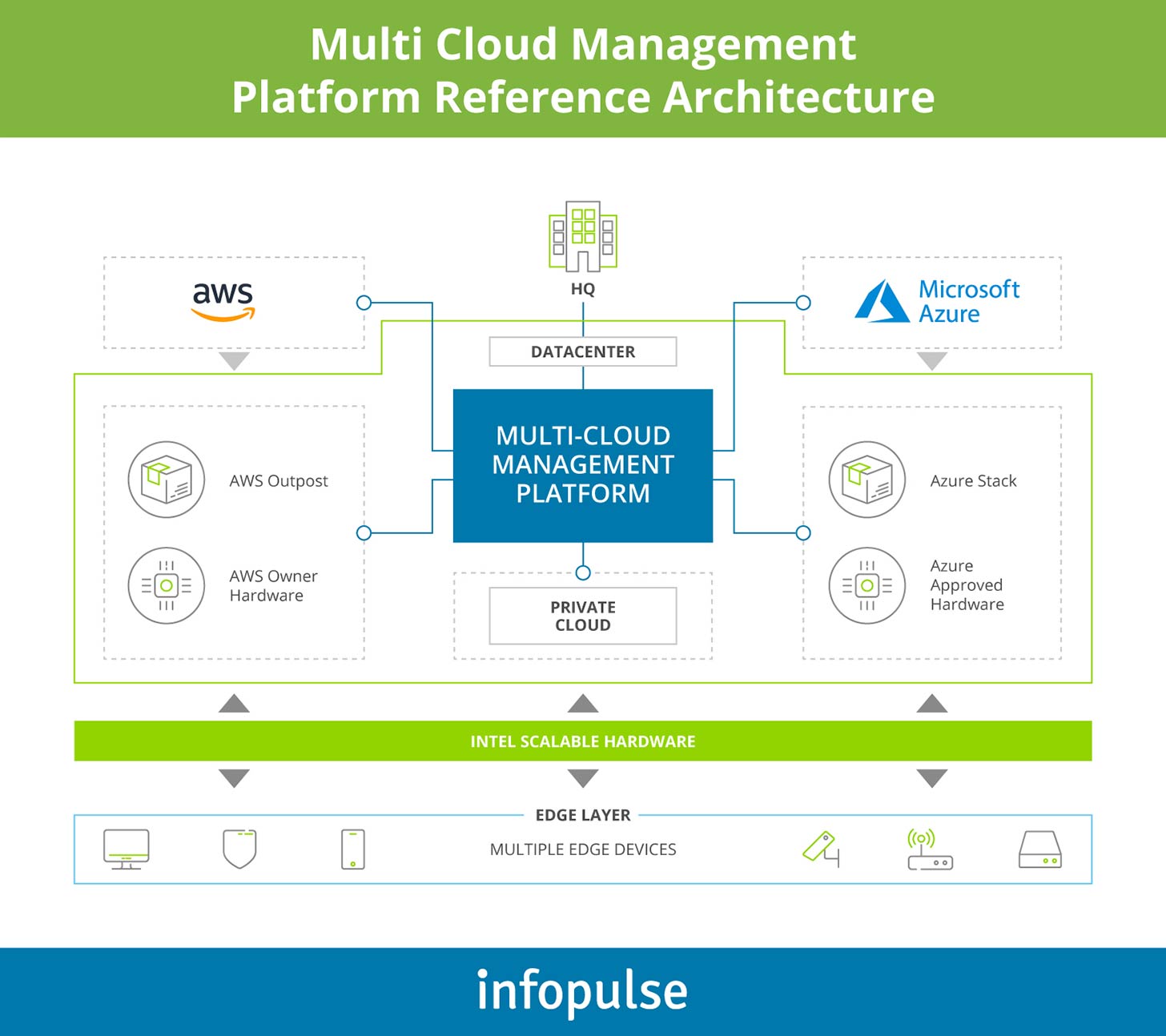 The key difference between hybrid cloud solutions and multi-cloud is the type of cloud assets the company relies on. A hybrid cloud strategy always assumes the usage of on-premises resources, along with one or more public cloud services. Multi-cloud architecture, more often, doesn't assume on-premises connectivity.
Benefits of Multi-Cloud and Hybrid Cloud
The reliance on multiple cloud providers prevents vendor lock-in, provides access to the most "fit-for-purpose" cloud resources, and enables cost agility by leveraging cost arbitrage between various cloud services.
Advantages of Multi-Cloud
Best-of-breed services: Each public cloud service provider has "edge" offerings, better suited to meet a specific group of IT needs.
Scalability: Provision extra resources and reduce latency issues by distributing workloads across various providers (and regions).
Reduced operational risks: Reduce the dependency on one vendor or on-premises resources.
Compliance: Store and process the most sensitive data with the provider(s) that tick all regulatory boxes.
Futureproof: Secure ongoing access to the best-in-class resources and innovation delivered by respective providers.
Advantages of Hybrid Cloud
Increased agility: An interconnected hybrid cloud platform enables better control of resource allocation, provisioning, and management. In this way, that your IT team always has access to the resources, they need for development, delivery, and deployment.
Reduced technical debt: Legacy on-premises infrastructure can be revived via virtualization and progressive migration to a private cloud. Hybrid cloud services providers also offer tools and frameworks for modernizing legacy applications securely.
Lower ecosystem complexity: The fragmentation of data, resources, and workloads between on-premises and cloud resources straddle digitization efforts. A hybrid cloud environment can be configured to provide greater visibility into all processes and centralized management of all assets.
Improved security: With a unified hybrid cloud management strategy in place, you can ensure consistent adherence to security and compliance best practices, plus run comprehensive monitoring to identify emerging threats.
Technical acceleration: By consolidating your resources and infrastructure and streamlining cloud infrastructure management, your company can reduce product development cycles, deployment times for new software, and release risks associated with manual processes.
Hybrid Cloud Computing or Multi-Cloud: How to Choose the Right Approach?
To determine the right strategy for your business, you should also consider your current technical capabilities and business requirements such as:
Private clouds are better suited for storing sensitive data as companies can deploy custom encryption methods and configure other security facets to protect storage.
However, if you lack cloud cybersecurity expertise, it may be more challenging to ensure that your on-premise hardware is appropriately secured.
Hybrid cloud services may be better suited for companies with prolific expertise in public cloud services.
Alternatively, you can assign private cloud management to the in-house team and partner with an IT vendor to provide infrastructure support and optimization services for the public cloud.
BPrivate clouds are more cost-effective in the long term compared to running on-premises data centers.
Still, you will need to invest in migration, set up initially, and optimization — this investment will be more significant compared to adding a public cloud.
Hybrid cloud architecture is designed to balance your reliance on internal and external resources.
For instance, a private cloud can be designated to workloads demanding low latency or cold data storage. At the same time, public cloud resources can be used for scalable workflows and data analytics projects.
Public cloud platforms have a shared responsibility security model. While the cloud provider provisions the cloud's security and provides security tools and services, you are responsible for enabling proper endpoint configurations and access/identity management safeguards. This can make multi-cloud management more challenging since you will need to set up harmonized security policies across all assets.
To run multi-cloud, operations, you will need to have IT experts well-versed in each platform and capable of understanding the inter-dependencies between them.
Thus, access to sufficient talent can become an issue at some point unless you seek an external IT services provider.
The multi-cloud strategy reduces CAPEX costs associated with running an on-premises data center.
However, without diligentcloud cost optimization, the public cloud's spending can outweigh the attained savings.
An organization with high but uneven computing power demands can benefit from on-demand access to additional resources to cope at peak times.
4 Essential Steps for Planning a Cloud Strategy
Though 90% of businesses were using the cloud at some capacity in 2019, only 20% of workloads were fully migrated to the cloud environment. In most cases, these migrated workloads were already cloud-native and driven by microservices architecture, rather than re-architectured specifically for the cloud. Why such a discrepancy between ambitions and actual execution? Most enterprises view complete cloud migration as a costly, risk-prone, and budget-heavy initiative. That makes sense, given the existing IT ecosystem complexities.
A hybrid cloud strategy can help businesses re-assess their legacy architecture and locate better resources for running the existing workloads:
For example, front-office workloads can be "offloaded" to a public cloud IaaS solution for greater efficiency gains.
Private cloud can be leveraged for IaaS or PaaS deployments of mission-critical workloads that require resource elasticity.
On-premises environments, in turn, can be allocated to the remaining workloads, requiring extra security or bound by certain compliance requirements (or other constrains).
Postponing the decision to migrate on-premises workloads can soon place leaders at a significant disadvantage. Obsolete systems are not poised for driving growth in the new "digital" decade. To transition from being a "cloud aspiring" to becoming a "cloud-fulfilled" organization, consider the following steps.
1. Formalize a Business Case
Every successful cloud adoption scenario is based on a strong business case.
Start with an assessment of your current infrastructure. Analyze the blockers, shortcomings, and critical system elements due for upgrading. Seek third-party expertise for conducting in-depth cloud readiness and IT infrastructure assessments.
Map the current integrations between legacy applications, data storage, and other business systems. Identify all the technical requirements for cloud-bound applications and other assets. Highlight workflows with specific security or regulatory requirements.
Draw several cloud use case scenarios for adopting public and private clouds. Specify the benefits, risks, and constraints for various candidates.
2. Determine the Optimal Destinations for Workloads
Often, business leaders focus on comparing various cloud service providers mostly based on features and costs. However, to realize faster ROI, it is best to keep the focus on workloads.
Look for commonly disrupted workflows, e.g., those constrained by lack of scalability, heavy reliance on manual resource provisioning, and data silos.
In essence, your goal is to:
Identify and analyze underperforming processes;
Locate the root cause of the problem affecting the execution (for example, lack of timely access to additional resources during peak loads);
Model an alternative placement in the cloud and analyze the potential value gains.
Such an approach can help leaders prioritize "quick wins" on the long-term cloud adoption roadmap.
3. Identify Optimal Cloud Deployment Scenarios
Public cloud services allow different deployment scenarios — SaaS, PaaS, and IaaS. Each option has its own merit for different business cases.
When planning to migrate and re-deploy business applications, consider, which deployment scenario will be best suited for this specific app, as well as your newly developed hybrid infrastructure.
For example, opting for SaaS deployment can seem like an instant win. Still, with private cloud infrastructure available, you might gain better long-term benefits from running the application locally.
4. Formalize Your Multi-Cloud Management and Tooling Strategy
Multi- and hybrid cloud connectivity enables unprecedented access to computing resources. However, to keep operating costs reasonable, companies need to have complete visibility into the tech portfolio to monitor and optimize resource consumption:
By provider
Across all cloud portfolio
Most hybrid cloud providers have native cloud management toolkits, including those for ensuring cross-platform consistency and cross-platform management. Depending on your setup, you may also need to invest in third-party cloud management platforms and point tools.
Conclusion
According to Accenture, 77% of executives view their technology architecture as critical to their organization's overall success. Undeniably, cloud computing stands at the core of every future-positioned IT architecture.
Hybrid cloud technology is a staunch "gateway" to sustainably transform legacy on-premises assets and accessing innovative capabilities of public cloud services providers.
Infopulse provides cloud transformation and development services to mid-market and enterprise clients. Our team of cloud consultants can help shape your business case for hybrid or multi-cloud adoption and carry out progressive migration. Contact us!