Testing for Roaming Services: A Competitive Pillar for Telcos
Originally published: December 20, 2022
Updated: January 24, 2023
7 min. read
Infra & Operations
The global wholesale roaming market stood at
$39.4 billion
in 2021 and is projected to double in size to $60.9 billion by 2032. Much of this growth will come from increased data services usage, driven by both consumers and multiplying networks of IoT devices.
BICS, a European telecom leader and one of Infopulse clients, expects a 44% YoY increase in global machine roaming on its network. Overall international IoT roaming traffic may increase by 300% over the next 4 years. That said, voice and text usage will also remain popular services, especially as the global populations continue to grow.
To satisfy the needs of both B2B and B2C segments, telecoms will need to level up their service quality standards — a task impossible to achieve without the comprehensive quality of service (QoS) testing.
Previously, we wrote about the importance of voice testing in telecom. In the second post in this series, we would like to focus on roaming services testing.
What Challenges Does Roaming Testing Solve for Telecoms?
Service reliability, service interaction quality, and customer support are key determinants of customer satisfaction in the telecom industry. Roaming testing helps get an objective assessment of the performance of data traffic across the telecommunication networks, involved in the exchange process.
Telecom service engineers, specializing in IREG/TADIG testing, perform a series of standardized tests, imitating real-world user journeys, to validate network experience and billing scenarios across all supported roaming zones.
This assessment typically covers parameters such as:
Service testing
Quality of Service (QoS)
Quality of Experience (QoE)
Billing and tariff testing
Service security performance
Roaming partner compatibility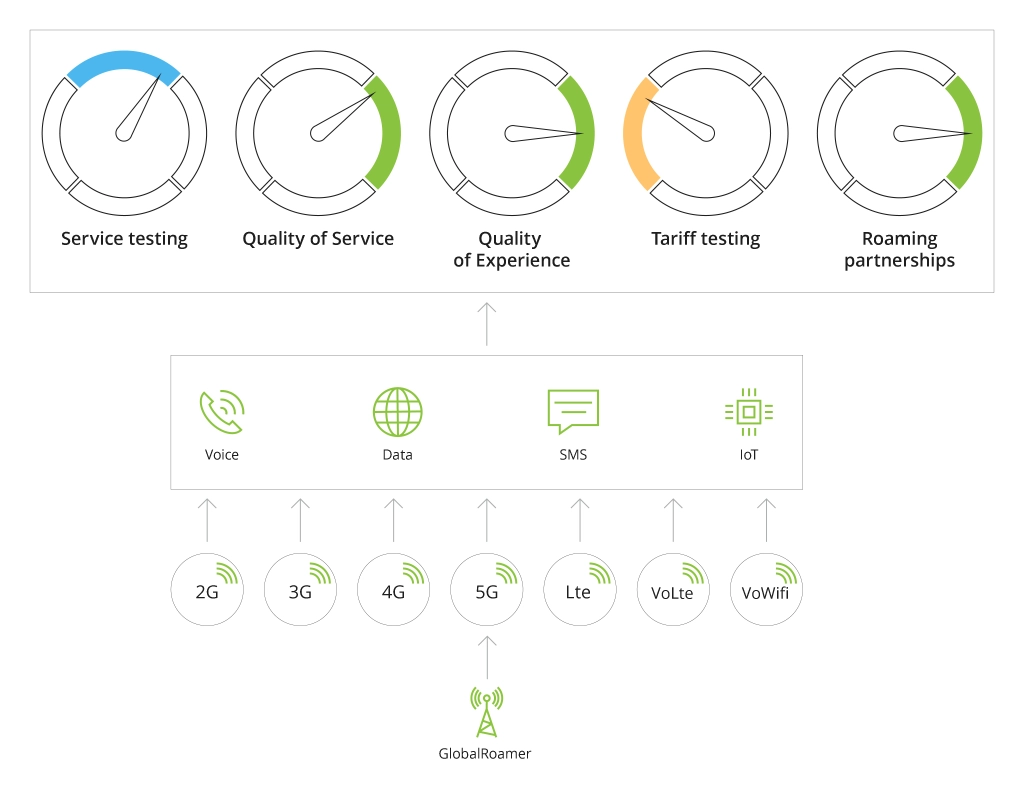 All of the above factors are crucial for ensuring the correct implementation of services on your end, as well as alignment with industry standards, used by your roaming partners.
In practice, the testing process helps telecoms with the following challenges.
Ensure High Service Availability
Signaling interworking allows different networks to interoperate and communicate with each other, enabling users to make calls or transmit data between networks without disruption. The increase in signaling load and complexity (due to growing traffic volumes and service types) can impact the overall Quality of Service (QoS).
The goal of roaming testing is to ensure that all roaming participants adhere to the industry service availability standards for each connectivity channel (voice, SMS, and data roaming).
Facilitate Services Compatibility
Roaming testing is a more complex process since it spans domestic and visited networks. This, in turn, increases the number of nodes, involved in the interconnect process — and, therefore, multiplies the number of potential points of failures.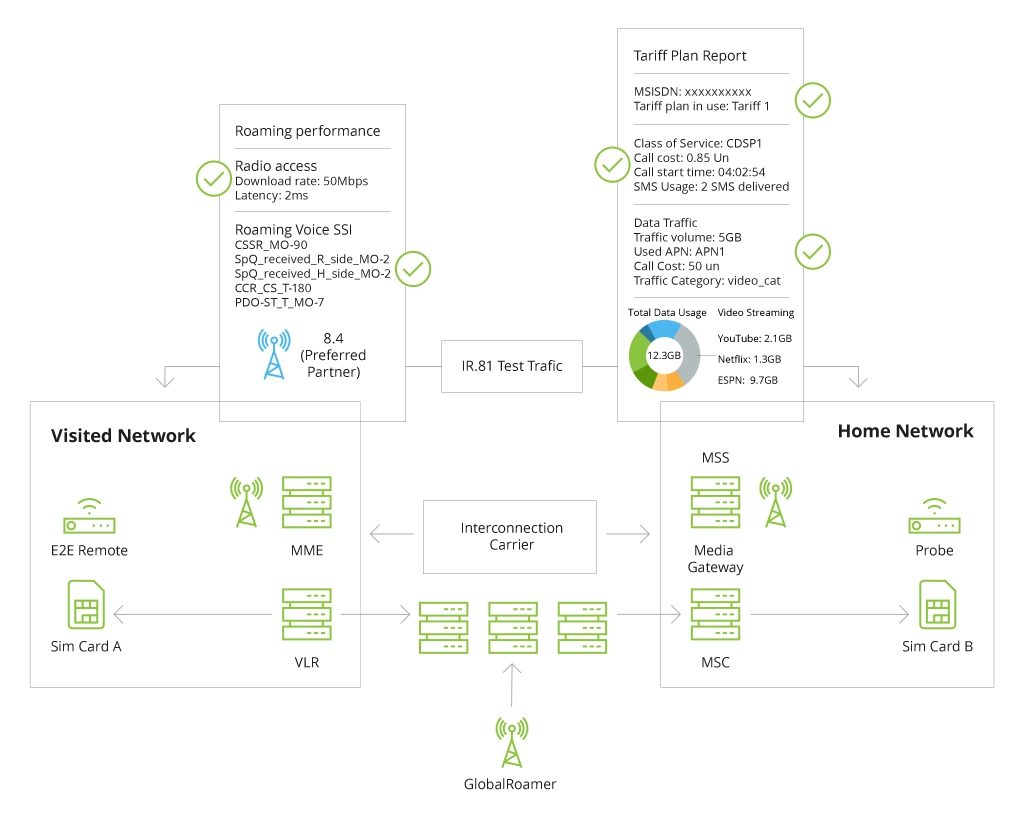 In most cases, roaming issues arise due to different standards, applied to voice, SMS, and data transmissions. Similarly, there may be an incompatibility in terms of supported functionality. Comprehensive roaming testing helps locate those issues and ensure proper standard implementation across partners.
Prepare a Roaming Service for Commercial Launch
Whether you are entering a new roaming agreement or launching an innovative product like an eSIM for travel, you need to ensure the product's readiness for the market. This means your company has to meet both local roaming regulations, industry-wide interconnect standards, and consumer expectations. At the same time, telecoms need to also ensure secure data transmissions and protect themselves from voice and SMS fraud. Pre-launch roaming tests, executed using industry test books, help you cover these bases.
Ensure Correct Billing
Effective compensation is ensured by accurate exchanges of:
Call detail records (CDRs) in TAP (transferred account procedure) files
Usage data reports in the BCE (billing and charging evolution) flow for IoT traffic with roaming partners.
Before services launch, telecoms have to verify billing systems interconnection, which involves validation of TAP flow or/and BCE flow. It helps ensure proper revenue collection and application of all the agreed roaming discounts or deals.
Roaming billing testing is mostly an ongoing procedure as disputes on billing arise. Separately, as telecoms continue to modernize their OSS/BSS layers, regular testing is needed to ensure that changes in the software would not affect roaming remuneration.
How to Organize a Roaming Testing Process
Protocols are the pillar of the telecom industry. Most of the roaming quality parameters are recorded in the industry standards, developed by leading organizations such as GSMA and 3GPP. When testing roaming services, Infopulse team relies on the practices from GSMA test books, designed specifically for voice, SMS, GSM/LTE, IoT, and Multi-IMSI roaming use cases.
The two main roaming testing standards are:
IREG (International Roaming Expert Group) for testing the functionality and user experience of voice, SMS, and data roaming services in roaming.
TADIG (Transferred Account Data Interchange Group) for ensuring correct billing between roaming partners.
Recommended Test Books for IREG and TADIG testing

IREG Standard
International Roaming Expert Group is part of the GSMA organization, responsible for conceptualization and maintenance of test specifications for correct roaming testing. In general, all IREG tests follow the same logic:
Verify the configuration of visited and home networks to ensure proper connectivity
Check service availability and accessibility
Troubleshoot failed scenarios
Fill in the testing protocols
The goal of the process above is to ensure that the developed roaming service meets all technical requirements, accepted in the telecom industry. The exact testing methodology, however, slightly differs based on the tested channel (voice, SMS, data, etc.). Therefore, a number of IREG test books exist to cover different QoS/QoE parameters for each channel:
For voice roaming tests our key priority is to check service availability and measure the time required for establishing a connection.
For SMS roaming test we focus on verifying SMS delivery in different scenarios and ensuring its dispatch within the industry standards.
For roaming data testing we validate service availability and check if the data exchange speed matches the set standards for the connectivity type (3G/4G/5G).
For IoT roaming tests, the prime objective is to test against Narrow Band Internet of Things (NB-IoT) and LTE-M (LTE Mobile) standards. If the device has power-saving settings enabled, we also verify their correct implementation and performance.
The above are just several examples of roaming tests we perform, according to the recommendations from GSMA. The exact roaming service test process covers a wider set of user scenarios, performed both on home and visiting networks.
TADIG Standard
Transferred Account Data Interchange Group (TADIG) standards cover a host of telecom billing tests, designed to ensure correct financial records reconciliation between roaming operators and domestic networks.
As part of TADIG, testing activities usually cover the following scenarios:
Ensure correct transmission of CDRs of the roaming subscribers (TAP flow testing)
Consolidate and validate billing records between a domestic provider and its roaming partners
Check that all discount agreements and other SLAs are applied correctly
A major part of TADIG testing is to ensure correct exchanges of TAP files between roaming partners. Data in the TAP files must be validated by the home network operator to ensure compliance with the TAP standard and applicable roaming agreement provisions.
How Telecom Testing Service Providers Can Help Ensure Superior Roaming Performance
As international travel rebounds and IoT use cases multiply, telecoms should expect a substantial increase in roaming revenues. Kaleido Intelligence predicts that in 2023 global telecoms retail and wholesale roaming revenues will reach $30 billion. Roaming services' availability and quality will be essential to capturing extra profits.
End-to-end roaming testing implies not only a set of routine, automated tasks, but also human involvement and test orchestration. Test engineers have to account for an array of node parameters, customer usage patterns, and billing scenarios. Moreover, end-to-end functional roaming testing must be performed on a regular cadence post-service launch to prevent service disruption and degradation due to newly introduced services or network changes. Execution of functional tests may also be required by partner networks as part of ongoing roaming agreements.
Since roaming testing is tedious and has to be carried out regularly, many telecom leaders choose to partner with telecom-specific QA service providers. Infopulse, for example, has been serving as an IREG/TADIG testing partner for BICS since 2011. Our strategic partnership has then been extended until 2030 thanks to the stellar results our telecom testing and network service assurance engineers have delivered.
Apart from testing the roaming services, our specialists also provide extra recommendations for improving service performance and interoperability. We analyze the testing outcomes and all the identified issues. Afterward, we attempt to resolve them by reaching out to roaming partners (e.g., for issues with standardization, interoperability, or billing). Or provide alternative recommendations for remediating the identified problems.
In other words, our engineering teams also consult you on the possible roaming service issues and facilitate their resolution before service roll-out to the customers. In fact, we address an even wider set of challenges in our telecom consulting services.
Conclusion
Roaming is a lucrative revenue stream for telecoms. However, it can also be a challenging one to maintain due to the complex roaming testing process and proliferation of advanced telecom technologies (5G and IoT). The quality standards are well-documented, yet there is a diversity in their implementation between Telco players. Unlike standard QA services, telecom roaming testing also requires specialized expertise and deep domain knowledge — such as we have cultivated at Infopulse for over a decade.