Article
4 Telecom Challenges Turned into 4 Consulting-powered Opportunities
Originally published: September 13, 2022
Updated: March 01, 2023
6 min. read
Digital Transformation
Business Applications
Digital Experience
Consumers, businesses, operating models, technology, and the approach to communication are undergoing major transformations. While enterprises still climb up the cloud, customers are already there, contributing to the network overload. Nobody expected those gigantic surges in Internet traffic. Though the COVID pandemic ushering everyone and everything online has demonstrated the telecom sector's resilience in handling fierce demand for services and impressive network load, the battle is yet to end.
Though already surrounded with tech, people continue to crave more connectivity and better Internet speeds. Very few are willing to call customer support or receive paper bills. Chatbots, smart apps, and impeccable customer experience with a personal yet unintrusive approach are the basic services expected from Communication Service Providers (CSPs).
The emergence and adoption of innovation enablers like AI, 5G, IoT, and decentralized ecosystems push telcos to radical digitization and self-reinvention. Embarking on a bumpy digital transformation road is a compulsory investment for CSPs willing to keep up with the competition and grow in value.
Let us take a closer look at common challenges that telecom providers stumble across in their digital makeover and how expert consulting can help make it less painful and more potent.
Challenge #1: How to Be on Par with the Tech Development Pace?
AI, 5G, and edge computing have almost turned into a mantra in the business world. That trio is a powerful confluence of technologies that promises a total revamp of the telecommunications sector and providers' strategies.
The slightest disruption to the network's speed and reliability can cost organizations financial and reputational losses. Telcos are utilizing artificial intelligence to automate network operations and management for simplified configuration, testing, deployment, fault detection, and overall efficiency.
Yet most importantly, AI-powered solutions are a core part of adequately functioning 5G and edge computing services that support the IoT infrastructure. The success of these innovative services is measured in their seamless delivery, which is still manual and often has adverse effects.
Another high-revenue-promising technology for telcos is edge computing. Its distributed architecture allows customers to employ high-bandwidth connectivity, which is of crucial importance for healthcare, emergency management, and manufacturing industries, and ensures the uninterrupted functioning of their services and applications in edge networks.
The most discussed disruptor is the fifth generation of telecommunications known as 5G. This general-purpose technology (GPT) can accelerate not just development but the evolution of all industries and sectors. Without a shade of doubt, the impact of 5G is already getting tremendous, the scale of which can be compared to the emergence of the Internet.
When these advanced technologies are augmented by new telco products, a simple network load balancing is not enough to release the pressure of the tech developments. So, to stay afloat in a current hi-tech climate, CSPs need to do a lot of housekeeping. Everything from infrastructure to business models needs a significant upgrade to give way to flexible and scalable ecosystems for the next-gen services.
The Confluence of AI, Edge Computing, and 5G

Solution: Personalized Consulting from Industry Experts
Telecom customers often turn to external consultants because they do not know where to start with their modernization objectives. Telecommunications specialists can help you get a clear picture of your current IT environment by assessing and analyzing your systems and workflows shortcomings and pain points. A broad technical and business assessment of this kind is a starting point in your digital transformation journey: from point A, you can further develop a concise roadmap to realize your projects.
It can be:
Project feasibility analysis
Recommendations on business processes transformation
IT solution architecture consulting
Challenge #2: How to Implement Complex Projects with Scarce In-house Competence?
Complex projects involve thorough coordination and alignment between various company departments, an internal competence center, and abundant IT resources. In other words, components that many organizations have on paper but not on hand.
Having a reliable partner with the knowledge of communications industry to fill in these gaps is already a must. Take Vodafone, for example, a tech communications company with 30 partners in 48 countries, including Accenture, AWS, Cisco, Google, Microsoft, and Ring Central, with which it collaborates on new growth opportunities.
Yes, elaborate projects are all about the novel and innovative growth opportunities. With tons of digitally-native start-ups as competitors, providing just connectivity is no longer an option for CSPs. They need robust partnerships to expand their service offerings and make them more than attractive. Analysys Mason reports that SK Telekom, a South Korean operator, forecasted its revenue growth from mobile and fixed-line service as just 2%. In comparison, its new cloud and data-center business revenue will grow at a CAGR of 30%.
Types of Revenue Growth Strategies for Operators
Solution: Join Forces with a Certified Partner to Foster Growth
Build a community of innovation partners to add value to essential telecom services and unlock new expansion opportunities. Network virtualization, cloudification, and migration from legacy systems are usually the first steps needed to lay the groundwork for growth strategies and novel assets.
Our client BICS, an international voice carrier, has been cooperating with Infopulse for more than 12 years now. We have developed 60+ applications for their Operations Support (OSS) and Business Support Systems (BSS) portfolio of solutions. Not just the development, we continue to cover 1st, 2nd, and 3rd level 24/7 support for BICS.
Challenge #3: How to Ensure the Security of the Telecom Sector-Specific Environment?
There is no growth without risk. For that reason, the increasing digitalization and connectedness of the world stimulate the evolution of cyber threats. A blooming and diverse ecosystem of new networks, services, and applications is only snowballing and building up more data and vulnerabilities on its way.
Take a moment to grasp this number: 41.6 billion connected IoT devices. That is how many of them are predicted to appear by 2025. Now, imagine the incomprehensible amounts of data they will generate: if one of these devices is insecure, it poses huge security risks to the network it is connected to. Unfortunately, nobody has yet canceled annoying and pervasive DDoS and DNS attacks, which remain a major sore point for telecoms.
In many cases, CSPs cybersecurity strategies are usually reactive instead of preventive. A lack of in-house competence/talents, inappropriate use of technology, absence of IT landscape visibility, or maybe all of these factors contribute to a company's weak security perimeter
Essentially, network's security is defined by the protection and resilience levels of these four components: operations, deployment, vendor product development, and telecommunications standards.
An Integrated Security Approach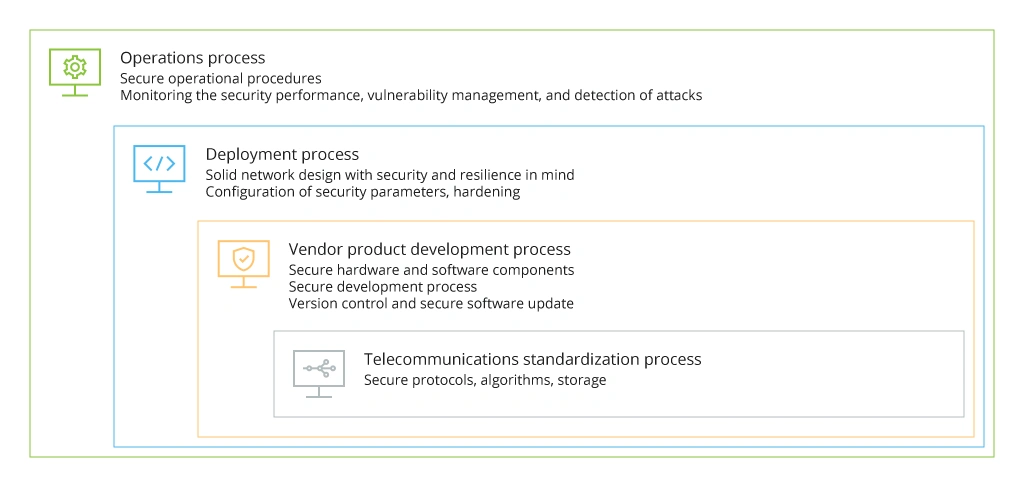 Solution: Industry Leaders Know How to Safeguard your Business
When your organization experiences constant data breaches and attacks, but you cannot pinpoint the 'why and how', it is better to turn to telecom consulting experts. Service providers usually offer a comprehensive scope of enterprise IT security services ranging from preliminary security assessments to comprehensive Security Operations Center (SOC) as a service.
On regularly held webinars, like "World Cyberwar: Practical Prevention Solutions", we cover the most common and latest cybersecurity threats and practical solutions to them. Addressing business cases from Infopulse experience, our security specialists share working insights and help you understand which areas of your organization require revamp, upgrades, or a total overhaul.
Challenge #4: How to Select the Right Vendor in an Overcrowded Market?
New technologies bring more vendors and options to the stage, adding more uncertainty to decisions about choosing the right provider before investing considerable sums.
Take, for example, a billing system – one of the telecom's backbone solutions. Highly sophisticated in nature and architecture, it has evolved even further. A lot of modules were decoupled to become separate tools (e.g., product catalogs and customer management), while billing's primary function became calculation.
Pricing algorithms need to run like clockwork to rate and bill extremely complex product portfolios: price per minute, price of recurring fees, commitment periods, pre-paid, post-paid, or mixed/hybrid models. However, that calculation is getting more intricate as new services, bundle offers, and business modules continue to stack. Also, do not forget the importance of personalized offers and discounts.
So, how do you choose a vendor for a modern billing solution that will significantly affect your budget and other business systems?
Solution: In-depth Technical Evaluation and Expert Consultation
For cases like this, a bundled consulting service consisting of feasibility analysis, Preliminary Solution Selection Assistance (RFI), and Conclusive Solution Selection Assistance (RFP) is a perfect solution.
Take a look at our latest case study featuring a Latvian mobile operator. LMT was going through a holistic digital transformation of their enterprise and stumbled across the billing solution selection challenge. By carefully assessing technical, integration, maintenance, and pricing factors, we provided LMT with a thorough analysis and roadmap for their system swap that equipped the telco with the right capabilities to implement their modernization plans.
Conclusion
As with any tech advancement, it can turn out to be a massive bottleneck or transform into a value generator. Having the right approach and expertise coupled with efficient implementation is what helps telco organizations to leverage the power of the new technologies. Expert telecom consulting can guide your enterprise through the turbulent time of pressing challenges and help you convert them into opportunities.
Whether it is software development, network operations, security, or business processes – with 20+ years of experience in telecom projects, we know how to bring value to your business. Contact us directly to get a quote or consultation.