Article
Top 4 Signs Your IT Service Management is Not Mature
Originally published: April 11, 2023
Updated: May 10, 2023
7 min. read
Data & Analytics
Cloud & DevOps
Business Applications
Infra & Operations
Given that most industries vaulted years ahead in terms of digital adoption after the pandemic, the load on IT service management has increased tremendously. However,
only 52% of ITSM specialists
believe IT has been taken more seriously in terms of budgets, salaries, and recognition of effort over the past several years.
In most cases, the gap between expectations and actual service levels correlates with the lack of established practices for managing standard requests, procedures, and processes throughout the IT Service Management (ITSM) lifecycle. According to a Boston Consulting Group estimate, an astounding 70% of digital transformation projects fail to achieve their goals.
The first remedy most businesses consider for improving ITSM is investments in new IT service management solutions.
Overall, the ITSM market is experiencing considerable growth in terms of value and volume. Proficient Market Insights predicts that during 2022–2028, the global market for Cloud (ITSM) will expand at a CAGR of 18.0%.
Before an organization invests in an ITSM tool, organizations must conduct a thorough assessment of their IT service management maturity level to identify areas that require improvement and determine whether they have the necessary resources to implement ITSM effectively. A maturity model provides a comprehensive assessment of where the organization stands when it comes to service excellence maturity and the areas for improvement.
The ITIL 4 framework identifies five levels of IT service management processes maturity:
Initial
Repeatable
Defined
Managed
Optimized
The ITIL Maturity Model

To determine your company's position on this spectrum, you can assess your approach to ITSM using the criteria listed below.
4 Signs Your ITSM is Not Mature:
Your ITSM processes are ad hoc and undocumented.
Your processes are repeatable but uncoordinated.
Your ITIL procedures are in place, but not followed.
You have set practices and SLAs, but not full automation.
Let's explore these points in more detail.
1. Your ITSM Processes are Ad Hoc and Undocumented
At Level 1, the IT service management strategy is defined by the lack of standardization across processes and management activities.
Level 1 issues. Operations and services teams have fragmented toolkits and siloed access to data. As a result, their activities are highly uncoordinated and cannot be pinned to specific IT service management metrics as performance monitoring does not exist. Since most processes are undocumented, the ITSM team is putting down emerging fires, rather than working on ensuring continuous, smooth operations and service provisioning.
The company's overall IT ecosystem is cluttered with a lot of "spaghetti" infrastructure and systems built but not properly maintained over the years. As a result, IT teams are often bogged with infrastructure maintenance tasks and have little time to respond to business users' needs or consider the wider business context of their day-to-day work.
How to resolve Level 1 issues:
Focus on redefining IT service management practices and processes. Each process needs to be aligned with the relevant business context for higher efficiency. Introduce repeatability into all the daily actions and promote the habit of acting according to the set practices.
Create preliminary Standard Operating Procedures (SOPs). Work with the IT leaders to determine the optimal set of procedures for common tasks and requests. Create the necessary documentation and consider training to build up the lacking IT service management skills.
Start building a business case for automation. Based on the defined processes and SOPs, start assessing IT service management software vendors that could provide toolkits for automation. JIRA service desk is a basic solution, popular with technical teams. ServiceNow is a more comprehensive, enterprise-grade platform.
Lastly, your IT service management transformation should be further backed by legacy system modernization to reduce the volumes of regular and emergency maintenance work ITSM teams need to deal with.
2. Your Processes are Repeatable but Uncoordinated
A more repeatable degree of certain ITIL processes and functions demonstrates a higher level of maturity in ITSM. When working on standard tasks, different IT people follow the same or similar procedures. However, not all of them are properly documented. According to APQC's research, a quarter of knowledge workers spend 3+ hours each week processing duplicate information or repeating the same answers/updates. That's hundreds of hours a year wasted on repetitive work that could have been delegated.
Level 2 issues. The ITSM department has a defined set of goals and adjectives. However, individual or team metrics for IT service management are not set or fully monitored. Coordination between people or different teams is low as the communication remains siloed and in-effective. Feedback is occasionally provided by stakeholders but in an ad-hoc manner. ITSM professionals still have a limited understanding of how their activity affects stakeholder outcomes.
While team members understand their roles and duties, plus receive basic training when they join, most of their training is informal and doesn't continue past the onboarding stage. As a result, there's a high degree of reliance on personal knowledge, rather than cumulative IT service management best practices, and thus errors occur more frequently.
How to resolve Level 2 issues:
Resolve IT isolation. On an inner level, focus on further process formalization, documentation, and automation. Commit to creating a more diverse range of resources and SOPs every individual can refer to. Set clear communication policies to promote a timely escalation of issues and increase collaboration between individuals. Start involving more business stakeholders to reduce the confusion around priorities, requirements, and overall strategic direction.
Procedure standardization. Continue your efforts of consolidating redundant processes, adding automation, and increasing the levels of standardization across all repeatable procedures. ITSM software offers a wide range of benefits to help standardize your processes. It can be used to centralize and automate repetitive tasks, reduce errors, and improve efficiency.
Adopt tiered support/service desk. To improve service level consistency, start breaking down your ITSM center into tiers to "filter" different issues by type, priority, and complexity. Introduce automation (self-service) for Tier 0 issue resolution and map out proper escalation procedures for more complex ones. Ensure that each Tier is adequately staffed, and every specialist has sufficient access, knowledge, and tools for resolving their set of tasks. Consider an external IT infrastructure management service provider if you lack in-house resources.
Case in point. Infopulse provided a self-service portal solution for a leading steel belt manufacturer to establish their own ITSM processes, operations, and support from scratch. The solution integrated Tietoevry Enterprise ITSM System and Active Directory with a chosen ServiceNow ITSM system, Azure, and Office 365 for software license provisioning, and Microsoft Intune for software provisioning. The portal optimized end-user request processing and streamlined the ticket history, resulting in faster issue resolution, real-time visibility, better flexibility, and efficiency. It also enabled the automation of Service Desk operations and software provisioning and streamlined ITSM processes, including Asset Management, Procurement, License Management, and User Management.
3. Your ITIL Procedures Are in Place, but Not Followed
At the Level 3 maturity level organizations have already a set of SOPs and standardized processes, to back ITSM management. All procedures are documented and accessible. Documentation is version-numbered, and a formal change control procedure is in place. Team roles are formally defined, recognized, and assigned. Performance within each role is measured based on a set of metrics. As a result, ITSM teams operate with higher consistency and efficiency.
Regular training and sufficient resources are provided for individuals to follow the set-forth IT service management principles. Corporate knowledge, business context, and external requirements shape and enforce ITSM policies. Stakeholders provide regular feedback to the teams to act upon.
Level 3 issues. Most procedures are planned in advance and rarely pursued on an ad-hoc basis unless there's a critical issue. Failures to follow the set procedures are an exception. However, teams' actions are still reactive, rather than proactive. Not all repetitive activities are automated and there's no direct mechanism in place to ensure that all individuals follow the set procedures.
How to resolve Level 3 issues:
Address cultural resistance. Work further with individuals to encourage the adoption of the set policies. Gather feedback for improvements and promote further knowledge sharing practices to speed up the adoption of new ITIL procedures. Address issues both at the grassroots and at management levels.
Adopt integrated IT service management solutions. IT service management tools provide real-time visibility into the performance of an organization's applications and devices. To ensure consistency and higher levels of coordination of all IT management and maintenance activities, address multi-capabilities vendors that provide consolidated visibility into different functions and assets, as well as enable centralized monitoring of tasks execution.
Find out what Leading Trends in IT Service Management you should follow.
4. You Have Set Practices and SLAs, but Not Full Automation
At this stage, you have reached a strong alignment between ITSM activities and your company's business strategy. You have appointed process owner(s) to monitor the execution and report on targets. The IT department sets targets in line with the business strategy of your company and continuously seeks new areas for improving IT capabilities. All the procedures are well-documented and performed consistently. Processes and toolkits are integrated. Knowledge sharing and cross-functional collaboration happen effectively. All procedures are also measured and monitored for compliance.
At this point, automation is deployed for most processes, though still in a somewhat ad-hoc manner.
How to resolve Level 4 issues:
Case in point. Infopulse developed a proprietary integrated solution for managing cloud environments and services for one of the largest IT services companies in Europe. The solution provided the client with a single platform for managing their cloud resources and automating IT processes. The integration with ServiceNow ITSM allowed for better visibility and control of cloud resources, improved incident and change management, and increased efficiency in IT service delivery.
The End Goal: Level 5 Optimized IT Service Management
Level 5 ITSM maturity is the ultimate objective for organizations seeking to reduce their IT and business service costs and improve their quality.
At this point, the company has adopted IT service management solutions that facilitate process automation, task coordination, and monitoring across to the service lifecycle. IT teams are quick to respond to changes in the business context and requirements to re-align processes with the company's goals. Within the framework of maturity assessment, metrics are used to evaluate the effectiveness of each process outcome in regard to stakeholder requirements. A feedback loop is in place to ensure further service level improvements. All the redundant or ineffective procedures are eliminated, and automation is used in every applicable use case. The IT team delivers reliable services and proactively acts on new requests.
To Conclude
Optimized IT service management promotes organic integration of IT into the general business structure through improving collaboration, knowledge sharing, and feedback loops.
The ITIL 4 framework sets forth a strategy for attaining a systematic approach to the delivery and management of IT services so that your company will be able to reap the following advantages:
Benefits of ITSM adoption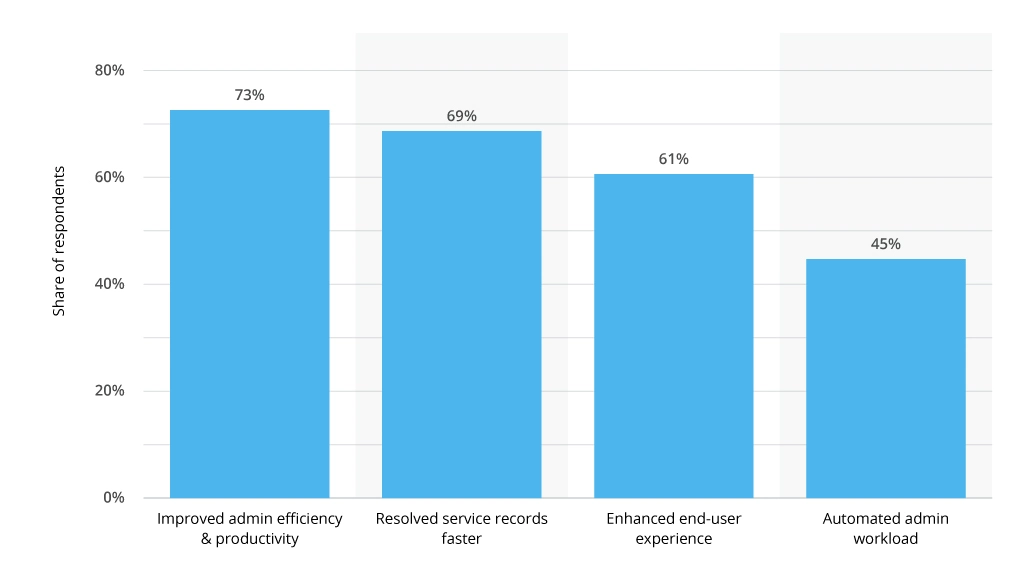 By conducting an ITSM maturity assessment and knowing where your company stands in terms of ITIL maturity, you can set forth respective targets and core areas for improvement. Doing so will help you formalize the optimal list of requirements for ITSM tools or platforms and right-size your technological investment.
Infopulse is a Premier ServiceNow implementation vendor, offering a range of consulting, integration, and implementation services.