Article
Service Desk Outsourcing: 7 Ways Telcos Can Improve Support Efficiency
Originally published: December 20, 2019
Updated: January 30, 2023
11 min. read
Digital Transformation
Telcos are in a tough position at the moment: they are under pressure to maintain an ever-growing volume of network traffic, transform their business models to stand strong against over-the-top media services, and delight customers with excellent support and CX.
With so many spinning plates at hand, most companies are increasingly seeking a way to offload at least some of these chores. So far, network operations and service desk support are proving to be among the top outsourcing "contenders". That makes perfect sense as the benefits of handing over support services to an IT vendor with experience in telecommunications are significant:
More reliable and competent customer support and additional services
Instant access to niche talent (without overhead costs)
Higher service availability and improved SLAs
Improved customer satisfaction, leading to higher revenues.
However, handing over your operations is just part of the deal. Partnering with an experienced IT company also enables you to digitize your support with the help of new technologies.
So, let's further untangle how telcos can improve their support efficiency and deliver a superior customer experience with the help of an experienced IT partner. Below are seven tech-driven approaches to innovating your customer service management.
1. Establish a Single Point of Contact for All Incoming Queries
Most of telco consumers find fully digital journeys far more satisfying than traditional ones: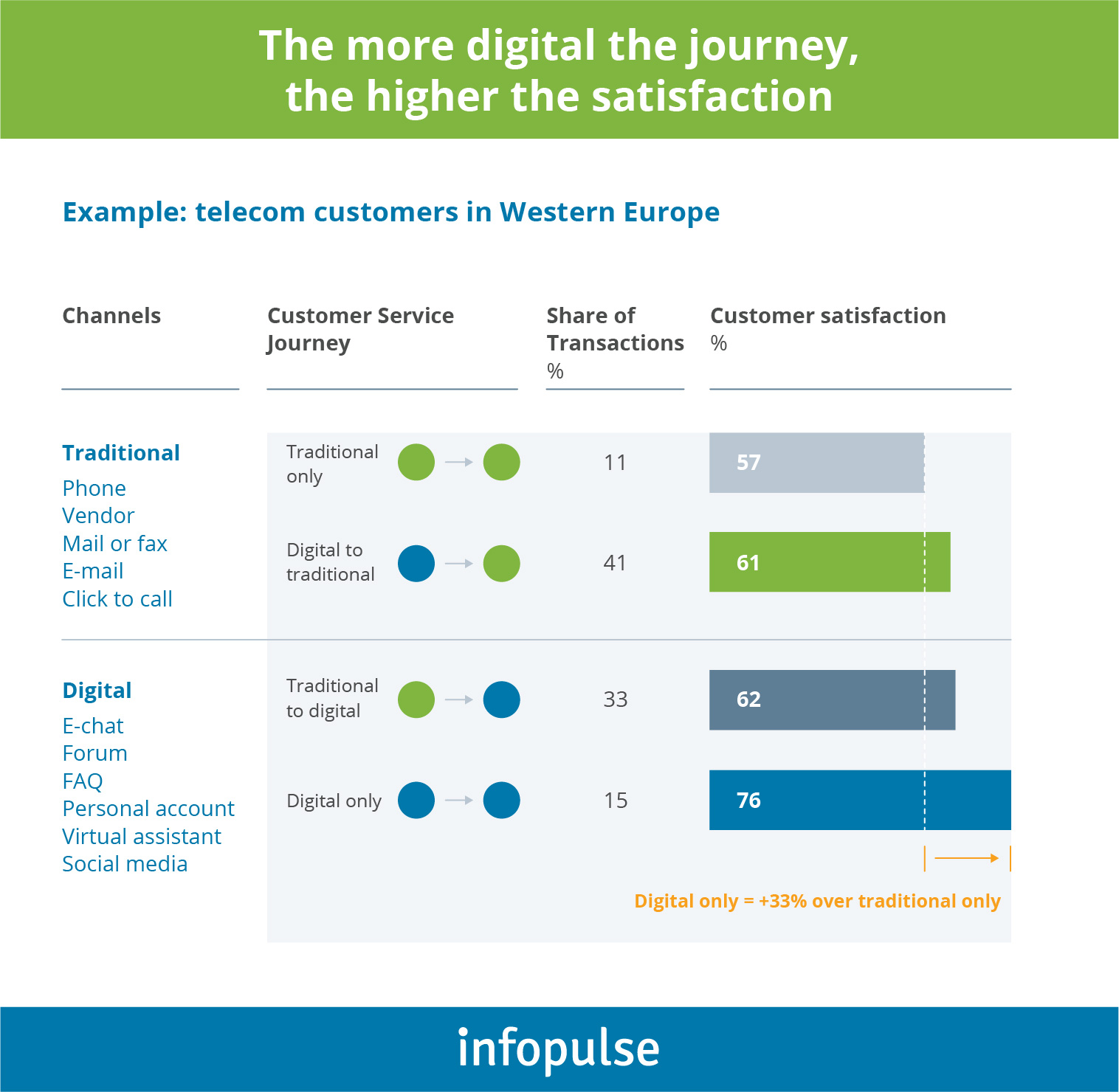 While customers aspire to digital service journeys, 50% of all customer interactions with telco service providers still happen via traditional channels (phone, on-site calls, and old-fashioned mail), according to Ericsson survey 2018. This, in turn, widens the gap between customer expectations and the reality of service levels.
What makes the matter even more problematic is that telcos often approach digital support from the wrong angle. The survey further reveals that instead of creating innovative digital experiences, some companies merely shift the analog experience to the digital channels such as social media and self-service apps. As a result, as much as 46% of customers believe that their service provider is hiding behind "bad" technology – do-not-reply emails, automated replies, and time-consuming and impersonal Contact Us forms.
To solve this conundrum of unmet expectations, telcos will need to strike a balance between offering efficient support via traditional channels and creating a complementary digital experience that would add value at different stages of the customer journey.
The first step towards this is establishing a single point of contact – a digital service desk portal that would introduce users to all available support options.
Self-service/knowledge base
Live chat
Email support
Phone support
Chatbots
Co-browsing/visual support
Too many options? Well, most customers are keen to explore new support options and are ready to provide access to their personal data in exchange for those: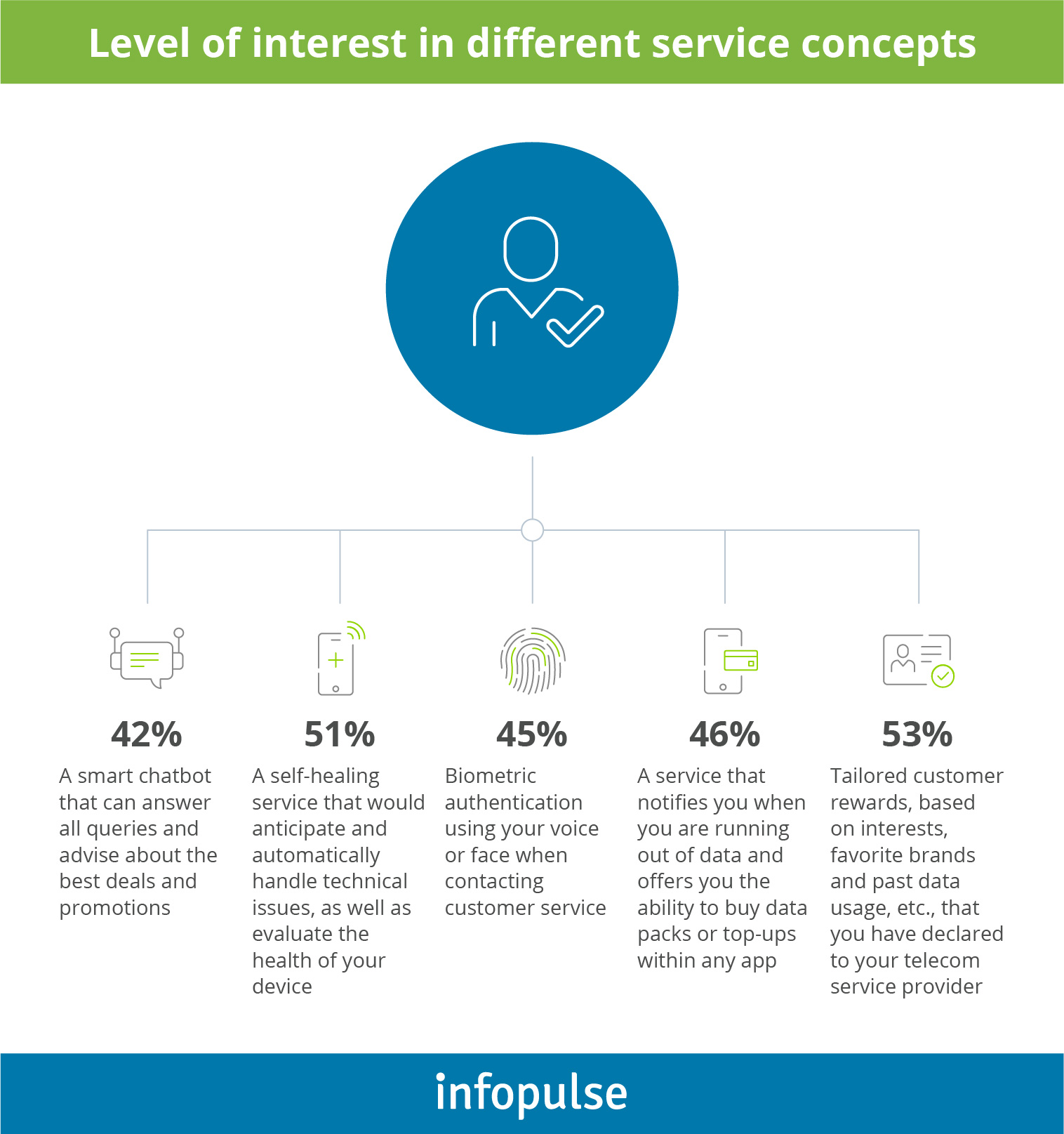 2. Leverage Service Desk Automation Software to Optimize Your Backend
Place your customer portal atop robust service desk software. One of the strongest contenders on the market right now is ServiceNow – a versatile cloud-based platform, enabling enterprises to build an array of digital workflows for ITSM, ITOM, CSM, and HR among other functions.
For instance, ServiceNow Customer Service Management platform lets you create a unified digital backend for all external customer requests from digital (web, email, chat, social media) and traditional (phone) channels. ServiceNow has several major advantages over other CSM platforms:
Single data model: sync customer data from other platforms and effectively address queries to specialists cross-departmental. Gain a single-pane view into your operations and set up better analytics.
Custom integrations: seamlessly connect any app you are using to ServiceNow via API. Code integrations with Slack, JIRA, Zendesk, or any other tool your service desk agents use.
Low code development: empower your agents to build simple automations of repetitive processes or develop new apps. Or create a request for a developer to build a more advanced product – faster and at a lower cost when compared to traditional app development.
Vodafone, one of ServiceNow CSM customers, managed to increase support team productivity by 45% and gained a 25-point increase in reported customer satisfaction post-adoption.
Learn more about Infopulse experience with ServiceNow implementation.
If you are not ready to invest in ServiceNow just yet, below are several other service desk automation tools worth considering:
3. Upgrade Your IT Environment
To support a new cloud-based service desk and digital support channels, telcos will also need to reinvent their IT practices. There are several cornerstones to building a stable IT environment for new-gen support operations:
Scalable cloud infrastructure to support seamless collaboration cross-departmental and effective data exchanges. Moving to cloud can also help you expand your capacity to meet incoming customer queries.
Secure and integrated data repository: Break the silos and start assembling all customer data into a single repository. Doing so will give your teams (support, IT, sales) an access to a broader range of insights to improve customer service levels and enable the deployment of new analytics-driven solutions such as predictive product recommendations, next best action sales prompt, more personalized upsells and cross-sells.
Shift to microservices architecture – a simpler approach to delivering new services and optimizing existing offers. Microservices architecture is the key to improving time-to-market for new products and improving speed and cost-effectiveness of upgrading or maintaining the current IT offerings.
Explore new cybersecurity solutions – ones that reduce friction for customers, yet add a higher degree of protection to your critical assets. Some of the emerging solutions are biometrics-powered authentication, on-site user behavior analytics, deep learning-powered anomaly detection, and machine learning-based fraud detection.
Lastly, opt to partner with an experienced and reliable customer service partner with proven telco experience who can advise you on the optimal service desk automation strategy and essential security best practices for your operations.
4. Enable Self-Service Analytics
Consider implementing self-service real-time analytics as part of your overall IT transformations. As the name indicates, this type of solutions enables line-of-business professionals to collect insights and generate reports on their own with cursory IT support.
After creating a unified data repository, you can "plug in" one of the self-service BI tools. With them, your customer service managers can gain an in-depth look into the current service levels and proactively identify common bottlenecks, as well as new business opportunities.
Below are several self-service analytics use cases telecommunication service providers should consider:
Service Assurance Analytics: Identify stuck orders (and issues causing them) to meet SLA levels.
Customer Sales and Billing Analytics: Track activations, disconnects, and find new opportunities for cross-sells, upsells, and re-engagement.
Call Center Analytics: Receive more insights into your agents' performance and service levels.
Service and Fault Analysisv: Gain more information about common service problems and their root causes.
5. Enable a Visual Support Channel
Technical assistance can feel particularly frustrating when you, as a customer, have no option to show the scope of the problem, rather than struggle to put it into words. That's why some telco leaders are adding visual support to their omnichannel portfolio of support services.
Visual support technology, powered by computer vision and AI, enables your teams to see the customer's actual environment (via their smartphone) and provide a more effective resolution of the issue at hand. Some of the popular visual support use cases include:
Virtual installation guides;
Step-by-step troubleshooting (software/hardware);
Operational guidance;
Equipment quality assurance;
Onboarding;
Field-service support.
All of the above can reduce the volume of technician dispatches, shorten agent calls, and boost first-call resolution rates.
Orange Spain recently added visual support to their service desk using TechSee's platform. The company's spokesperson, Agustin Martin Mayo, further stated that "By offering intuitive, visual support, both call center performance and customer satisfaction have improved significantly."
VodafoneZiggo also partnered with Accenture and TechSee for the same purpose. A year later, they reported the following wins:
26% reduction in on-site technician visits.
10-point increase in NPS and customer satisfaction.
Overall enhanced customer support, employee experience and productivity.
Co-browsing is another rising trend in visual support. Such a browser-based solution relies on WebRTC (Web Real-Time Communications) technology that requires no downloads/installations to enable real-time screen sharing between the customer and the support agent. Similarly to smartphone-based "vision", this lets agents better assist customers. Co-browsing can be integrated with live chat support or over the phone support for both mobile and web applications.
6. Introduce AI-Powered Chatbots
In 2019, 59% of total customer chats cross-industry had a dedicated chatbot, and 27% of chats were resolved by an intelligent bot from start to finish according to Comm100 Live Chat Benchmarks 2019.
For telcos, chatbots can be particularly advantageous as they can free agents from simple and repetitive queries and help them focus on more complex cases instead. In addition, AI chatbots can offer 24×7 preliminary support and help create a prioritized backlog of customer support issues with different priority rates for the human teams.
By infusing a chatbot with natural language (NLP) processing capabilities and ML-powered analytical "thinking", telcos could precisely capture the scope of the customer problem, provide an initial, personalized consultation and effectively resolve or re-route the customer to an agent with the right skills. Ultimately, AI chatbots can save telecommunication companies over $1.2 billion in customer management costs by automating and assisting with basic account queries, troubleshooting and account purchases.
AT&T, for instance, currently "employs" over 1,000 bots that help the company coordinate and optimize customer service procedures, engage customers and prospects on social media, and even update out-of-office notices for employees.
Vodafone, another early adopter of chatbots for customer service, reported a major uplift in customer satisfaction levels after releasing TOBi:
The NPS score for chatbot users is close to 80, well above the average 60s range for website only users.
TOBi reduced the time to check out by 47% on average, and as much as 60% in some cases.
Overall, the company reported a 68% improvement in customer satisfaction levels.
Nokia decided to take a somewhat different route when releasing MIKA – an intelligent assistant that assists with network issues resolution. The bot proactively assists engineers and technicians with on-site work.
In addition to chatbots, there are plenty of other viable AI use cases for telcos, including predictive maintenance, AI-driven cybersecurity, and personalized customer engagement.
7. Launch BYOD, CYOD, COPE Initiatives, Backed by EMM
At this point, there's no longer any need to explain what is BYOD as the practice of Bringing Your Own Devices has become mainstream among several organizations. So, let's unpack the other two acronyms:
Choose Your Own Device (CYOD) policy allows employees to select among a range of pre-approved business devices, configured and secured by the employer.
Corporate Owned, Personally Enabled (COPE) policy enables employees to use organization-approved hardware for both business and personal tasks.
As of lately, CYOD and COPE emerged as better alternatives to BYOD policy, as they reduce the device variety support burden and help maintain consistent IT security.
Also, let's not forget that most of your service agents will be bringing their own devices to work or use them for work-related tasks outside office hours. Without a clear strategy for BYOD, CYOD or COPE, your company may face significant exposure to security and compliance risks. Thus, it's essential to balance the need for greater workforce mobility with IT security best practices.
One of the proven ways to prevent threats resulting from "mixed" device usage is to enable device-independent computing through enterprise mobility management (EMM). It is a suite of mobile management systems and services that safeguard stored, sent and received data via a device; protect IP and integrate seamlessly with other IT systems.
Under such a scenario, you can implement a secure single-sign on to all corporate products such as desktop, web and mobile apps, SaaS tools, etc. through a unified corporate app store. In this case, your IT team gains a single point of control for securely provisioning applications to all devices.
The main advantage of EMM solutions is that they enable a granular app-by-app approach to security in lieu or along with device-level controls.
To Conclude
Service desk outsourcing is more than cutting support costs: it's a solid foothold for reimagining how you approach customer management. Outsourcing gives telcos access to new talents and oftentimes IT/ITSM expertise that can be leveraged to:
Deploy new customer-facing software solutions;
Upgrade legacy IT systems;
Adopt leaner operational practices;
Gain access to better analytics.
However, all of the above can only be achieved in partnership with an experienced BPO vendor that precisely understands the industry specifics and knows exactly how to effectively transform service desk operations.
Infopulse is a recognized European leader, offering Proactive Network Operations Support & Customer Service Outsourcing to the US and EU telco companies. Digitize your service desk operations and level up your customer satisfaction rates with our expert help. Contact us today!