Article
Why Do Companies Implement SAP Software?
Originally published: July 11, 2018
Updated: May 10, 2022
7 min. read
Business Applications
Technology is now the backbone of efficient business operations. But how exactly are you managing your current processes? Of course, you are using a wide array of legacy software programs and possibly cloud apps to handle different procedures.
But are they interconnected and work seamlessly together? Most likely not. And you are not the only one struggling to create a unified business ecosystem that can meet all your current needs. According to a recent survey, the average enterprise uses:
90 cloud services for HCM functions;
60 tools for finance/accounting;
43 tools for CRM/sales;
41 services for software development.
The numbers may seem staggering, but think about it this way – each department has purchased and/or developed its own software solutions and operates independently from other departments. Within departments, there may be separate software for certain functions – software that is not integrated with the rest of the setup.
Perhaps it's time to audit your toolkit and consider a comprehensive ERP solution, specifically a suite of modular apps that will collect and integrate various operations of your business. And those modular apps can be integrated through the implementation of SAP software.
Why Would a Business Want to Implement SAP: One Example
Consider just one massive challenge that a product business may face.
Within the area of logistics, there are multiple functions – material management, sales and distribution, warehouse management, customer service, and fleet management, to name just a few. Each of these departments may have its own technology for its operation. But how do these departments communicate with one another, so that data is integrated and analyzed and sound business decisions can be made based on that data?
An SAP solution that integrates all of these functions provides that data, along with access of stakeholders to that data. Once all of these functions are integrated, it is easier to make decisions that will result in:
Single integrated platform implementation & TCO reduction for business applications full support;
Fewer stock outages and resultant reduction in loss of sales (increased revenue);
More efficient and reliable materials purchasing with resultant cost-savings and fewer production delays;
Improved customer satisfaction due to fewer delays in product delivery;
Reduced distribution and freight costs.
Your business may not be in a manufacturing niche, but there are SAP modules for virtually every business operation that will improve the flexibility and full integration of those operations and provide both efficiency and cost savings on every stage of product's lifecycle.
And the beauty of SAP software is that only those modules that a business may need can be secured and implemented – providing customized solutions.
What Solutions Does SAP Offer?
A full SAP system includes the following major modules, in addition to the logistics module described above. Each will address challenges of specific business operations, although there are also add-on solutions for customization:
Enterprise Resource Planning;
CRM for Sales and Marketing;
Sales and Distribution;
Financial Management;
Human Resources;
Asset Management;
Product Lifecycle Management;
Supply Chain Management.
SAP provides industry-specific solutions for almost all niches – manufacturing, pharmaceuticals, healthcare, insurance, security, finance, etc. This, along with the ability to purchase only those modules which are a "fit" are clearly two of the biggest advantages of SAP for businesses of all types and sizes.
Who Uses SAP Solutions?
Almost 200,000 businesses use some or a full set of SAP modules, in more than 150 countries. While it is often a common belief that only large enterprises make use of SAP software, about 80% are small-to-medium sized businesses are on board as well.
Success of SAP solutions, of course, is measured by a company's bottom line. And that bottom line is the result of greater efficiency, better business decisions, and more streamlined operations.
For a mid-sized company such as Schoolhouse Electric and Supply, producer and retailer of home goods and lighting, a continuous annual growth rate of 25% is proof enough. According to Chris Tufts, VP of Operations and Finance, "Without it (SAP) we simply wouldn't have competitive lead ties and wouldn't be able to fill orders as fast as we do. It does more than enable growth. It makes a business model like ours possible."
Siemens is a large enterprise that provides technology solutions to a variety of industries – construction, energy, healthcare, transportation, to name a few. Its challenges were to consolidate and simplify complex and disjointed processes within its organization. Executives also wanted to speed up their processes and access to information that would inform their decision-making.
Siemens turned to SAP solutions and, more recently migrated to the SAP HANA platform that can be paired seamlessly with Microsoft Azure for additional benefits. According to Andreas de la Camp, Head of Line Europe, Center of ERP Divisions, SAP has enabled the enterprise to enjoy much increased productivity through more rapid processes and real-time data insights, has lowered their costs for both hardware and data-processing centers, and has improved business integrations and continuity.
He states, "SAP HANA has transformed the way we work and given us the agility and processing power we need to make the most of new opportunities in the digital world." In terms of improved operations, Siemens reports a 24% reduction in the size of its database, a 60% increase in productivity and as much as 90 times faster reporting performance.
If you want to understand why do companies use SAP, these reported stats should provide the full answer.
Implementation of SAP: The Key to Success or Failure
Obviously, once the decision is made to incorporate any of the SAP software solutions, implementation is a process that does not occur overnight. Attempting to implement and deploy too quickly and without expertise is a recipe for failure.
Consider the two different implementations within two related industries – Cadberry, a UK chocolatier, and Hershey, an American candy corporation. Both identified SAP as its solution for a variety of issues – primarily warehouse and inventory issues, logistics, especially distribution to retailers, and generally slow business processes.
Cadbury launched its project for SAP ERP integration over a five-year period, resulting in a new warehouse management system and improved structure to its distribution centers.
While the recommendation for Hershey was a five-year implementation, the company insisted upon 2.5 years, thus compressing the timeline by half. To accomplish this, they sacrificed systems testing and cutover activities. And they planned the cutover during their busiest season – a huge mistake. As a result, distribution suffered, and Hershey's reputation declined, resulting in a drop in its stock value.
Implementation is clearly critical. The right expertise must be found, and careful consultation based on company needs and goals must occur before any implementation plan is put into motion.
In general, consider the following implementation phases of the project lifecycle: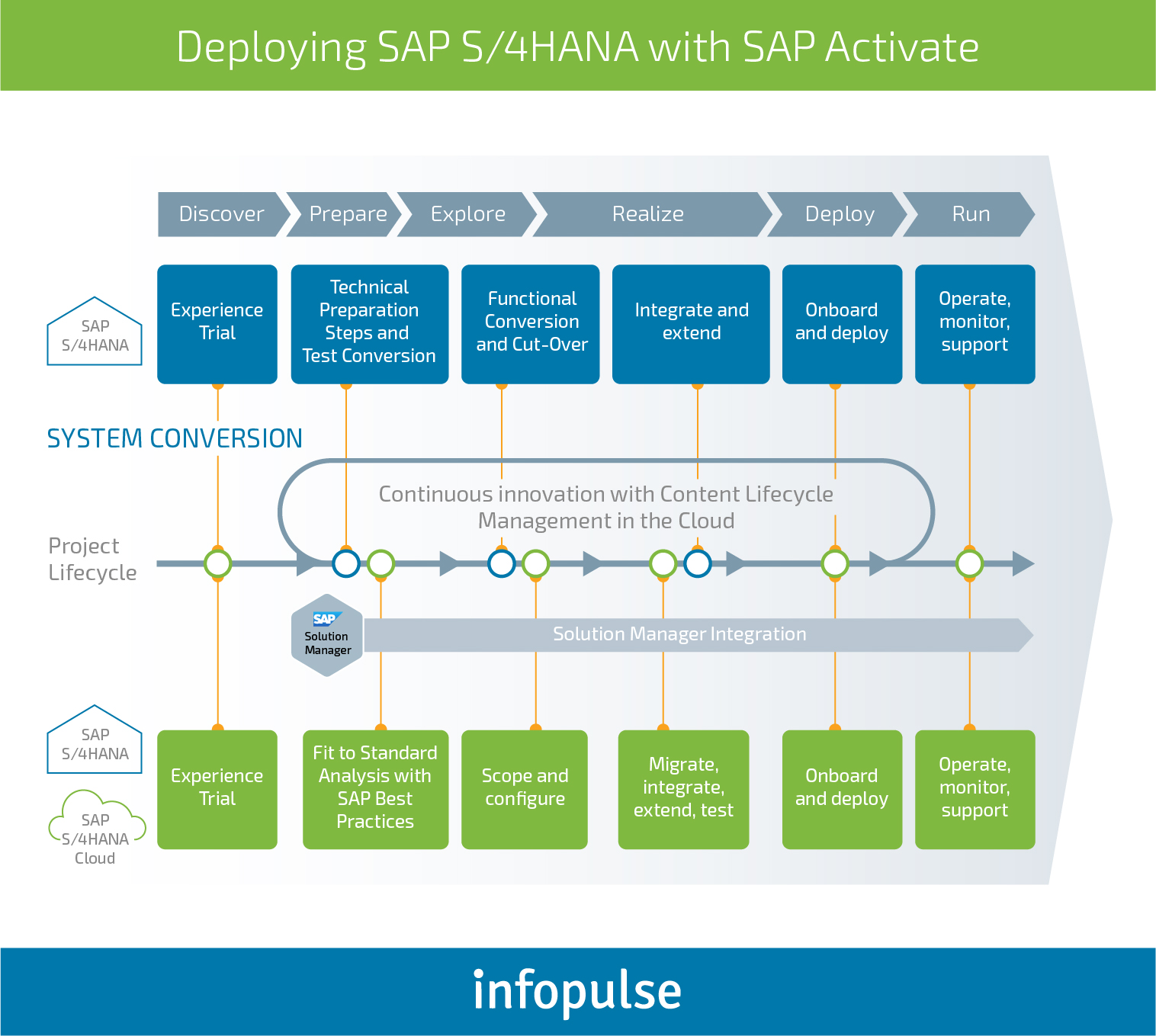 Pic 1. Deploying SAP S/4HANA with SAP Activate.
SAP Activate is the new methodology for deploying SAP S/4HANA systems. It has inherited certain processes from the older Accelerated SAP and SAP Launch methodologies, but it also contains new accelerators for each implementation phase and work stream. SAP Activate fine-tuned and smoothened the implementation approach for cloud, on-premise, and hybrid deployments – a setup most companies now have. The implementation occurs in the following six phases:
1. Discover.
At this stage, you are actively encouraged to investigate the solutions capabilities; establish the business value and the benefits it can generate for your business. Both C-level executives and managers, along with those responsible for implementation will have to establish common grounds and develop an adoption plan and roadmap.
SAP allows you to take advantage of SAP S/4HANA free trial to explore the solutions capabilities and offers a number of excellent tools for decision making such as SAP S/4HANA Journeymap,SAP S/4HANA Flipbook,SAP S/4HANA Community Network.
2. Prepare.
Prepare stage involves executing the initial planning and preparation for the implementation process. It's the time you should allocate for finalizing plans; assigning responsible teams and provisioning the starter system.
Encourage your team to go through a few iterations to fine-tune the project plans and to make sure that those are aligned with respective project activities including:
Confirmation of project goals;
High-level scope;
Clear definition of project roles and responsibilities;
Strong governance to steer the project lifecycle.
Effective planning is the backbone of the implementation success. Make sure that your project plans account for the possible risks that may affect the implementation.
At this stage, you should request the Starter System for the SAP S/4HANA Cloud customers and create user IDS for all the team members. Make sure that your team further completes the onboarding session.
3. Explore.
During Explore stage, you are expected to perform a fit-to-standard analysis to validate the solution functionality listed in the project scope and to confirm that the business requirements can be met.
The Fit-to-Standard analysis is scheduled as a series of workshops with SAP consultants and fosters a productive discussion about validating the predefined scenarios, outlined earlier and explore additional enhancements/configurations that may be required. Learn more about this stage here.
4. Realize.
Once all the scenarios and process requirements are identified, it's time to deploy a series of Agile sprints to configure, build and test the new integrated business and system environment. At this point, your team should also start loading the data into the system, outline the adoption activities and develop cutover plans.
The next activities typically take place during this stage of the project lifecycle:
Configure the solution in the quality environment using Agile iterations and the backlog created during the Explore phase;
Make sure that the solution process have been configured to meet your business requirements;
Execute data migration loads into the quality environment;
Conduct full end-to-end testing of the system;
Integrate the system with other SAP products and legacy systems, if needed;
Continue with project team implementation of key concepts and system operations;
Prepare cutover plan and plan change management;
Receive quality and production environments.
You can learn more about this stage from SAP's blog.
5. Deploy.
Deploy stage assumes the setup of the production system and confirmation of the company's readiness to migrate business operations to the new environment. The project manager still remains in charge of crossing out all the tasks from the list; and providing risk and issue management.
The key deliverable of this stage is end-user learning and preparation for onboarding. A specific learning plan must be defined. The cutover plan must be in place as well, outlining the key tasks to be performed such as go/no-go decision points, migration/creation of data, and non-transportable object setup. After the cutover execution has been completed, you can set the SAP S/4HANA Cloud system to a Run status. This stage ends with the formal closure of the project.
6. Run.
Now it's time to continue the adoption and the implementation of your new solution across the entire company. Start adding new users; encourage them to execute business transactions and activate additional software functionality if needed. The development team should be running regression testing in the background for the quarterly upgrades to ensure you have the latest version of the system.
A Real SAP HANA Implementation Case by Infopulse
Customer generates reports 90x faster with a centralized Data Warehouse on SAP HANA
Our customer, a Big 4 consulting company (USA), maintained critical business data of numerous BI systems in multiple sources. It slowed down their key business processes, e.g., generating reports took up to 15 hours. Infopulse implemented a centralized 10 TB Data Warehouse on SAP HANA, seamlessly integrated with all of the existing BI systems.
As a result, we helped our customer decrease time for building reports by 90X (now it takes just up to 10 minutes!), reduced data management and maintenance costs, improved real-time data availability and simplified its accessibility for over 200,000 employees on a daily basis. On top of that, we developed an ecosystem of BI applications based on the SAP platform to optimize management of crucial business systems.
Read the full SAP HANA Implementation case here.
Conclusions
The benefits of SAP for business operations are numerous and they can be customized for each business or enterprise.
If you have been asking yourself what is SAP software used for, you now have your answer.
So, what are your business operations needs? How can you see solutions that come from the benefits of SAP?
If you are ready to explore all of your options with SAP, then Infopulse is ready to discuss them with you. We are international experts on the implementation of SAP solutions for businesses of all sizes and in a variety of sectors.