We Help You
Harness the Benefits of a Cloud-Native Solution
Experience the integrity of a security solution created in the cloud. Designed by a leading vendor, it encompasses the world's best practices for security and data compliance.
Deploy in an Instant
Leverage the capabilities of a single SIEM & SOAR solution in a matter of weeks – thanks to built-in rules and connectors, as well as seamless data integration with native and third-party business applications.
Achieve Cost-Efficiency
Avoid significant investments and reduce operational costs with a pay-as-you-go licensing approach. The flexibility of Sentinel allows you to scale up and down anytime as you align the usage with your current needs.
Centralize Your Security Data
Provide relevant security information to both IT specialists and the management team from a single control panel. We help configure vivid data visualization and dashboards to deliver data in the best way.
Analytic use case setup
Log sources management
Usage reports
Playbook configuration
Configuration of security automation and orchestration rules
Alert rules deployment
Data connector development
Dashboard configuration
Data visualization
Consumption optimization
Knowledge transfer
License optimization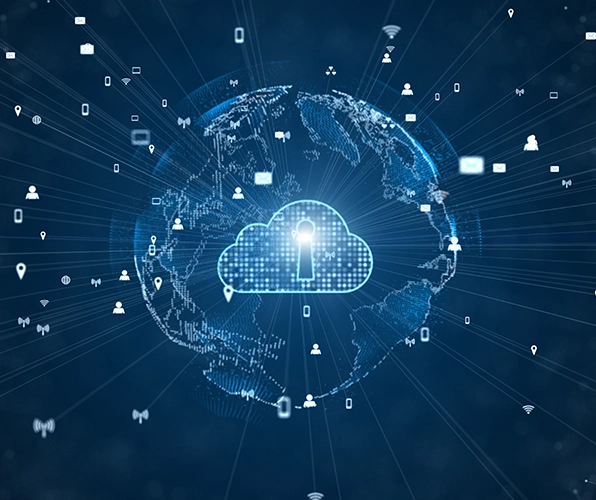 Service Categories
Consulting
Explore the capabilities of a cloud-native security solution from Microsoft with the help of the Infopulse security team. Our experts guide you through every aspect, from solution architecture and implementation to on-demand audits and custom development.
Automatization
Improve your team efficiency and productivity by automating routine day-to-day security operations via the SOAR component of Microsoft Sentinel. With integrated orchestration and automation of common tasks, you achieve faster processes, reduced chance of error, and accelerated response to threats.
Architecture Design
Facilitate your security strategy by getting a solution design that meets your demands. Infopulse helps align Microsoft Sentinel development with your business needs, long-term goals, and existing infrastructure. The architecture design service also includes solution cost and license optimization.
Sentinel Implementation
Ensure seamless integration of the security solution into your IT landscape by delegating it to Infopulse. Our experts provide a full range of services you might need when introducing Sentinel to your organization:
Custom development
Sentinel integration
Migration to Sentinel
Fine-Tuning
Leverage your current Sentinel solution and achieve more with the same software. With a thorough audit and the following actionable plan, Infopulse professionals can reconfigure the platform to achieve ultimate performance and make sure that it covers all your needs.
Operations and Support
Delegate ponderous maintenance of the Sentinel solution to Infopulse. Our experts handle everyday operations to ensure that your security tools are up and ready, including threat detection and incident response. We perform careful administration, regular updates of solution components, and the ongoing support of your system.
We have a solution to your needs. Just send us a message, and our experts will follow up with you asap.
Thank you!
We have received your request and will contact you back soon.