Article
How to Leverage Hyperautomation: Examples and Use Cases
Originally published: June 22, 2023
Updated: July 03, 2023
9 min. read
Innovations
Digital Transformation
As digital transformation continues gathering pace, novel innovative techs and approaches are entering the market. A relatively new one is hyperautomation — the concept of automating everything that can be automated in an enterprise to revamp workflows and notably increase efficiencies.
This approach has already been implemented in many organizations, and its popularity shows no signs of abating. In 2021, the hyperautomation market was estimated to be $31.39 billion, and is projected to expand at a CAGR of 16.5% from 2022 to 2030. Moreover, Gartner reports that their clients plan to increase hyperautomation investment for the third year in a row.
As opposed to traditional automation, hyperautomation presupposes a much bigger scale and more sophisticated automation tools. Among the most involved technologies are the following:
Machine learning algorithms are set to deeply analyze large volumes of data, spot certain patterns, drive more accurate predictions, and enable greater outcomes
Robotic process automation (RPA) solutions empower end-to-end enterprise automation
Natural language processing (NLP) algorithms are able to seamlessly and rapidly interpret communications through speech and writing detection and analysis
Optical character recognition (OCR) facilitates image transformation into text to enhance document processing.
Detailed information about the differences between RPA, intelligent automation, and hyperautomation can be found in this blog post.
Seven Hyperautomation Use Cases to Watch
Hyperautomation made it to the top for a reason — its usage goes beyond just automating routine tasks.
Document Processing
With hyperautomation, manual document management is a thing of the past. Purchase orders, invoices, bills of lading, receipts, salary slips, medical records, and prescriptions — ML, RPA, NLP, and OCR tools will process the necessary documents, taking into account industry-specific needs and standards. This way, you will not only minimize human error while increasing the speed of executing tasks, but will also make compliance and data security easier.
Accounts Payable
When done manually, the accounts payable (AP) process might result in errors, longer completion times, and a negatively affected bottom-line. That's where hyperautomation comes into play. By using machine learning and optical character recognition (OCR), you can automate the whole process of receiving, sorting, matching, validating, processing, and paying out invoices for the received goods and services. This results in supplier portfolio optimization, the eradication of duplicate payments, fraud risk minimization, and improved visibility over finances.
Data Collection and Analysis
Client personal information, emails, order requests — there's a large amount of data an organization has to manage and process daily. Hyperautomation can improve this process not only by increasing precision and speed, but also by detecting dubious accounts.
A case in point: Infopulse built a cutting-edge RPA solution to help an oil and gas service company reinvent their financial reporting. Software robots allowed the client to enhance overall productivity, eliminate human errors, slash overhead costs, and optimize monthly financial analytics (MFA) finalization.
Customer Service
Hyperautomation can also help you deal with growing customer expectations and ever-evolving demands. How? By acting as an initial point of contact for your customers — to receive, analyze, and sort queries for specific departments. When enacted at such a preliminary phase, enterprises can notably reduce response times, proactively address concerns, and therefore improve customer experience.
A case in point: Infopulse developed an advanced robotic solution to help a client automate 98% of their business processes. The delivered solution revamped 18 mission-critical operations, including email inquiries processing, task assignment, project control, and both invoice and financial report generation. The client was able to save over 800 monthly hours, boost efficiency by 5 full-time equivalents (FTEs), triple the speed of customer case processing, and optimize the manager notification process.
Anti-Money Laundering (AML)
Financial crime compliance cost businesses almost $214 billion in 2021, an increase of over $30 billion compared to the previous year — and these are totals that exclude the very real potential of monetary losses and reputation damage. With this in mind, organizations rely on machine learning and robotic tools to fully automate the process of validating customer records, spotting unusual patterns, and detecting fraud in transactions. Employing these methods helps them stay in line with the relevant regulations, improve overall fraud prevention, and protect their bottom line.
Travel and Expense Management
Another tedious manual process that can be seamlessly automated is travel & expense (T&E) management. This includes collecting travel expense receipts from employees, analyzing data from these receipts, determining whether they comply with the established expense standards, generating relevant reports and sending them for authorization by the financial department, and distributing reimbursements. T&E hyperautomation enables enhanced finance management, expense fraud protection, better spend predictability, and improved employee satisfaction due to high approval speed.
Predictive Maintenance
Predictive analytics is already widely implemented in manufacturing to forecast equipment failures and avoid downtime. Hyperautomation can reinforce this process with faster and more precise data collection and analysis. By performing real-time condition checks on equipment (acoustic monitoring, vibration and oil/fluid analysis) and performance monitoring with IoT and ML tools, you can significantly reduce maintenance cost, breakdowns, optimize stocking, as well as increase machinery lifespan, overall production, and operator safety.
Top Industries to Adopt Hyperutomation
Now that you're in the loop about the widespread use cases of hyperautomation in business, let's go deep into how these cases can be implemented in particular industries.
Banking and Finance
According to Research and Markets, hyperautomation will be most prominent in the financial services and insurance segments across 2023-2028, leading other industries by capturing 32% of the market. Such predictions have a firm grounding because financial processes represent an unplowed field for automation.
Back-office has a significant impact on customer experience, and the hyperautomation of this sector through RPA, workload automation (WLA), AI-powered analytics, NLP, and computer vision can result in benefits like improved ROI, better security, enhanced efficiencies, and more.
Here are some relevant use cases of back-office automation in banks.
Financial Operations
Experts say that 65% of financial leaders plan to automate 50% of their operations by the end of 2023 through RPA bots and other tools. These include accounts payable, record keeping, payroll, and financial controls, as well as processes related to strategic management — for example, financial planning, risk management, capital management, treasury, and stakeholder reports.
Activities to Automate in the Finance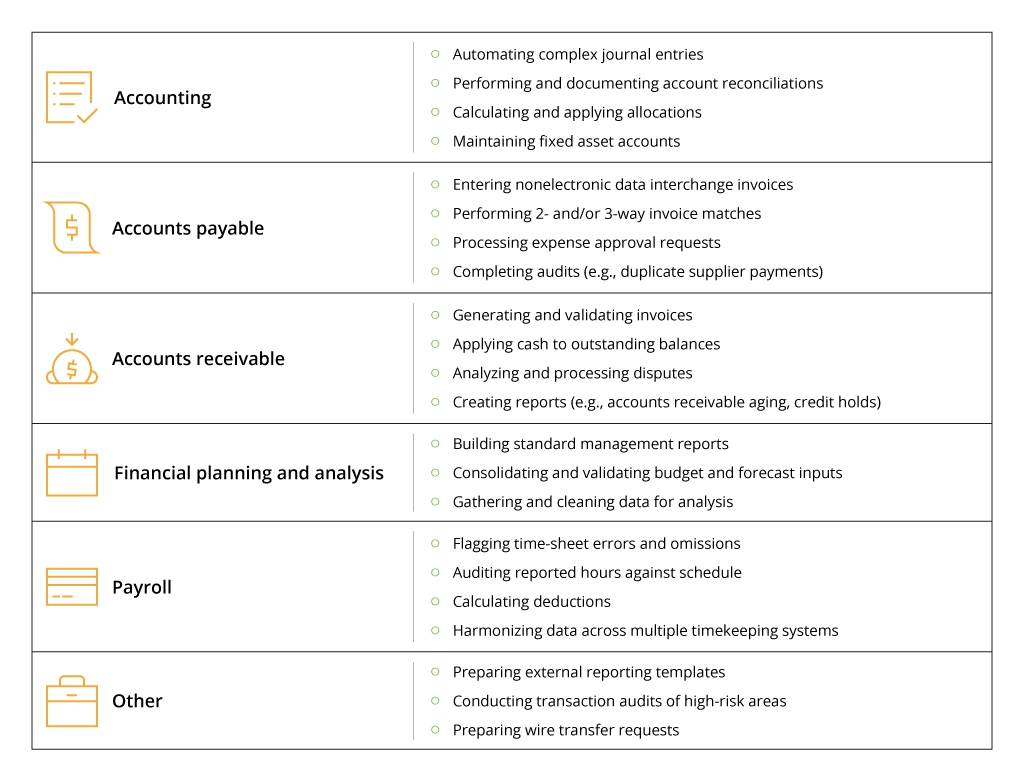 Underpinned by AI, financial organizations can also automate compliance auditing, contract reviews, invoice validation, and duplicate payment elimination.
IT Operations
In this sector, bots can be trained to automate an array of operations like:

Among other tasks for hyperautomation: minimizing cybersecurity threats through unauthorized logins elimination, viruses and hacks detection, and restriction of access to sensitive and/or privileged data.
HR Operations
Here, hyperautomation comes into play by slashing HR operation time, improving retention, and boosting employee motivation. This is possible through automating tasks like candidate search, interview arrangement, onboarding and offboarding, attendance management, T&E, performance review, and employee history verification.
Supply Chain Operations
If you want to increase operational efficiency and ensure full compliance in this sector, leverage hyperautomation for:
document processing and management (delivery orders, dock receipts, bills of lading, etc.);
supply chain data analysis to improve your inventory programs;
warehouse planning, inventory management, and transportation optimization.
Retail and E-Commerce
Retail and e-commerce are at the forefront of industries currently leveraging hyperautomation to solve their key business needs. Here are some use cases to watch.
Sales Analytics
Hyperautomation around sales data collection and analysis is key to making more informed decisions in your retail or e-commerce business. Why? By enhancing the process, you enable faster time to insights — the customer behavior patterns that, in turn, accelerate your ability to serve up more timely and relevant offerings.
Among other sales-related tasks that can be partially or heavily automated are administration activities like strategy planning, lead qualification, CPQs, and order management.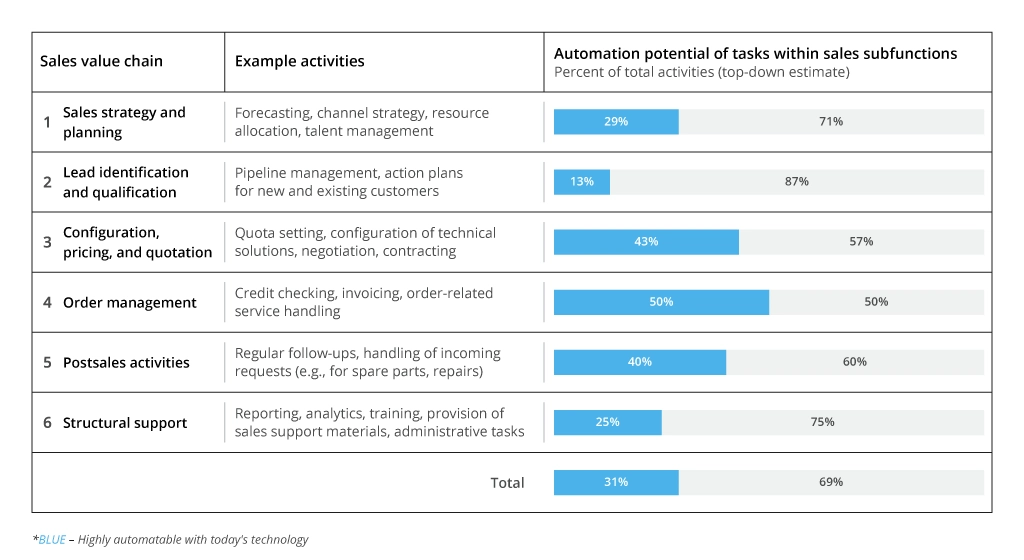 Customer Service
Software robots can become great companions in stores, helping shoppers find the necessary goods or other related information. One of them is LoweBot, an electronic assistant that not only indicates the right row and shelf for a particular item, but also answers some basic customer questions. Moreover, the intelligence of this robot assists in tracking inventory and identifying shopping patterns.
Another hyperautomation solution — an AI-powered surveillance system built by Infopulse — enables automated people counting and movement tracking. Coupled with advanced client behavior analytics, customer flow analysis, heatmap creation, in-store power consumption analysis, and layout optimization, the solution helps a large international retail company improve marketing, customer service, and security.
As for online shopping, hyperautomation enables assistance with discovering products through smart online chatbots and recommendation engines.
Supply Chain Management
Order processing, shipment tracking, inventory management, product classification and categorization — these operations can also be easily automated. For instance, the Tally robot keeps track of item inventory and controls pricing, helping retailers reduce out-of-stock items by 20%, improve inventory checks productivity ten-fold, and get a 2.2% uptick in annual sales.
Manufacturing
One of the top industries that implemented RPA in 2021, manufacturing is set to expand hyperautomation from some small tasks to end-to-end operations.
Predictive Maintenance
Covered earlier, this is one of the most popular hyperautomation use cases in manufacturing. By leveraging data like temperature, vibration, and pressure, intelligent robots prevent future failures, alert the staff, and update scheduled maintenance tasks. According to a PwC report, applying such a process allows manufacturers to improve uptime by 9%, lower cost by 12%, expand the aging machinery life by 20%, and decrease safety risks by 14%.
A case in point: Infopulse helped a global oil and gas company notably improve efficiency with a trailblazing anomaly detection solution. Underpinned by ML and data analytics, Infopulse's experts ensured 93% accuracy in abnormal gas turbine behavior, lowered turbine failure probability, and boosted gas turbine monitoring efficiency.
Order and Inventory Management
Order fulfillment processes can also be easily streamlined with hyperautomation technologies. Order email identification, attached files analysis, relevant data extraction, order creation in the ERP, product availability alerts — these time-consuming tasks can be fully automated. Inventory management can also become part of intelligent automation, helping prevent running out of stock, predict inventory needs, reorder items, and reduce waste.
Document Management
Underpinned by OCR and RPA, manufacturers can automate the process of bill of materials (BOM) creation. Such robotic-powered control over parts and assembly helps exclude human error and avoid product delays in product manufacturing. Among other benefits of hyperautomation in manufacturing is automated invoice processing. By precisely comparing invoices against purchase orders, you can quickly detect discrepancies, distribute accurate payments to your suppliers, and enhance production operations through the efficient delivery of parts.
Healthcare
With so many repetitive tasks and strict regulations, healthcare is a great candidate for hyperautomation, and here are some reasons why.
Patient Care
60% of the American respondents stated they had had a negative patient experience in the past three months, and one-third of them would like to switch providers as a result. These stats show that providing a great patient experience is still a challenge despite all the innovations and positive changes in this industry. Here is where hyperautomation might help bring more tangible results. AI-powered bots can converse with patients about their various ailments, offer the most suitable time for visits, send reminders about those visits, and collect data on patient preferences to further improve patient service.
As for real-life examples, the Xenex uses pulsed, full-spectrum UV rays to disinfect hospital rooms in minutes. And the PARO Therapeutic Robot, a furry and loveable bot that resembles an animal, helps patients recover from mental and psychological diagnoses by lowering anxiety and stress.
Workflow Efficiency
Robotic solutions can provide a helping hand by automating HR workflows, financial processes, and patient data management. To wit, a scalable RPA platform built by Infopulse helped the largest national healthcare institution in Iceland streamline 20+ HR and financial operations, improve employee productivity and patient experience, as well as reduce the overall annual total cost by $71.3 thousand through automation and RPA licensing optimization.
Health insurance claim processing is another use case of hyperautomation in hospitals. By making the most of NLP and AI, healthcare providers can significantly reduce the claims cycles, ensure more precision, and minimize healthcare fraud. Moreover, with AI and RPA, you can automate internal audit processes to improve regulatory compliance and risk management.
Conclusion
Hyperautomation is blazing a trail right now, helping companies from different industries and business domains drive digital transformation. However, just like any other disruptive innovation, it has its challenges and risks in implementation. An expert in intelligent automation, Infopulse has the necessary AI/ML, RPA, NLP, computer vision, and analytics competence to assist. From comprehensive consulting to end-to-end automation to risk management, Infopulse is here to solve the most specific and complex business needs.