Article
A Guide to Optimizing Licensing Costs When Adopting RPA
Originally published: November 15, 2022
Updated: March 14, 2023
7 min. read
Digital Transformation
A revolutionary strategy for automating IT operations,
hyperautomation
is on the rise now. In the past few years, RPA (Robotic Process Automation) as part of hyperautomation has evolved from a niche player in the market to a mainstream technology that is used by enterprises to improve the efficiency of their day-to-day operations.
As stated by Computer Economics research, RPA adoption rates increased from 12% in 2019 to 20% in 2021. Besides, companies continue to make new investments in RPA.
RPA Adoption and Investment Rate Trend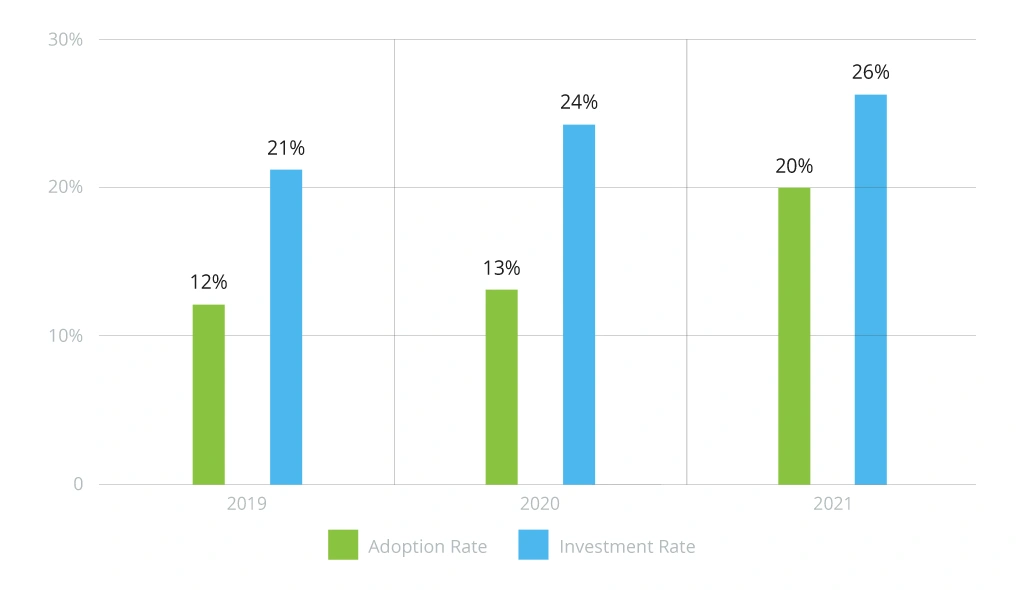 Cloud-based RPA solutions are revolutionizing the way companies automate tasks, reducing the cost and complexity of running their businesses. The benefits of Robotic Process Automation are clear: they help companies scale their operations, improve productivity, and generate higher revenue. However, the biggest challenges to widespread adoption of RPA have been the high cost of licensing — up to 30% of the total costs for implementing RPA depending on the vendor, as well as automation of frequency and duration of processes.
To avoid this costly dilemma, companies need to adopt RPA in a way that minimizes the impact on licensing fees. This, in turn, leads to a better success rate for the RPA, as budget allocation is among the top reasons that makes RPA adoption challenging.
Barriers to RPA Success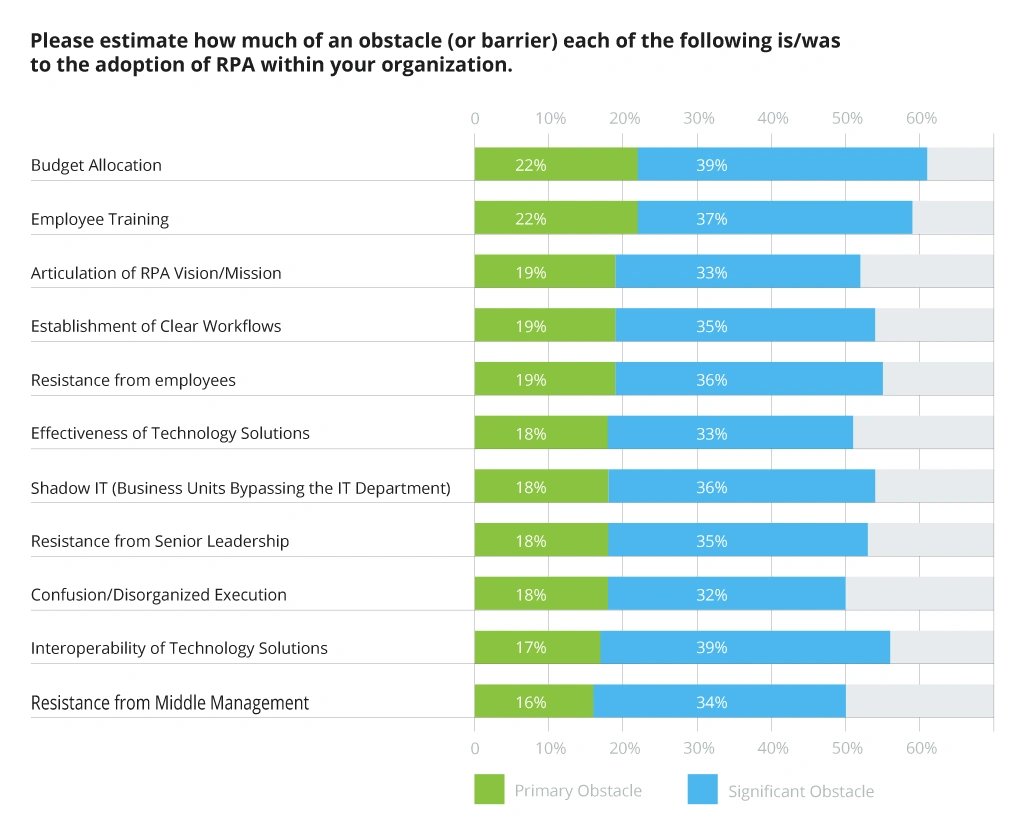 This article will present seven different ways companies can reduce the burden of RPA licensing expenses, which can help you make more informed decisions when it comes to investing in this technology.
7 Steps to Optimize RPA Licensing Cost
Businesses may get the most out of their RPA implementation budgets if they carefully manage license expenses. Here are seven ways for minimizing these expenditures and maximizing your return on investment.
1. Cut Initial Investments in Licenses
One of the most common mistakes that organizations make when it comes to RPA adoption is to purchase too many licenses at once. This way many enterprises attempt to cover their entire workflows which can be beneficial in the short term but inhibits them from reducing the number of initial investments further. Instead, it is better to start an RPA journey with a carefully calculated number of licenses, based on the company's needs and implementation roadmap. This allows organizations to keep their costs low while still having the ability to scale their program as needed.
There is a variety of licensing options for RPA software, so it is vital to do research and determine which one is ideal for your organization — some vendors offer per-user licensing, while others employ pricing methods based on subscriptions.
If you are unsure of how many licenses you will need at the outset, get in touch with a trusted service provider who will do the math and give you an accurate estimate. For example, Infopulse has a dedicated packaged service RPA "Basic Consulting and Advisory Services" that is designed to help you with the entire project estimation.
Case in point. The RPA implementation for a major Nordic municipality enabled the automation of repetitive tasks and the error-free migration of data from the three municipalities' numerous legacy systems. The team achieved considerable outcomes for the client, including cost reductions on the initial project budget and on UiPath software licensing as a result of successfully provided RPA services.
2. Use the Pay-as-you-go Model
Consider a hosted solution for your RPA needs: they offer pay-as-you-go pricing that can be more flexible and cost-effective than traditional licensing models.
The pay-as-you-go model is a strategy that uses consumption-based pricing. The concept enables you to acquire RPA services on demand, as opposed to purchasing a huge quantity of services in advance without being sure they would be utilized. This strategy lowers the burden of license procurement and facilitates the allocation of associated costs across various departments. This way, you get the potential to lower the upfront outlay of using RPA.
3. Check your Available Licenses
Sometimes when it comes to RPA licensing, the question is not about how much you need, but rather whether you have any licenses already available.
Therefore, the first thing to do when planning an RPA strategy is to check your licensing. Is your company already licensed for RPA? Are there any RPA platforms available as part of your current vendor's digital platform? If so, you can save on RPA licensing costs by leveraging those already available in your platform.
For example, if you have signed Microsoft Enterprise Agreement, see what is included in your license. In this way, you will optimize your solution portfolio — there is always the possibility that you end up buying something similar from a different supplier rather than making use of what you currently have.
Besides this, due to the estimated 23% waste in SaaS spending, building an Effective License Position (ELP) is essential for smart software spend. Within evolving Software Asset Management (SAM) practices, which help organizations optimize their investment in software licenses, currently more than half of companies are revising inventory and license positions. As a result, the reuse of licenses has been a major area where companies managed to make savings.
Key Areas for Cost Optimization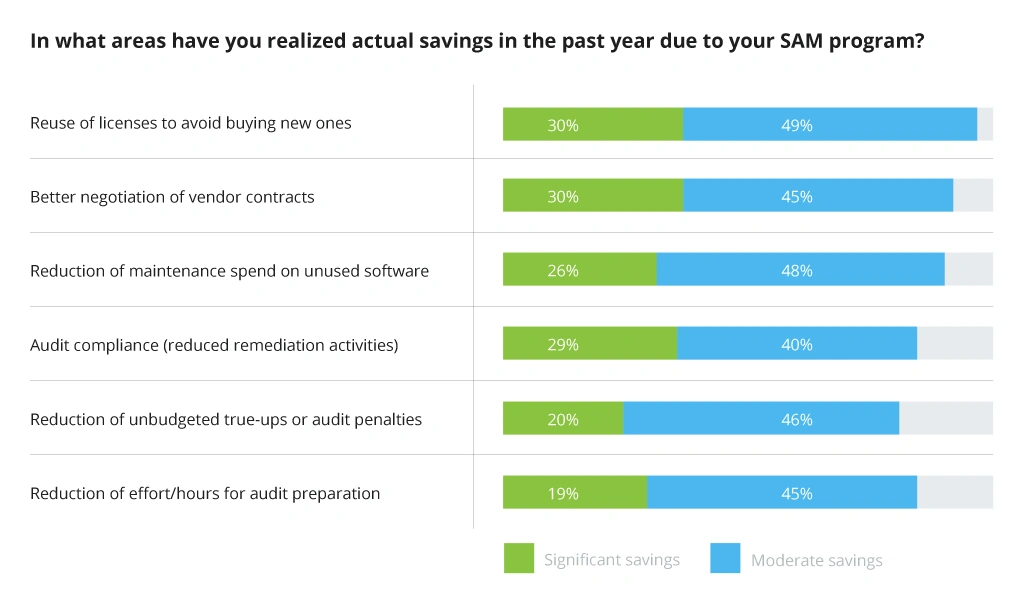 4. Consider the Optimal Number of Bots & Reassign Them to Cover More Tasks
Bot Optimization Process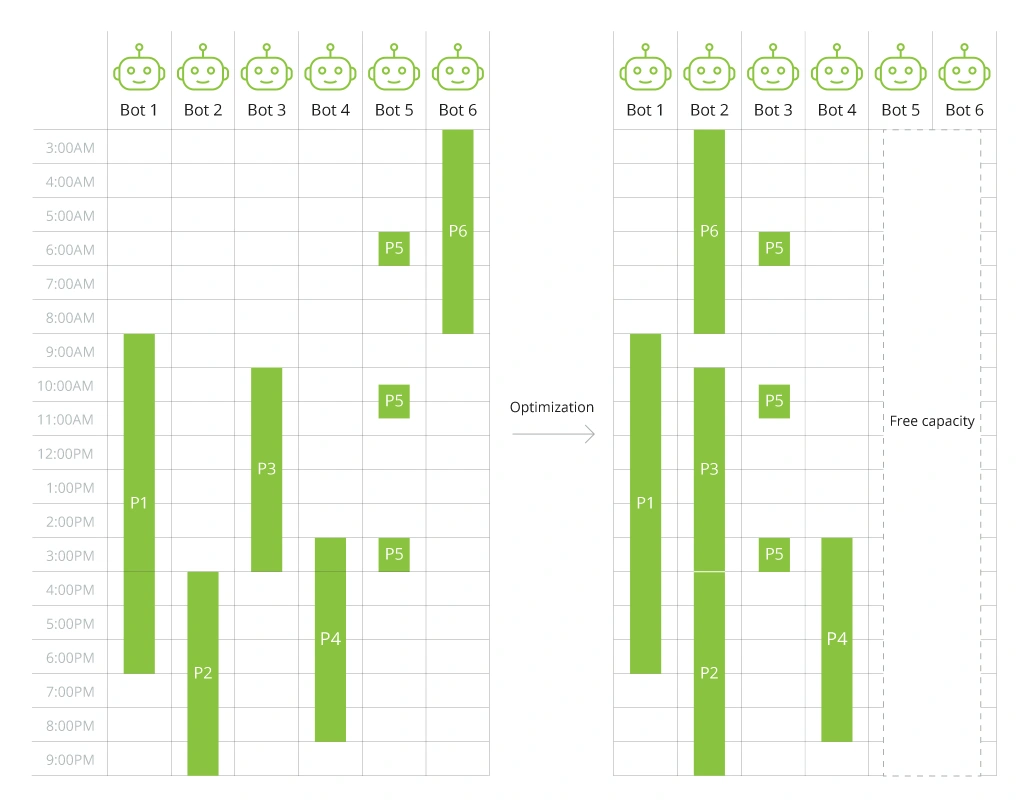 The current reality of RPA is that organizations can just be licensing their bots rather than employing them. If you want to reduce the total cost of ownership (TCO) for your RPA deployment, consider these tips:
Optimize your bot count. Determining a suitable number of bots is generally based on the volume and complexity of your processes along with historical data about how many tasks each bot can handle per day. You will need to experiment with different bot counts until you find the best balance between cost savings and efficiency gains.
Reassign bots as needed. If a bot has been assigned to a task that is no longer needed, it can be reassigned to another task or even decommissioned entirely. This helps control license costs by ensuring that all resources are used efficiently at all times, while still allowing you to scale up when necessary, without having excess overhead due to unused licenses or overutilized bots
Case in point. The customer, a safety market leader across Europe, partnered with Infopulse to advance its expertise of robotic automation and reap the benefits of an innovative RPA solution. We provided a cutting-edge RPA solution powered by UiPath, which improved our client's operational efficiency, freed up time and resources previously spent on tedious, repetitive tasks, and let them shift their attention to more strategically important endeavors.
5. Assess What Processes Need to Be Automated
Managing the cost of licensing of RPA tools can be challenging. Usually, it is difficult to predict how much RPA software will cost at the outset of a project, and it is even harder to know how much your RPA purchase will save you in the long run. By 2024, the combination of hyper-automation technologies and revised operational processes is expected to reduce operational expenses by 30%. For this reason, it is crucial to make smart choices about your license setup from the start.
In fact, the research reveals that high-volume and repetitive tasks are more suited for RPA than infrequent and low-volume processes.
This is because high-volume and repetitive tasks can be handled by robotic systems with less human intervention than infrequently occurring or low-volume tasks. As a result, robots can properly manage massive volumes of data without interruption, saving both time and resources over time.
Types of Processes Most Suitable for RPA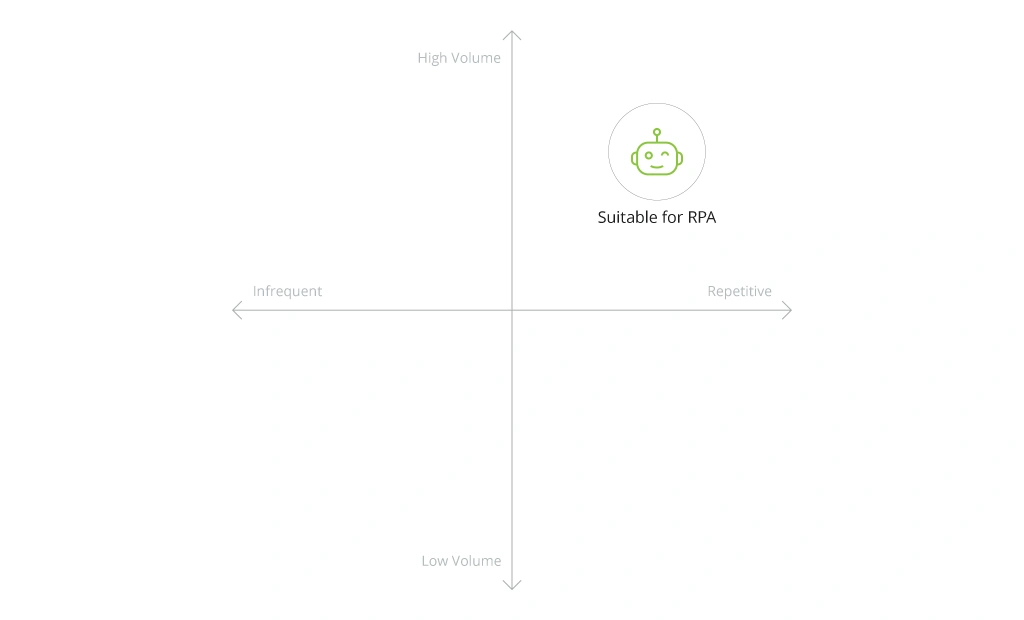 6. Monitor RPA Usage
Monitor your RPA usage in real-time to see how effectively existing licenses are being used and where else they can be applied. There are occasions when a license is assigned to someone who does not use it — this can be uncovered throughout the monitoring procedure. Consequently, you can learn what kinds of permits may be necessary and how to allocate resources effectively.
There are two main types of monitoring that can be done: performance tracking and license review. Performance tracking monitors how employees are using licensed software, while license review monitors the use of specific licensed software within a project or organization.
7. Avoid Utilizing Distinct Technologies
In 2022, 40% of organizations reported using multiple RPA platforms, while it is preferable to automate your processes on a single technology. If you decide to automate, you do not have to split up your processes among several platforms (such as Microsoft, UiPath, Blue Prism, etc.). Ultimately, all these solutions will be challenging to support.
Throughout the course of automating your company's operations, it is also possible to identify highly interrelated processes and therefore, scale automation to cover them, which is performed more effectively when a single technology is employed.
Case in point. For our client HNS, a leading healthcare institution, we managed to deliver an innovative RPA solution that can also be scaled to other regional institutions, thereby contributing to the digital transformation of the whole country's healthcare industry.
Final Thoughts
RPA is one of the most pressing technologies of our time that helps organizations become more efficient and productive. Like many other technologies, RPA comes with a price tag. Choosing a vendor relevant to business needs is a very important point in business automation. Unfortunately, it can be a barrier for many organizations, particularly small and medium-sized businesses.
Therefore, finding a trustworthy IT partner with a track record of success is crucial for a trouble-free RPA adoption path.