Article
5 Features of a Future-Proof OSS Architecture for Telcos
Originally published: June 14, 2021
Updated: October 25, 2022
8 min. read
Digital Transformation
Software Engineering
Operational Support Systems (OSS) is a compendium of IT processes and technologies such as software, hardware, and system integrations to effectively run telecom communication networks. OSS can be viewed as IT Service Management (ITSM), but for telecom. As new ITIL paradigms have emerged over the years, OSS architectures demand innovation as well.
Communication service providers (CSPs) today are in an interesting position. They have an unprecedented opportunity to transform their approach to building and operating network infrastructure. However, many are reluctant to act on new opportunities for IT services disruption.
The Pressing Need for OSS Architecture Transformations
As the telecom center underwent a digitization spree, large network operators have significantly expanded their portfolio of isolated OSS applications. Even smaller telecom providers now operate hundreds of often disjunct applications, devices, and business systems powered by different types of technologies — from optical to Ethernet.
Apart from the complexity of network systems, telecom leaders also need to manage the complexity of delivering services to growing subscriber bases. The progressive roll-out of 5G services and increased volume of IoT device deployments further swell the demand for greater agility. Legacy OSS architectures can no longer cope with the current market needs nor do they fulfill the necessary OSS security requirements.
This further reflects in data. Business leaders are bullish to invest in new OSS solutions.
The global OSS & BSS market size was valued at $36.85 billion in 2019. By 2027, it is projected to increase by 2.8 times and reach $102.14 billion.
Why are communication service providers so determined to modernize? Because emerging OSS architecture patterns can help unify the complex ecosystem of OSS operations using complementary IT paradigms such as Software-Defined Networking (SDN), Network Function Virtualization (NFN), E2E service orchestration, and big data analytics among others.
Incorporation of modern technologies and processes enables digital-forward telecoms to:
Change the way they build and operate their network infrastructure to contain costs and reduce security risks.
Open their services to external ecosystem partners to tap into new pockets of growth such as OTT services or connected car commerce.
Revolutionize the way they design and deploy new services at high speed while ensuring minimal downtime and service level disruptions.
The Five Pillars of Future-Proof OSS Architecture
Digital transformation journeys are unique to every company. There is no single approach to fit every type of operation even within the same industry such as telecom.
On a strategic level, BCG, for example, identified 6 different scenarios for telcom transformations: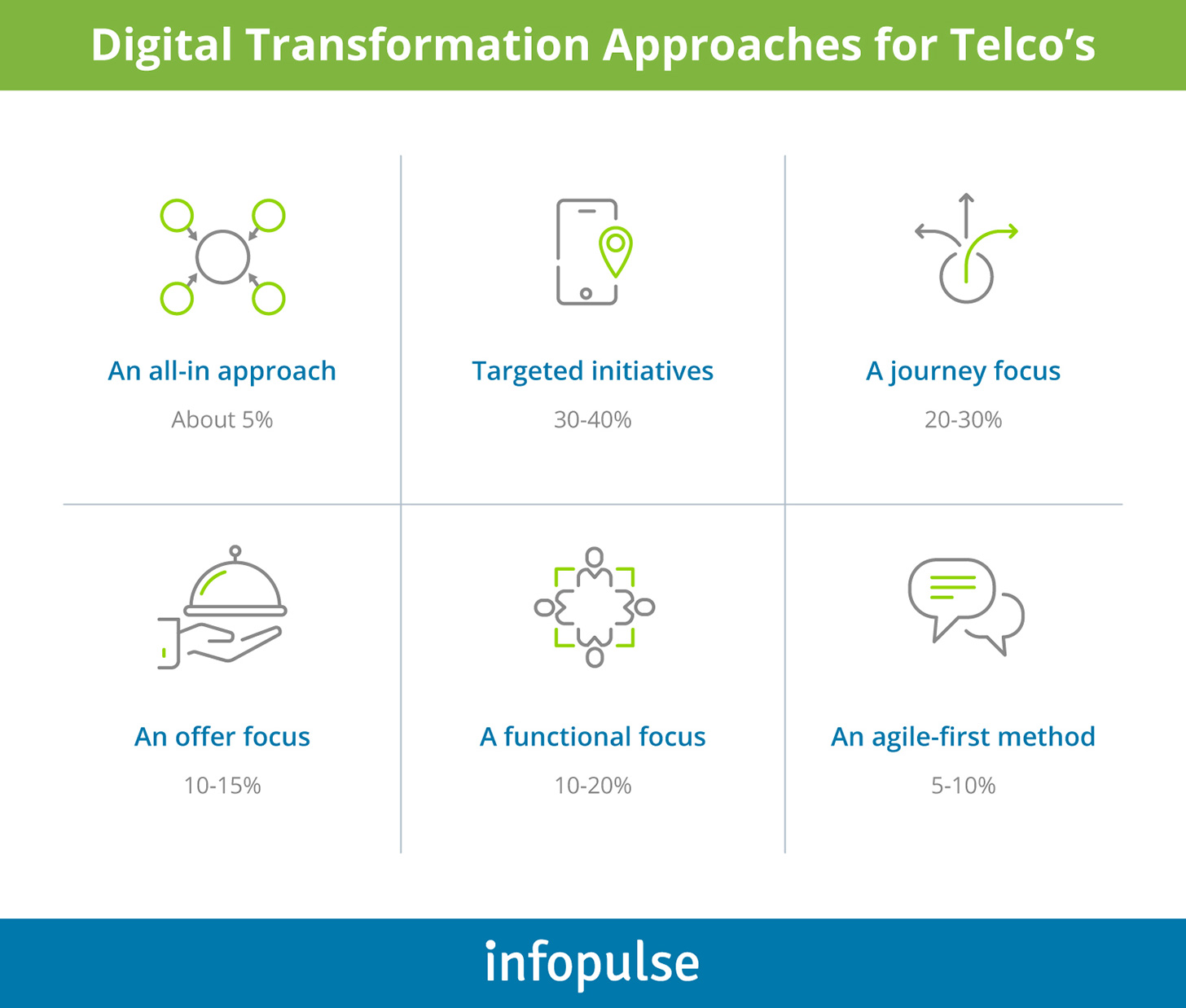 On a technical level, however, there is more clarity. Based on our experience as a technology partner to IT telecom companies, our team identified the next criteria that a future-proof OSS should meet.
Two-Speed Architecture
The transition to full IP services has diminished the reliance on the physical network layer. This, in turn, enables any communication provider to operate with the same speed, agility, and cost-effectiveness as digital-native OTT players.
Two-speed IT architecture in telecom is a key enabler for transitioning to the above types of operations. The two speed model decouples "front-end" functions, processes, and software — such as customer relationship management — from the core technology layer. So that the above could be refreshed and updated faster.
Whereas the back-end functions are isolated and hardened for security, stability, and performance at a more measured pace.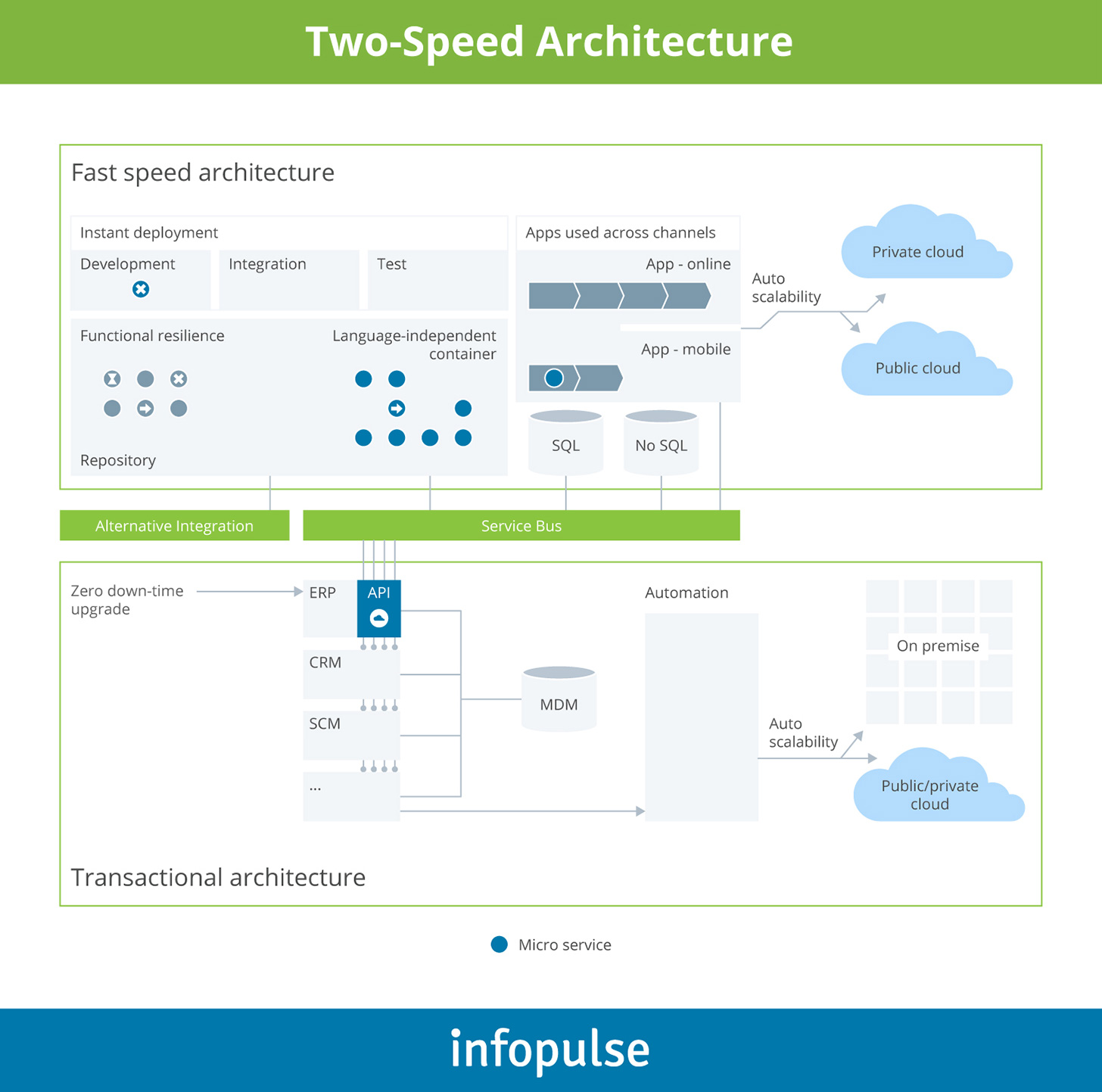 What advantages does the two-speed approach provide for OSS solutions?
A lot of legacy OSS apps still perform their functions well. However, they stand in the way of modernizing connected BSS systems. Isolation helps speed up the transformation of the latter, without affecting the former. Subsequently, you can transform such apps at a later stage when they are nearing end-of-service.
Low speed gives extra time for addressing data storage. CSPs host a ton of valuable data, moving which can cause operational disruption. A slower pace of data migration provides the opportunity for methodically assessing the records: cleansing and augmenting valuable intel for storage in a data lake or data warehouse. Data manipulations can happen in the background while you are focused on transforming the service catalog at high-speed.
Support for Extended ICT Convergence
Few established CSPs today have the so-called mono ITC offerings — mobile carriers pitch mobile wallet and payment services, while cable providers launch OTT offers. The above trend represents the convergence of ICT services, poised to become more prominent during the new economic growth cycle. The media convergence places a greater toll on existing infrastructure, as well as increasing the overall infrastructure size and complexity.
In addition, convergence happens between IT and OT (operational technology) in telecom. Historically, the two systems were disparate, operating in parallel, but rarely comingling. However, connecting the two realms can lead to significant business benefits: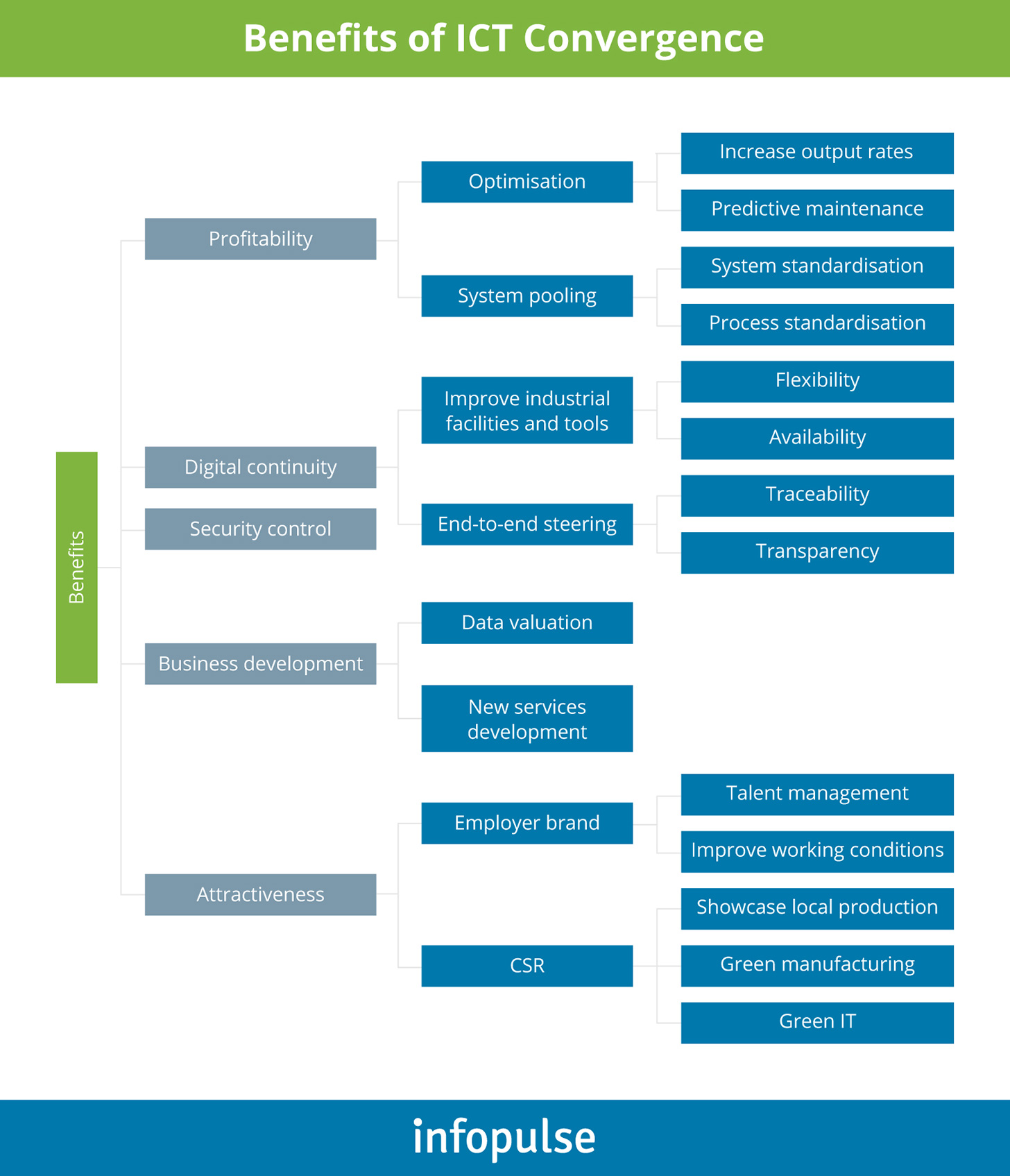 To arrive at the point, telecoms will need to address some overlooked issues such as:
Lack of standardization across OSS/BSS systems for data exchanges
Reliance on similar (redundant) OSS applications for specific functions or in specific locations.
Different definitions of standards and "openness" of different apps, systems, and layers.
The above issues are perplexing, but addressable through several approaches. First of all, business leaders will need to establish better data management and governance framework, codifying the standards for storing, labeling, securing, and operationalizing different data. Secondly, strategic application of DevOps and DesignOps practices should facilitate effective system-decoupling and enhanced connectivity, backed by a formal API strategy.
Finally, it may be worth looking into adaptable OSS architecture patterns such as event-based and microservices-based architectures or Future Mode of Operation (FMO) architecture.
Focus on End-to-End Service Assurance and Network Optimization
Most CSP networks feature a stack of different technologies, devices, vendors, processes, end-users, and recurring tasks to be performed. Leaders have a lot of spinning plates, but low clarity on which direction to spin them.
We advise beginning with service assurance since this component is crucial for customer experience (CX). Modern OSS solutions — proprietary or custom-built — allow the consolidation and automation of repetitive tasks pertaining to optimal network design, efficient service routing, as well as regional network performance and services triage.
Comarch Next Generation Service Assurance (NGSA), for example, provides an intelligent solution for managing end-to-end assurance processes (such as incident management, problem management, etc.) by aggregating data from partner systems and converged networks. Such automation and analytics enable better integration between siloed applications such as service quality management, resource and service test management, and service problem management among others.
As a result, human operators obtain intel and guidance for decision-making, as well as spend less time on redundant activities. For instance, Vodaphone Germany used the NGSA solution to replace three legacy Fault & Service Management systems that were monitoring over 750,000 NEs. As a result, they obtained a 47% CAPEX and 68% OPEX reduction, as well as gained a 30% cost savings for future OSS integrations.
On-Demand Network Capabilities
Bandwidth on Demand (BoD) paradigm encourages telcos to transition from static network services to flexible bandwidth provisioning akin to cloud computing. Uneven demand makes it challenging to balance resources. Subsequently, telcos cut costs on network over-provisioning in some regions, while failing to provide reliable connectivity during peak periods in others.
Legacy OSS and BSS systems are not conducive to real-time network provisioning. Moreover, they were not designed to support usage-based billing — a pricing model that can become more prominent with further expansion of connected cars and M2M transactions.
SDN and NFV have emerged as two architectural solutions for implementing BoD and network slicing. Network slicing can help CSPs to effectively provision services to enterprise customers and unlock access to new pockets of growth.
According to a 2021 study, done by Ericsson and UK telecom BT, 5g network slicing can drive significant benefits for IoT deployments. Specifically: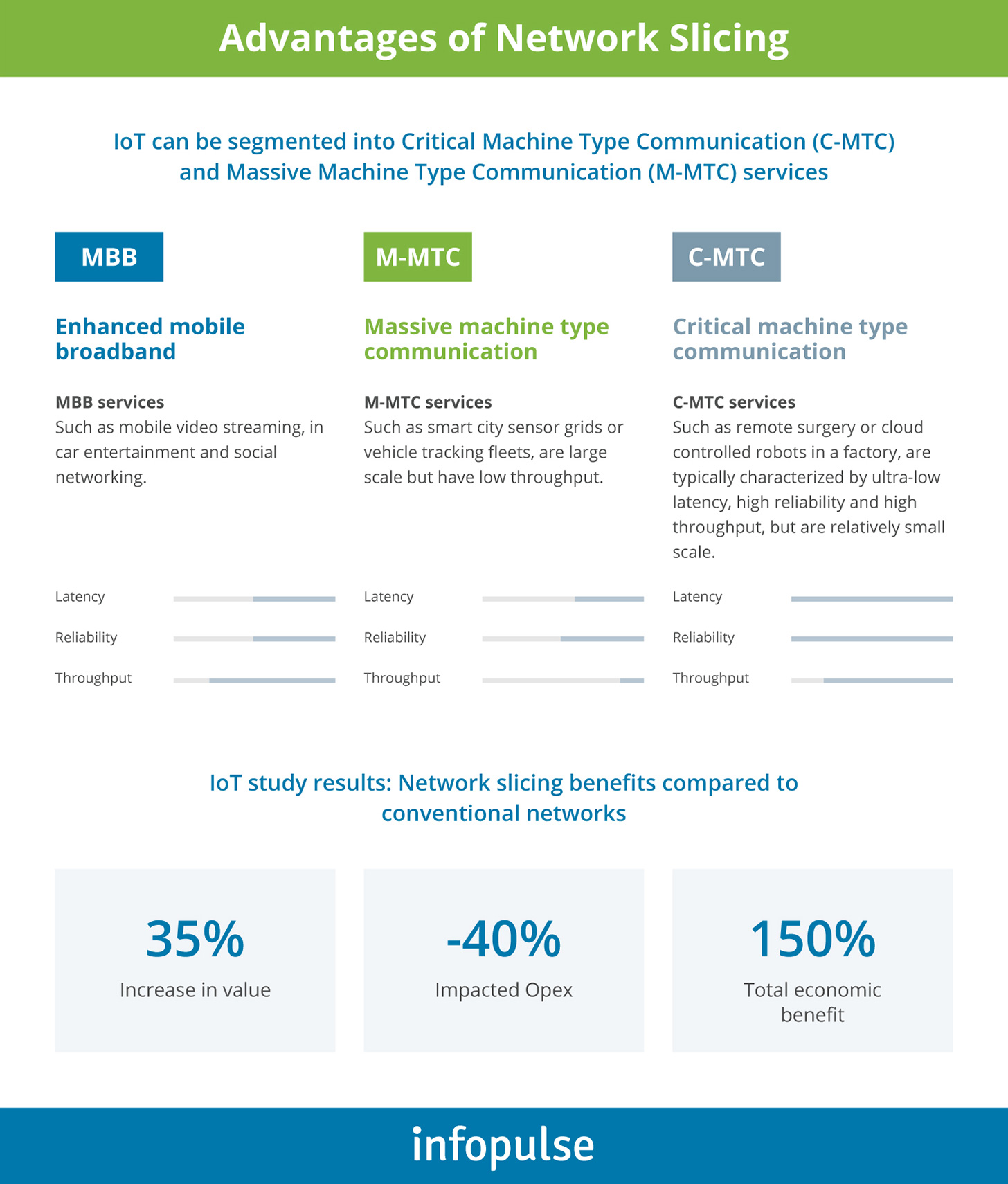 Cloud-based OSS
The cloud offers a faster way to do IT in telecom. Most players have already made admirable progress in virtualizing different network functions. However, to seize even more benefits, leaders now need to bring OSS to the cloud as well.
Below are the advantages of adopting cloud-native OSS:
Lower OPEX costs
Improved operational agility
Scaled capacity to accommodate rapid growth (e.g., 5G, and vRAN deployments)
Better compliance and service levels consistency
Lower technological barriers for launching new service offerings
Case in point: As part of their digitization journey, A1 Bulgaria leveraged Red Hat OpenShift and Red Hat AMQ to create a new microservices-based platform for their OSS/BSS. To better meet the market demands, the telco decided to refactor their legacy monolith and use OpenShift to create a customizable logical layer on top of our infrastructure, as well as enable DevOps best practices such as CI/CD and automated testing.
The team deployed a new customer self-service portal to improve customer service levels and streamline payment processing. Prior to adoption, customers could experience a lag of 10 seconds on a digital transaction. The automated and integrated infrastructure reduced the lag to a maximum of 3 seconds. The team also gained better visibility into operational issues and improved the overall service speed levels and quality.
To Conclude
OSS infrastructure is integral to providing support for an expanding service portfolio telecoms host. The market benchmarks for greater speed, agility, and service levels are getting higher year after year. New architecture patterns allow integrating modern OSS applications and refactored systems with the legacy core to ensure seamless operations across boundaries. To future-proof market positioning and revenues, telecoms will need to prioritize OSS modernization and consider the capabilities, outlined in this post.
Contact Infopulse telecom experts to learn more about reference architectures for communication networks and OSS setups.