Top 10 Payment Gateways: What to Consider When Choosing One
Originally published: December 24, 2019
Updated: December 30, 2022
13 min. read
Innovations
A robust payment gateway is the hallmark of a reliable payment processing system. Due attention to the development of payment gateway translates into positive customer experience and guarantees the security of their information. If a satisfied customer is a loyal customer, then why do so many online services still use payment gateways that are far from being user-friendly and secure? It's all because developing, choosing or integrating payment gateways is not a cakewalk. Dealing with payment gateways is challenging work that requires engineering expertise and domain experience. Let's see how to simplify dealing with payment gateways in online payments.
What is a Payment Gateway, and How Does It Work?
Along with payment processing and merchant accounts, a payment gateway is a critical component of online payment processing. It secures data transfers between a particular business website or a mobile app and the payment processing company. The best analogy for a payment gateway is a point-of-sale terminal from a retail store put in a digital dimension.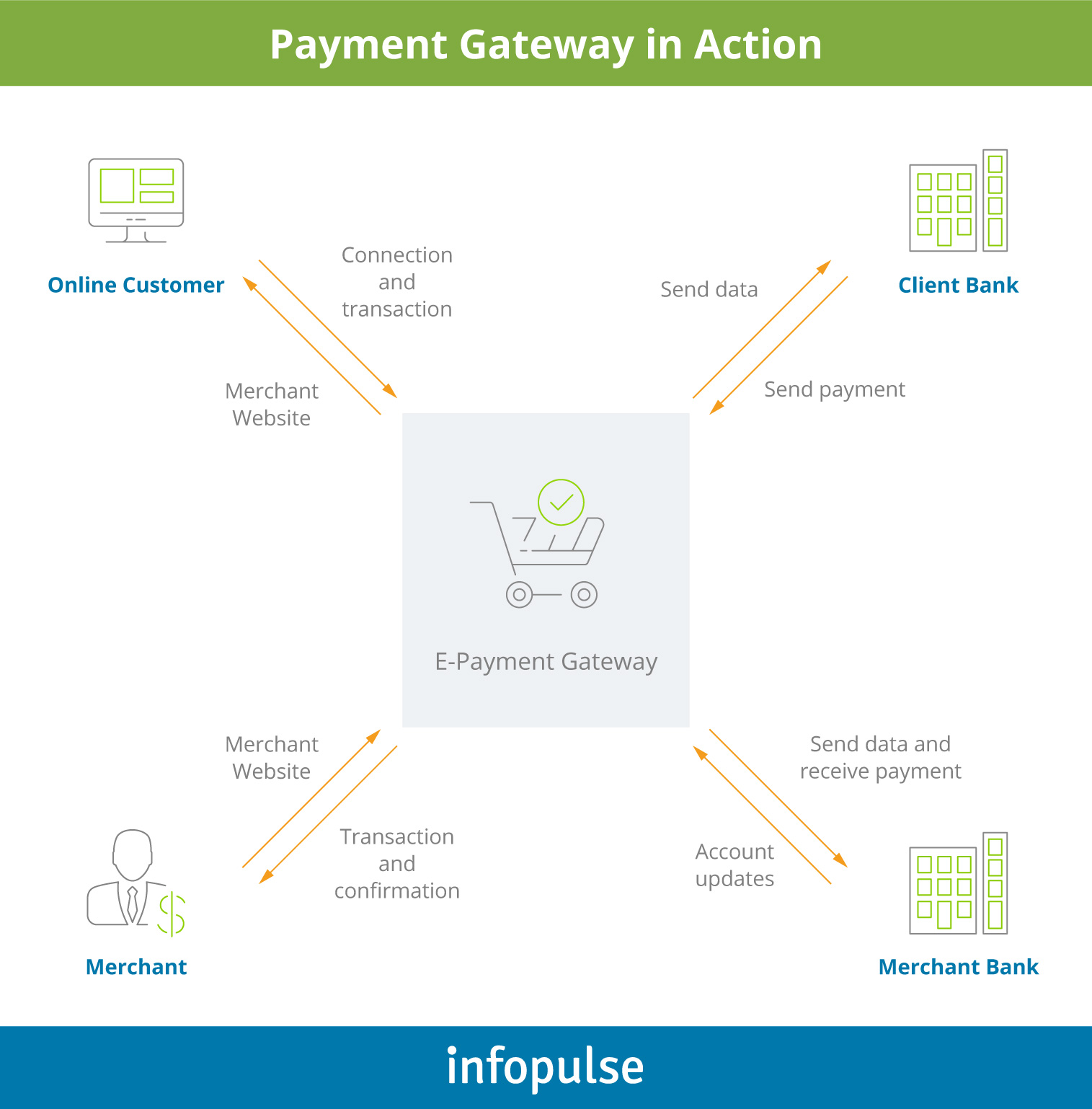 A customer places an order, selects the payment method, and enters payment details. Via SSL (Secure Socket Layer), the customer's encrypted information is sent to the payment gateway. The payment gateway then transfers it to the payment processor, which, in turn, passes it to the bank and card association. The next task for the payment gateway is to send the payment processing approval or decline to the merchant.
Now that we know some basics, let's move on to the more complicated stuff.
The Essential Components of a Reliable Payment Gateway
People love making payments online, and figures prove this. In 2018, the total transaction value in digital payments reached $3,595,330 million (see the chart below).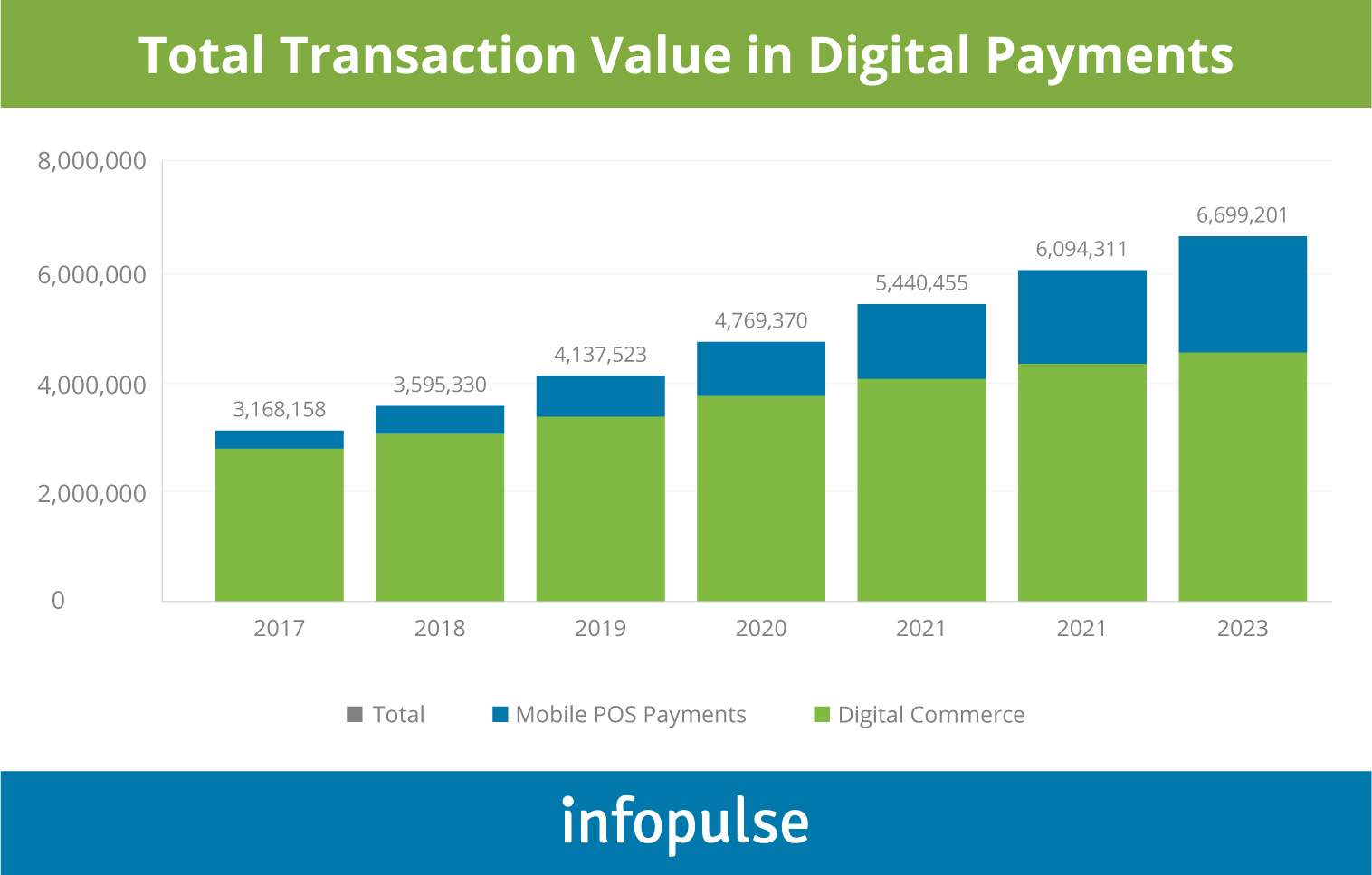 Such affection fuels the growth of the payment gateway market. To fight off the competition, market players adopt all sorts of strategies, from well-known to desperate ones. Meanwhile, it plays into the hands of business owners who plan to support their online payments with a reliable payment gateway. New features, extra security measures, and enhanced user experience are some of the positive outcomes of fierce payment gateway rivalry.
Let's look at the typical components of a stable and secure payment gateway.
First things first: security
The ability to transfer payments securely is a vital attribute of a payment gateway. No one needs the ability to pay online if it threatens people's funds or personal data. To provide the ultimate protection, a payment gateway should focus on measures like the SSL protocol, PCI DSS certification, tokenization, fraud-prevention tools, 3D security layer, and data encryption.
Speaking of Encryption
Before sending sensitive payment information to the bank, the payment gateway encrypts it using the SSL encryption tool. Next, it validates the transaction data and decrypts the information to send the required details to the merchant account.
Payment Information Storage
When there is no need to constantly re-enter payment details and personal data, it's a point in favor of an excellent user experience. Just be mindful that gateways should keep it secure once users save their information on a site or app. Once again, PCI DSS compliance and encryption should be in place to help you.
Integration
To save time and development efforts, payment gateways should have the ability to integrate with various business platforms, shopping carts, ERP, and CRM systems.
International Payment and Multiple Currencies Acceptance
Even home-based businesses dream of expanding frontiers to win the hearts of the international audience. To succeed, payment gateways should support various payment types on top of the well liked Visa and MasterCard. Consider mobile wallets, bank transfers, PayPal, or whatever online payment method is popular with your target audience and business environment.
Types of Payment Gateways
There are three types of payment gateways: hosted, direct post, and integrated. Let's review them one by one.
Hosted Payment Gateways
This type of payment gateway works using redirects. To make a payment, the gateways take users away from a business website and redirect them to a specific checkout page hosted by the third-party provider of the payment gateway. Many businesses choose PayPal to implement it.
Why do businesses like it? Because in most cases, they are ready-to-go products. It's extremely convenient for a startup or a small business. By following the pretty easy integration procedures, a business rids itself of tiresome compliance requirements and security concerns. Now it's the responsibility of the payment gateway provider along with all the rest of payment processing nuances.
The challenging part. From the point of view of consumer psychology, redirects are triggers that may scare users away. Even if you have the most loyal users, it doesn't mean they trust and love PayPal or any other provider as much as they trust and love you. And they're partially right. Entrusting your funds and clients to a third-party provider always means less control.
Direct Post Gateways
Direct post payment gateway integration can be viewed as a technological attempt to kill two birds with one stone. On the one hand, the checkout process takes place on the business' websites, so there are no redirects to third-party pages. On the other hand, a proprietary server still doesn't handle actual payment details or sensitive data.
Why do businesses like it? Because an approach like this entails greater customization. It won't scare your users away, and will, instead, raise your brand awareness. The heavy lifting, including security matters, is once again done by the payment gateway provider.
The challenging part. Like it or not, you can't rest until at least some part of payment processing belongs to a third party. PCI compliance is no small feat. But when you get it, you automatically rise to the top league, where businesses are ready to assume full responsibility. Clients appreciate it.
Integrated Payment Gateways
Integrated or non-hosted payment gateways offer on-site payments entirely handled by proprietary servers. Both the checkout and payment procedures are handled by the business proprietary systems.
Why do businesses like it? Because integrated payment gateways have full control over all the stages of a client's online payment experience. This method of payment gateway integration increases a brand's reputation in the eyes of their clients. It's a must-have for well-established businesses as users expect this level of commitment to security standards and a high level of user experience.
The challenging part. Since clients' sensitive data is now entirely within the responsibility of business owners, they must ensure fraud protection and obtain PCI compliance. On top of that, businesses should have enough capacity to maintain a complex payment processing infrastructure.
What to Consider Before Integrating a Payment Gateway into Your Website
The variety of payment gateways on the market and their different integration options often confuse users instead of bringing benefits that come along with numerous options. We'd recommend you to have a look through the aspects that might be the most challenging while integrating b2b payment gateways.
The variety of payment gateways on the market and their different integration options often confuse users instead of bringing benefits that come along with numerous options. We'd recommend you to have a look through the aspects that might be the most challenging while integrating b2b payment gateways.
Processing Speed
The speed of money transfers from your clients to your bank account upon purchase is equally important for buyers and merchants. It is a distinctive feature of a modern end-to-end solution. Processing speed is crucial not only for e-commerce gateways but for any business that expects money in return for their goods and services. But for the e-commerce industry, effortless customer experience with a rapid checkout process is a life-or-death matter. So, make sure the payment gateway won't startle your users with low processing speed.
Infopulse has our own practical point of view on this matter. To achieve high processing speed and top-level performance, we recommend utilizing advanced Microsoft cloud technologies. Cloud transformation is a key to improve operational efficiency with accelerated workflow for business users. Besides, the integration of DevOps into the software development process helps to establish a quick deployment process without downtimes.
Chargebacks
Find out all the ins and outs of the corporate and funding policy a payment gateway has toward chargebacks. Whether we like it or not, chargebacks and disputes do come about in merchant buyer relations. The task of a business owner is to find out the following before locking themselves in a particular gateway:
What is the common chargeback delivery mechanism within a specific gateway?
What penalties or fees should a merchant pay in case a chargeback takes place?
What is a business owner supposed to do when a chargeback-related dispute occurs?
Merchants can be notified of a chargeback by email or through a custom report. The latter is way more convenient, so find out whether a payment gateway supports such an option. Moreover, a payment gateway should include a unique ID of the original transaction in the chargeback information.
Merchants have to try hard to keep all chargebacks under 1% of all the transactions. For e-commerce payment gateways, the rate should be between 0.10% – 0.30%. Otherwise, the merchant account risks being terminated or shut down. To prepare for the worst, businesses should calculate the real cost of a potential chargeback based on the fees charged to the merchant for each occurrence. On average, every chargeback costs somewhere between $15-$25.
Recurring Billing
While businesses are looking for ways to establish more steady cash flows, payment gateways should be able to support such initiatives as recurring payments. And it's a shame if they haven't done so yet. Recurring payments give businesses the ability to charge a fixed monthly fee. For buyers, it appears in the form of subscriptions.
The payment gateway should be ready to transmit your client's billing information to the merchant bank so that payments can be deposited into your merchant account every month. Strange as it may seem, credit and debit cards, which have the biggest share in online payments, are also the biggest stumbling blocks to successful recurring billing. Because payment gateways don't know how to handle the expiration dates of credit cards, there should be other payment methods to support recurring billing. For instance, direct payment from banking accounts.
On top of that, it's a huge plus when payment gateways can support a complex recurring logic and business rules specific to a particular company. Think of personalized billing dates for each customer or upgrades and downgrades based on the date customers started working with you. Sadly, many payment gateways fail to catch up with the rules dictated by the subscription economy. What you should do is to ditch such legacy payment gateways and consider recurring billing support while planning to integrate a particular payment solution.
Mobile Payment Processing
In 2018, the global mobile payment market size was valued at $881 billion, according to IMARC leading market research company. Today, we're witnessing the explosive growth of mobile payments which is supported by figures from many recent researches. It's going to reach $3695.46 billion by 2024 at a CAGR of 26.93% over 2019 – 2024, claims a recent Mobile Payments Market report. While the majority of payment cards, as well as payment gateways designed to process them, are not mobile-friendly, the providers have a multibillion incentive to work for. Intuitive user interface with a stellar mobile payment processing experience will make a difference. Biometric and two-factor authentication make headway for online payments on mobile devices. Fingerprints, eye scans, or PIN input used for NFC, barcode scanning, and SMS payments show the direction in which mobile payment gateways are moving.
Returning to Infopulse's experience in developing payment processing solutions, we'd like to stress the importance of providing a flawless mobile payment experience. While developing a high-performance online payment platform for one of the Irish state education agencies, Infopulse optimized it and made it available for all OSs and handheld devices. Results weren't long in coming. The solution fully satisfies the need for thousands of Agency's customers to pay for its services with instant and accurate online payments available on-the-go.
Top 10 Turnkey Payment Gateway Solutions
In 2018, the global payment gateway market was valued at $ 12.7 billion. By 2024, it's expected to reach $41 billion. With a wide variety of payment gateways and a lot of factors to keep in mind while choosing a particular payment gateway provider, there are always those who lead the pack. Based on ResearchAndMarkets.com's findings, we compiled a list of the top 10 payment gateways popular on a global scale.
PayPal knows how to win consumers' hearts. With worldwide trust and admiration, in 2018, PayPal's payment volume came to $578 billion.
Distinctive features:
Works with almost any merchant account, processor, and shopping cart
Works with all leading eCommerce solutions, CRMs, sales management tools, and accounting systems
Promises up to a 44% higher online checkout conversion using their payment gateway
Starting in 2013, when PayPal acquired Braintree, the two names often come side-by-side. However, Braintree's differentiator is that they offer dedicated merchant accounts, which is rarely done by payment service providers. Braintree payment solutions are used by companies like Airbnb, Uber, and GitHub.
Distinctive features:
Is considered to be a technologically-advanced payment gateway
Has strong security protocols
Helps detect and prevent fraudulent transactions
This payment gateway is the choice of 100,000 global companies, non-profit organizations, and governmental institutions, including the British government, Lyft, UNICEF, HubSpot, and Salesforce.
Distinctive features:
Offers flexibility, scalability, and customization options
Is available for businesses in 34 countries
Pursues the developer-first approach to help businesses achieve true customization
This company from the Netherlands is a big player on the payment gateways market. In H1 2019, the transaction volume of Adyen exceeded € 130 billion, while its net revenue comprised € 220+ million, showing a 41% yoy growth. Adyen's clients include Microsoft, eBay, Uber, Spotify, Sephora, and Nike.
Distinctive features:
Provides transparent fees with an explicit list of prices for supported payment methods on the website
Supports almost all kinds of cards and digital wallets
Presents itself as a payment gateway behind big and international operations
Works in numerous countries and is constantly expanding its global presence
A US-based company, Authrorize.net is a payment processing incumbent and has been working since 1996. Authorize.Net works with more than 430,000 merchants, handling more than 1 billion transactions and $149 billion in payments every year.
Distinctive features:
Authorize.Net was acquired by Visa in 2010
Pays attention to the community of developers
Provides responsive and efficient customer support
A financial services and mobile payment provider, Square was founded in 2009 and now generates more than $3bln annually. Square quickly gained a foothold in online payment gateways and offers an intuitive and user-friendly experience to merchants.
Distinctive features:
Number one solution for mobile payment processing, specially designed to accept payments on-the-go
Offers a wide range of APIs
Promises no extra fees, no long term contracts, and no lock-in
Founded in 1998, CCBill processes over a billion dollars in transactions every year and serves over 30,000 global e-commerce merchants.
Distinctive features:
Besides international payment processing for e-commerce merchants, CCBill specializes in high-risk payment processing and payment gateway for dating, non-profit, subscription-based, and live entertainment business types
Accepts credit cards, debit cards, gift cards, online checks, and bank transfers
Is connected to numerous localized payment methods and major credit card networks
Paya is a payment processing service provider, formerly known as Sage Payment Solutions. Starting from 1989, Sage Payment Solutions had been acting in the territory of the U.S. as a subsidiary of a British enterprise software titan, The Sage Group, and was acquired in 2017 by GTCR. Now an independent company, Paya offers a range of payment solutions, including Paya Connect – a popular payment gateway service in the U.S. and Canada.
Distinctive features:
Offers robust integration with payment platforms
Supports recurring billing
Features user-friendly mobile payment gateway
You can use Amazon Pay globally, especially in the US and most European countries. Hundreds of millions of customers in more than 170 countries use Amazon Pay daily to make transactions. Some of Amazon Pay's customers include Lenovo, Lacoste, Washington Post, Wyze Labs, Inc., Kamikoto Knives, and Atom (text editor).
Distinctive features:
Trustworthy fraud protection service
Good reputation associated with Amazon as a well-known brand
Pleasant user interface and ease of use
Alipay is the most widely used online payment service provider in China. With over 200 million daily transactions and over 1.2 billion active users worldwide, Alipay is a must to reach the vibrant Chinese market, so it's no wonder it has already been adopted by over 80,000 retail stores worldwide.
Distinctive features:
Offers easy setup and premium support
Uses advanced encryption technology
Allows in-app payments on mobile devices
Conclusion
What payment gateway provider to choose, how to integrate it, which features to look for – there are many questions. And they are all vital since payment gateway is a big deal in terms of user experience on your website. Make use of the competitive market environment to select the payment gateway with the richest features and ironclad security. We hope that our article helped you make an informed decision.
With extensive experience in payment processing, Infopulse will be happy to construct the finest business scenario for you. Whether you need to develop or integrate a desired payment gateway solution, we are here to assist your business.
Contact our experts to start your payment gateway project today!