How a Cloud Data Platform Helps Unveil the Outmost Value of Data
Originally published: July 20, 2022
Updated: July 28, 2022
5 min. read
Data & Analytics
Cloud & DevOps
With the greatest asset for businesses – data – comes a range of its collection, organization, and management complexities. A modern data platform, that comprises cloud data management, data analytics, and data science functionalities, is designed to address them allowing businesses to meet market demands, overcome external disruptive factors (e.g., COVID-19 outbreak), and handle the growing data flow.
The insufficient management of unprecedented volumes of data, coming from social media, corporate systems, and other first-, second-, and third-party data sources, influences the quality of insights and value businesses plan to acquire. According to the survey, only 39.3% of organizations handle their data as a business asset, thus leveraging the maximum value from all types of data.
Being able to operationalize all the data available, businesses can discover more useful information about their customers. Based on the information about their behavior, needs, and preferences businesses create more targeted personalized offerings to improve customer loyalty and retention per se. Considering the fact that personalization impacts 40% of business revenue these days, the data platform appears to be the right field to capitalize on.
However, to achieve market-leading positions, organizations must also embrace three crucial technologies – cloud, AI, and automation that can work cohesively and mutually beneficially only within a modern cloud data platform. Not only do they bolster data platform capacities, but also allow gleaning more valuable insights from unstructured data and its management. By the way, 52% of businesses underutilize unstructured data finding it too complex and voluminous. With modern cloud data platforms, all types of data, including unstructured and semi-structured, are thoroughly collected, processed, organized, and stored in a single place to facilitate strategic decision-making.
To go along the basics of a cloud data platform, specifically the difference between a data warehouse, data lake, and data fabric, please check the article The Many Faces of Cloud Data Platforms in our blog.
Why Moving to the Cloud is Pivotal for a Competitive Data Platform
The conventional data replication into the intermediate database management system can no longer suffice the data collection, storage and management needs, while also complicating and slowing down data analytics and reporting. Over the last 10 years, a traditional data warehouse (DWH) as we know it, greatly transformed. Among the most popular repository options are hybrid platforms combining a data lake with a classic DWH approach and massive parallel processing (MPP) that allows dealing with terabytes of data instantly. We discuss this hybrid approach in more detail in the related article Why Converging a Data Warehouse and Data Lake is the Path Forward for Analytics-Driven Companies.
Implementation of a data storage that clearly resonates with your business needs and changing market demands facilitates effective data management and lays the groundwork for a consolidated, scalable, and competitive data platform. Besides that, cloud DWH solutions allow for cutting data storage costs (these days 38% of business leaders struggle with high repository costs and switching to a cloud data management system could help get the balance) and time needed to prepare data for analytics (it takes about a week to prep data with the traditional DWH). For these reasons, moving data storage and management to the cloud has gained traction in recent years: e.g., 60% of corporate data are already kept in the cloud as of 2022, compared to 30% in 2015.
With cloud-first data platforms, decision-makers have the chance to rapidly get the results from data platform implementation without investing much in costly equipment. Moreover, transitioning to the cloud can enable a data platform almost immediately based on the chosen subscription plan. Moreover, many vendors provide a free trial for one or even several months (try and buy) that also influences the decision of switching to cloud-based data platforms. As of now, 30% of enterprises already choose to develop and deploy new data platforms with cloud-native solutions.
Direction of Movement for New Workload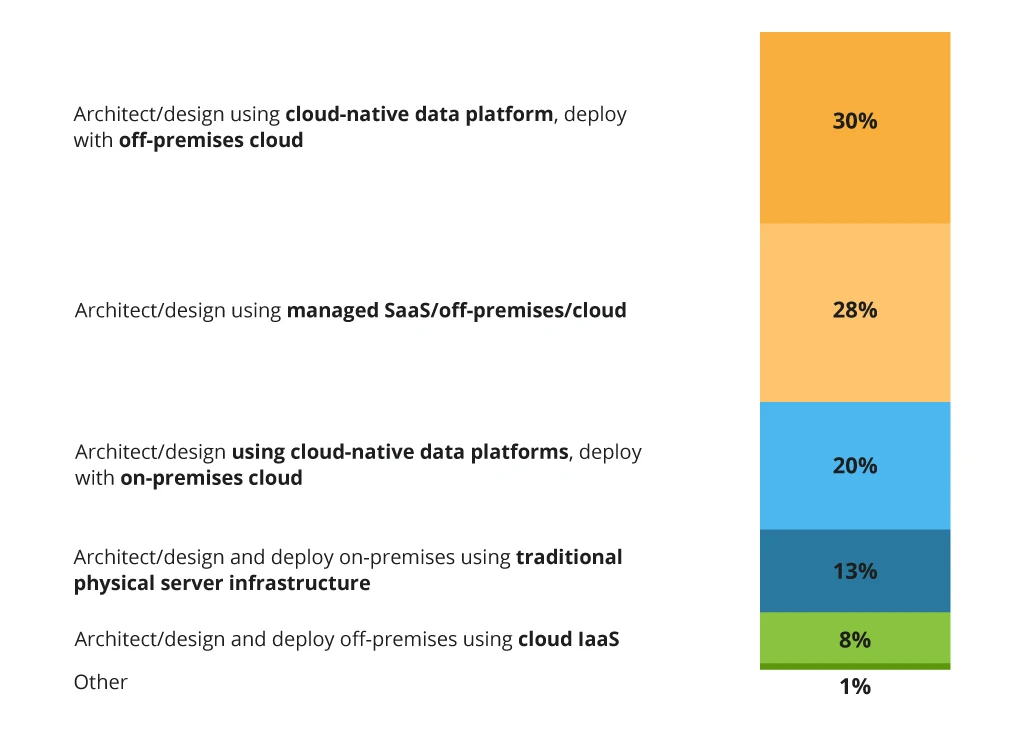 We have already mentioned some of the advantages of data management in the cloud, but there are even more of them.
Benefits of Cloud Computing for a Data Management Platform
Ability to swiftly ingest both structured and unstructured data, which significantly speeds up data analytics and reporting.
A larger choice of data platform configurations – from traditional data processing solutions, hybrid solutions that suggest leveraging Data Lake, Machine Learning, Advanced Analytics to building a Big Data platform.
Significantly faster architecture deployment and genuinely seamless transitioning from one solution architecture to the other. For example, enabling migration from a traditional DWH solution to a data platform focused on accomplishing specific business goals: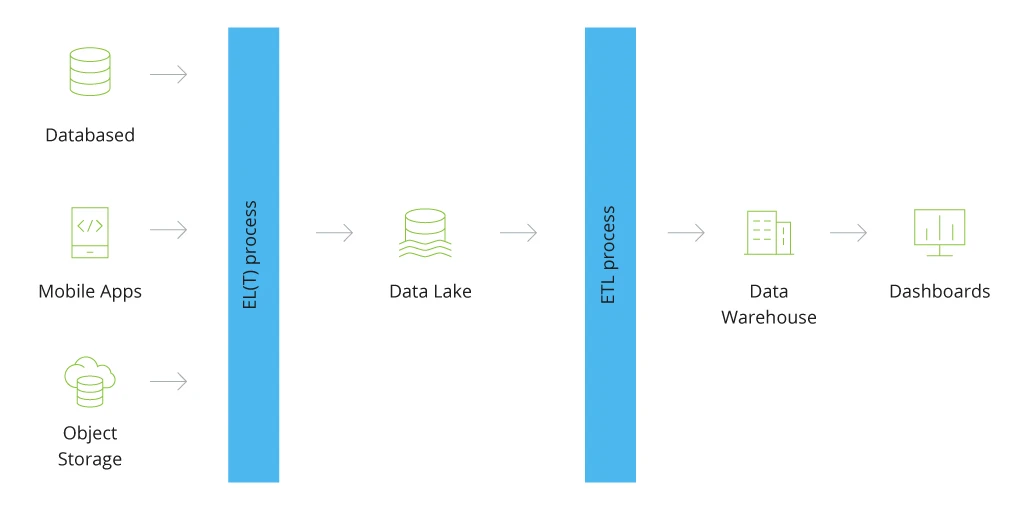 Ability to rapidly scale up or down resources based on your data and analytics needs.
Improved flexibility and lower TCO thanks to pay-per-use subscriptions.
With a consolidated and highly-secure cloud data warehouse, you can improve data availability and data democratization, letting business users get valuable insights at any time and in any place
A large cloud ecosystem of services allows streamlining costs and efforts needed to connect a new data service to a data platform.
Greater infrastructure cost reduction and optimization of human and technical resources needed for server maintenance since cloud subscription is easier to administer.
Higher reliability of infrastructure as its operability and any functionality issues completely rest on the cloud provider's shoulders, minimizing the risks of equipment downtime or possible data loss.
The list of benefits from data management in the cloud goes even further. However, to tap into their full potential, decision-makers should decide on a suite of solutions for building a data platform. The choice of tools, technologies, and approaches is fundamental for the successful implementation of a data platform. We chose three most valued and trusted vendors of data platform solutions you may want to take a look at.
Three Data Management Platform Toolkits to Consider
Infopulse, as a provider of data management services, has a solid experience in building different data systems – from common solutions for gathering data from different sources and their further visualization in a BI system to more complex ones focused around big data computing and the collection of structured, semi-structured, and unstructured data. In our practice, we learned that the most mature toolkits for data platform implementation are provided by three iconic cloud vendors Amazon, Microsoft, and Google, which together operate more than half of the 600 hyperscale data centers in the world. Their ecosystems of cloud services and solutions work together to create truly competitive and efficient data platforms.
Amazon Web Services Toolkit
When building a cloud data platform on AWS, Infopulse recommends utilizing such powerful cloud-based solutions as Amazon Redshift, AWS Lake Formation, AWS Glue, AWS Lambda, and Amazon Athena. Together they make a powerful ecosystem of cloud data management services that enable the high scalability, security, and automation of a modern data platform.
Microsoft Azure Toolkit
Microsoft Azure is a real bonanza for building intelligent and high-performing cloud data platforms based on a range of cost-effective solutions, specifically Azure Synapse Analytics, Apache Spark, Azure Databricks, Azure ML, Azure Stream Analytics, Azure Data Lake Storage.
As a Microsoft Azure MSP, Infopulse provides the most complete array of Azure cloud services and solutions, including a data platform implementation.
Google Cloud Platform
Google Cloud Platform also provides robust capabilities for data warehousing, big data analytics and management services and solutions (BigQuery, Pub/Sub, Dataflow , Cloud Data Storage (Data Lake), Google Kubernetes Engine) that equal to Microsoft and AWS-based data platforms with a huge choice of features and special capabilities.
Conclusion
In conclusion, when building a competitive data platform, businesses may pursue different goals. However, the primary one is gaining maximum value from all types of data in less time. Another crucial step is to decide on a data platform toolkit, studying all the options cloud services providers offer. In our upcoming related articles, we will discuss specific examples of building a data platform based on the highlighted cloud services and solutions. Contact Infopulse, if you would like to know how to implement a data platform and tap into our expertise on cloud data solutions.