What Businesses Need When Opting for Anywhere Operations Model
Originally published: April 27, 2021
Updated: July 10, 2023
7 min. read
Cloud & DevOps
Innovations
The exposed vulnerability in the face of disruption forced enterprises to spur the transformation of their traditional processes, infrastructure, and operations. In search of the right solution to align IT structure with critical internal systems and customer-facing digital solutions, companies resort to the anywhere operations (AO) concept. This article provides a detailed overview of how to apply the AO model to help decision-makers restore competitive advantage and adjust to the future waves of crisis.
What Is the Anywhere Operations Model?
Even if companies have already apprehended what digital business transformation is, the anywhere operations concept often lacks clarity.
In its list of the top strategic technology trends for 2021, Gartner identifies anywhere operations as an "IT operating model designed to support customers everywhere, enable employees everywhere, and manage the deployment of business services across distributed infrastructures." Gartner also claims that the absence of distinct boundaries between real and virtual working spaces will force 40% of businesses to apply AO by the end of 2023.
Anywhere operations helps companies ensure productivity and spend resources wisely.
Anywhere Operations and the Remote Model — What Is the Difference?
It is essential to understand that anywhere operations and remote work are not the same. Anywhere operations is a broad, strategic concept within the digital business transformation paradigm, and remote work is simply a tactic that has become a part of the AO strategy. Alongside remote work, anywhere operations entails reliance on cloud technologies, collaboration tools, and automation.
Generally speaking, the remote working model is a way for employees to accomplish their duties. However, the AO model is much more than just this. It also covers customers with their needs, ensuring they can interact with the brand anywhere without being physically present. Moreover, remote work is not a compulsory part of anywhere operations. Businesses might rely on advanced automation when employee involvement is not business-critical or can be minimized. This is just one of the benefits of AO.
Benefits of Anywhere Operations
Gartner highlights the following benefits of AO for 2021 crisis recovery and beyond:
Seamless customer support. Because the turbulent global landscape makes customer behavior and expectations change constantly, the need for digital services will only expand. Anywhere operations can help companies revise their digital business transformation strategy by accelerating specific initiatives or bringing new digital channels into focus.
Employee empowerment. Business owners need new, secure, and resilient ways of working with colleagues. The AO approach helps assess workforce management and provides the means to drive productivity in the remote working model.
Better collaboration and productivity. Switching to remote work demands employee upskilling and infrastructure readiness. Implementing anywhere operation addresses both.
Secure remote access. AO provides teams with best practices on how to secure work-from-home systems and working capacity.
Cost-efficiency. Although implementing AO requires an initial investment, it saves costs in the long run, especially when it comes to maintaining and upgrading legacy systems.
To leverage the benefits of anywhere operations, companies need to follow a set of stages for applying the model.
Stages of Implementing Anywhere Operations
The following steps to be taken with anywhere operations will help align your organization with new digital priorities.
Define Business Objectives
Anywhere operations will provide real value when decision-makers know which objectives they need to address in the first place. The two most significant objectives are the rapid shift toward digital channels for customer interaction and workforce management.
Support Clients Everywhere
Businesses have to generate new touchpoints to support the rising standards of customer experience. Subscription businesses, contactless payments and delivery services, online banking services are just several examples highlighting how people have changed their preferences. After all, 35% of customers have increased their online banking usage during the pandemic.
Take Infopulse's automation of customer inquiry processing for a Nordic restoration and construction company. It helped the client improve customer experience by introducing robotic process automation (RPA), enabling them to automate most business-critical processes, including inquiry processing and financial management. As a result, the client increased the customer case processing speed by three times and spared employees the routine tasks.
Provide Tools and Experiences for Employee Needs
AO triggered the digitalization of many traditional processes, including the ones surrounding human relations. One example is Infopulse's experience of successfully switching to remote operations with more than 2,000 employees and seven offices thanks to workflow collaboration, video conferencing solution, and smart workspaces.
Anywhere operations in HR also involves the digital transformation of recruitment services. Human resources specialists can rely on ML-enabled recruitment chatbots to communicate with candidates or leverage onboarding software to perform virtual office tours, introduce new employees, and instruct them on corporate rules.
Use Cloud, Edge, or Hybrid Infrastructure Instead of On-Premises
A recent survey acknowledged that 76% of global IT leaders increased their spending on private and public cloud infrastructure because of COVID-19. Putting efforts into anywhere operations means tapping into the cloud infrastructure to meet the heavy demand for computing resources, data storage, and networking.
Cloud platforms add scalability, lower costs, and give access to unparalleled computational power, while on-premise infrastructure ensures control, security, and transparency. With anywhere operations, companies need to adopt the best of both, i.e., the hybrid cloud infrastructure.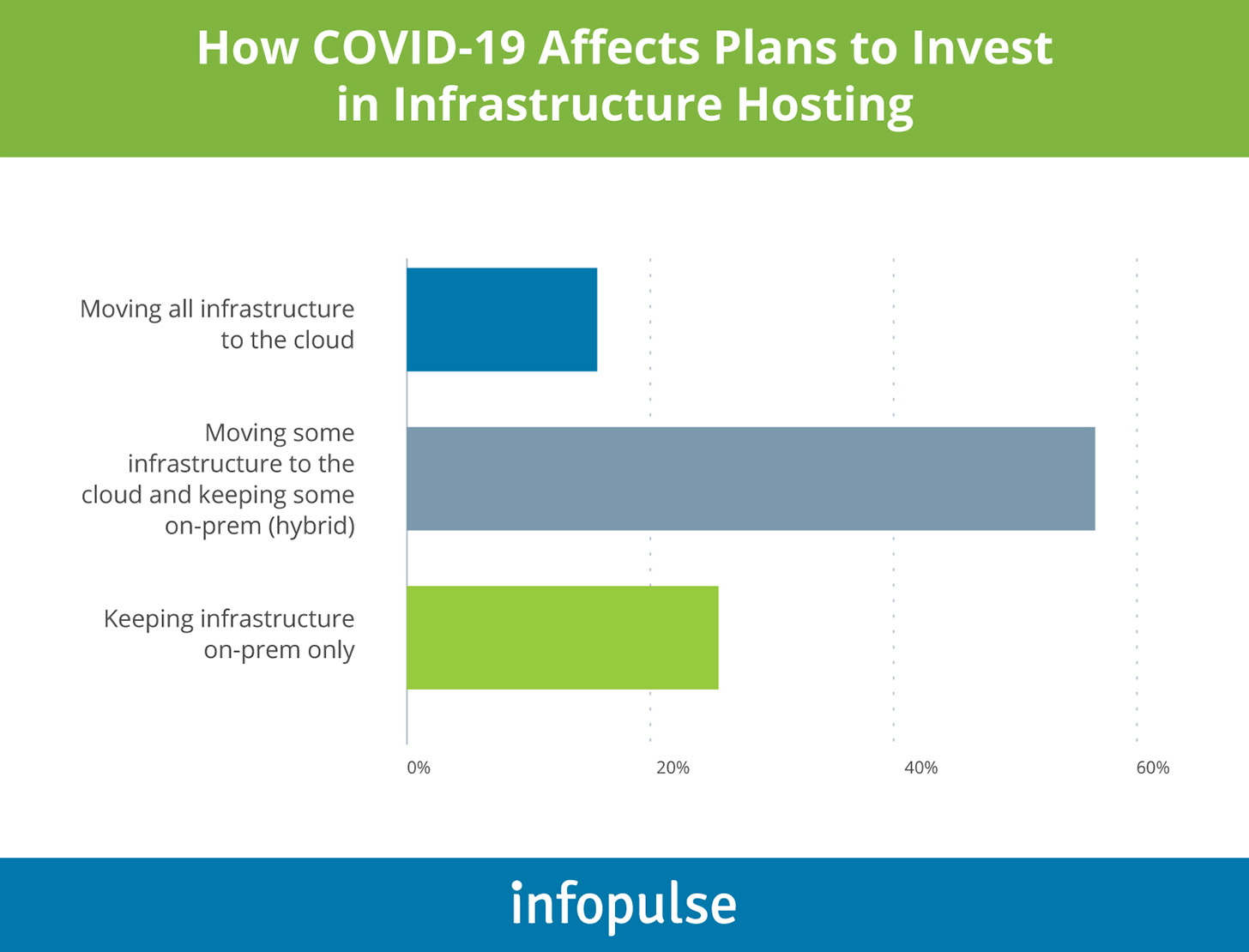 The right balance of cloud infrastructure varies depending on the industry and business scenario. Governmental bodies, for example, need a continuous increase in computing power, along with better scalability and built-in cybersecurity. Meanwhile, in healthcare, organizations require secure but rapid interoperability to connect patients with different healthcare providers quickly and conveniently.
In the logistics domain, companies may need to minimize the participation of in-house specialists in operational activities and prepare end-to-end cloud infrastructure for operations and monitoring automation. In this respect, Infopulse has helped a Nordic logistics company pursue a hybrid-cloud strategy by improving networking between their on-premise and AWS infrastructure components.
Edge computing is another paradigm that supports anywhere operation throughout industries. With a projected market value of $250.6 billion by 2024, edge computing is especially beneficial when the digital transformation of business processes involves dealing with real-time data generated in edge locations.
Namely, edge computing becomes the technology of choice for predictive maintenance, robotic operations in remote locations, traffic flow management, and more in the verticals that include manufacturing, logistics, agriculture, and healthcare.
Focus on Process Digitization
The recent McKinsey Global Survey of Executives has shown astonishing results on the speed of post-COVID acceleration in digitization. The executives speeded up the digitization of client interactions by three to four years, while the share of their digital or digitally-enabled products has accelerated by seven years.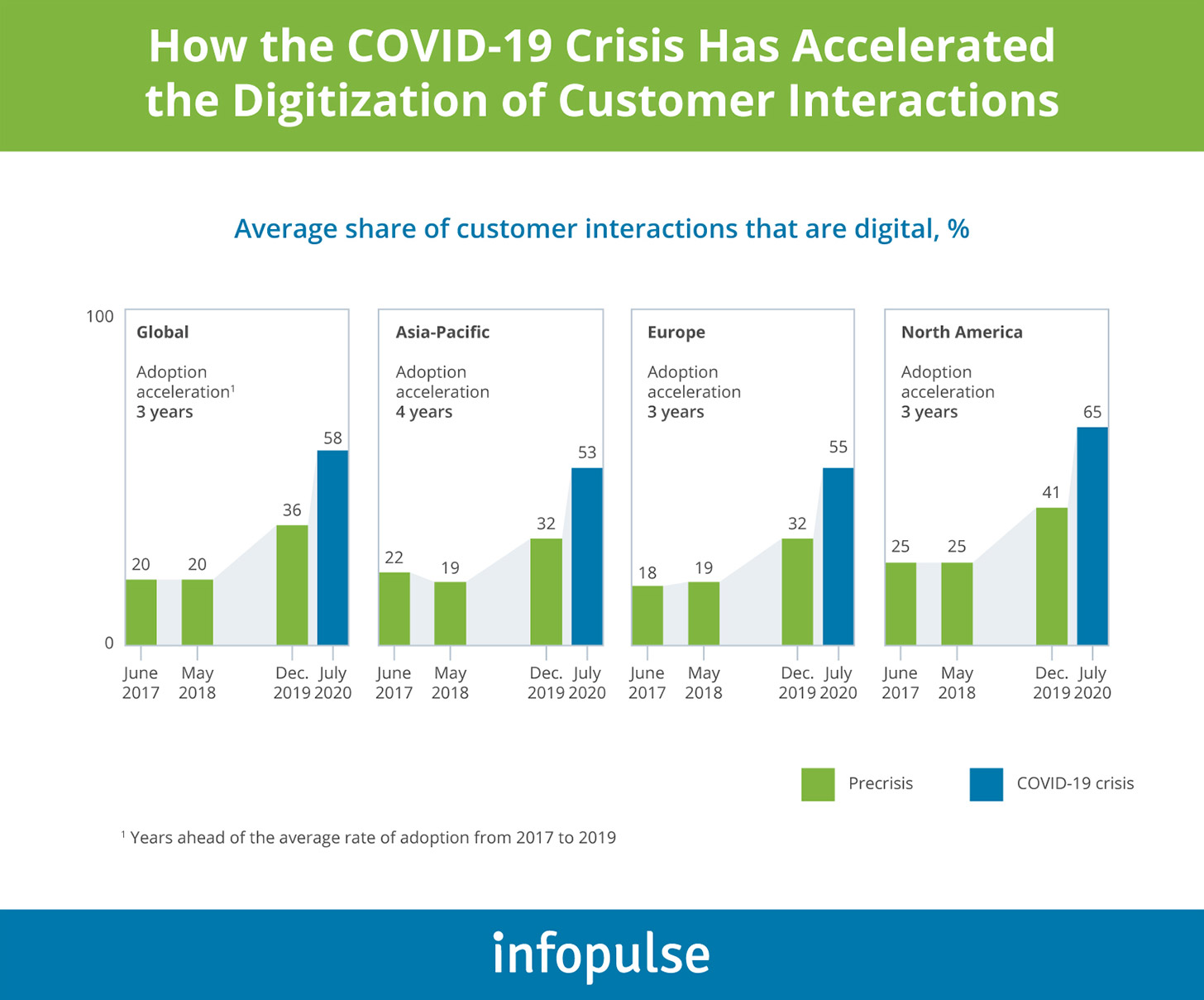 Deciding on the specific processes that need to be digitized requires thorough planning and coordination within an enterprise. However, businesses should focus on workforce management, marketing activities, supply-chain, market analytics, and billing first. On top of that, almost all processes that require physical documents should become paperless.
The technologies that support digitization across industries include:
Rely on Automation
Automation of enterprise operations usually results in lowering costs and increasing the quality of manual tasks. Yet, anywhere operations requires even more rapid results. In this context, it is worth mentioning hyperautomation — another top strategic trend for 2021, according to Gartner.
A robust combination of AI tools with RPA, hyperautomation shows the previously unseen interactions between processes, functions, and key performance indicators. It helps to automate entire workflows, not just specific tasks.
In the context of anywhere operations, hyperautomation has a wide range of applications across industries. For instance, in insurance, this approach assists with processing scanned and digital documents, helping select the right products without the need for clients and managers to be physically present.
Use cases in banking entail remote customer service provision, bill payments processing, compliance maintenance, fraud detection, and more. When we talk about the healthcare domain, smart billing, claims processing, inventory management, and clinical decision support are the typical use cases of hyperautomation.
The rise of the hyperautomation trend, however, poses specific challenges. Namely, businesses now have to decide on the extent of automation: where to draw boundaries between AI-automated and AI-assisted tasks. In search of consistency and productivity, companies risk losing value behind their operations.
When balancing automation with people's needs, human-driven digitalization should be the right strategy to support anywhere operations. And it seems like business leaders appreciate this. According to the Deloitte Global Human Capital trend Survey held in 2020, the majority of respondents are more likely to rely on AI to assist their employees rather than replace them.
Level up Security
Lowering risks and combating threats should be an integral part of a digital business transformation strategy to address the following situations:
Numerous external connections and system requests are sent from potentially unsecured networks.
Customers and their personal details and assets are vulnerable in the face of malicious agents.
Employees are using Shadow IT — tools and services beyond the approved technology stack.
To protect employee, corporate, and customer data, businesses will have to utilize a comprehensive threat-prevention approach to channel their cybersecurity efforts in the following directions:
Intelligent passwordless and multi-factor authentication (MFA). Passwordless authentication covering software tokens, hardware authentication devices, biometric scanners, and more is now considered to be more secure and user-friendly. MFA, in turn, improves security by enforcing additional authentication measures, such as fingerprints or messages, before users can access accounts that hold sensitive information.
Zero Trust Network Access (ZTNA). The approach suggests there will always be attacks originating from both outside and inside the network, so it is not reasonable to rely on traditional "perimeter-based security" consisting of VPNs, firewalls, edge servers, and other security instruments. Instead, IT teams should choose "transaction-based security," which applies machine-learning algorithms initiating a sophisticated verification mechanism to analyze any abnormal activities on employee devices or cloud-based resources.
Secure Access Service Edge (SASE) This network architecture combines cloud-native security functions like firewalls, secure web gateways, ZTNA, cloud access security brokers, and more with virtual private networks (VPN) and software-defined wide-area networks (SD-WAN). SASE enforces identity and context-aware policies, providing dynamic and selective access to users.
Identity and access management (IAM). The use of identity verification standards improves security through authentication, initialization, and authorization. To achieve the utmost level of protection, it is best to rely on proven techniques like that of Microsoft Azure. Atop Azure Active Directory (AD), companies can create their own security-tight and user-friendly identity management process.
Considering these practices will help business teams strengthen cybersecurity while navigating through anywhere operations at their companies.
Conclusion
Anywhere operations is an integrated approach, not just a set of individual practices and tools to enable working remotely. It implies the digital transformation of business processes across the critical IT and business components. This model combines a thoughtful selection of cloud-based technologies and stringent security standards, digitization, and automation best practices, as well as the ability to declare and pursue long-term objectives. Because of this, when enforced correctly, anywhere operations empowers businesses to successfully adapt to challenges by supporting their employees and continuing to deliver value to their clients.
With cross-domain experience in enterprise software development, cloud migration, and information security services, Infopulse is ready to pilot the holistic digital transformation of your company.
Contact us today to learn how to implement anywhere operations to support your specific business needs in the post-COVID environment.