Cloud
|
Written by Infopulse
Reading time: 7 minutes
While &nbsp are already using clouds for their data and workflow management, there are still some myths, stereotypes, and misunderstandings that prevent these companies from using the cloud in a more effective way, and those who have not yet utilized the cloud, from getting started with it.
In this article, we are going to reveal and debunk the major myths about the process of cloud data migration to help you get a better idea of what a cloud migration project actually looks like.
Myth #1: Data Migration Is a Matter of Copying Data
The concept of data migration may sound like copying and pasting the data you have, moving it from a legacy or on-premises storage to a more advanced, cloud one.
Nevertheless, &nbsp go over budget, while 38% fail to meet the deadline, which proves cloud migration is not a piece of cake. If migrating data to the cloud was as easy as it seems and there were no cloud migration risks, the share of successful data migration projects would be significantly higher.

&nbsp
That is why cloud data migration always needs a strategy, in addition to the data migration plan. While the first covers technical cloud migration approaches, a cloud data migration strategy should also foresee the business challenges, set reasonable deadlines, budgets, and priorities. It should all be tailored to the business goals.
See how Infopulse planned and accomplished the complex migration of a multi-layer infrastructure together with outdated data centers to the cloud in a few stages.
Recommendations: There are a lot of cloud migration techniques, but none of them implies just copying your data and transferring it to the cloud storage. Cloud migration always requires a clear and well-planned strategy that is better to develop together with your cloud migration service provider. Well-planned strategy is a winning recipe for cloud adoption.

&nbsp
Myth #2: Data Migration Is a One-Time Task
In addition to the myth about copying and pasting the data, some business owners also think that data migration is a one-time action, consisting only of the task of transferring the data itself.
When it comes to the necessity of moving a single and already prepared data array, yes, it can be a one-time task.
However, on the enterprise level, data migration is a process that consists of three stages:
Pre-migration

. At this stage, it is necessary to develop a data migration strategy, prepare the data itself, review the system requirements, estimate the project's budget, set the deadlines, choose the cloud vendor and get in touch with a cloud migration service provider.

Migration

. This is the core stage that includes the process of moving data to the cloud. But, in addition to moving the data itself, this stage also implies application and code changes (depending on the data migration strategy), developing new infrastructure, and setting up a new system, according to the business requirements.

Post-migration

. The stage of post-migration covers training your employees, supporting and maintaining the new system, updating it, providing additional data security measures, administration and monitoring.
For example, as a part of one of our data migration projects, Infopulse used the Lift and Shift data migration approach for Metinvest group to transfer two data centers, 680 servers, and 240 TB of data to the cloud. The team developed the project step by step, migrating the highest-priority data first. As a result, we managed to save $3 million for IT infrastructure TCO.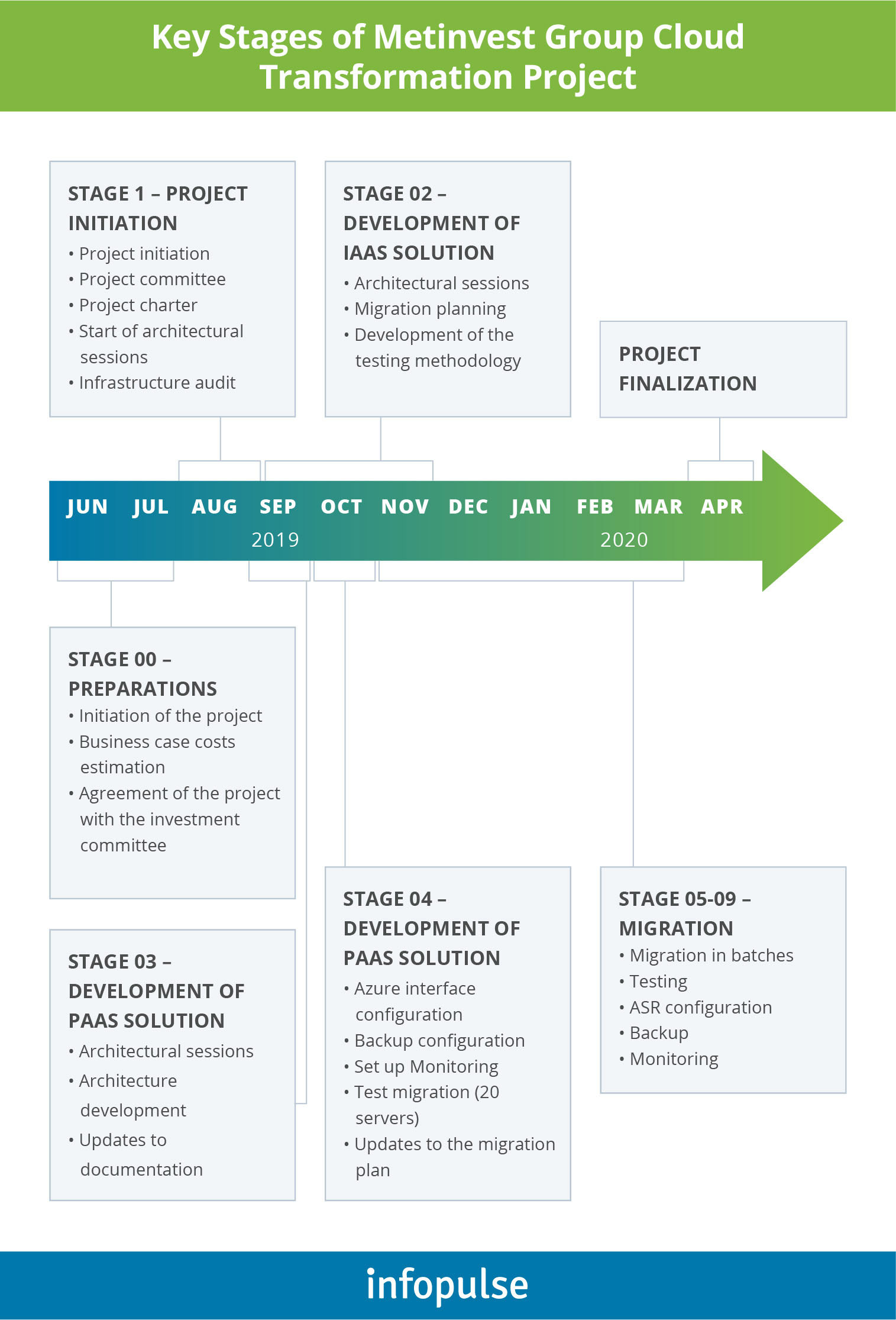 Recommendations: Data migration is not a one-time task. It is a process that is better to run step by step, moving essential data first, evaluating the results, and proceeding with transferring the other data, following each of the stages one by one.
Myth #3: You Can Migrate Everything from Your Legacy System
The next myth, which is also another data migration challenge, is that companies believe they can migrate all the data from their legacy systems and instantly proceed with a new data storage. The value of data stored for years is pretty clear, but in fact, not only is it impossible to migrate everything from a legacy system, you do not even need to.
To put it simply, legacy systems are technically complex and outdated. They are almost impossible to align with modern software, and the data stored in them can be mostly outdated as well. That is why &nbsp reported dealing with legacy systems as the major technical challenge they faced in 2019.

&nbsp
There is no point in migrating all the data from the legacy system due to their abundance and most likely, irrelevance. Instead, there is a great sense in data preparation, removing duplicate and outdated data, and then migrating only those data arrays that come with business value.
In the case of legacy system modernization, migration to the cloud comes with higher IT infrastructure cost-savings.
For instance, moving to Azure cloud with the help of Infopulse, one of the largest telecom companies in Ukraine was able to reduce both equipment and maintenance costs by eliminating the usage of outdated software and hardware. As a part of this project, we set up cloud infrastructure and the digital workplace, implemented more advanced tools for everyday usage, improved business efficiency, and created a highly performing cloud system for dynamic workloads.
We have also implemented a data migration project for Delta Medical. The key objective was to migrate email and user data from a legacy platform, ensuring business continuity, enhancing security and achieving better system accessibility from multiple platforms.
Recommendations: Consider the fact that moving all the data from legacy systems is not only impossible because of the technical specifics but it also makes no sense. Preparing your data for migration and leaving only those arrays that have business value allows for avoiding some of the cloud migration challenges and setting up a more advanced system in a more effective way.
Myth #4: On-premises Storage Is More Secure Compared to the Cloud
Despite all the benefits of moving to the cloud, a lot of organizations still believe that on-premises storage is more secure compared to a cloud-based one.
This is another myth that slows down the digital transformation of the companies supporting it, making them pay extra for on-premises infrastructure support and protection. In fact, for many businesses security is a top driver for cloud adoption.

&nbsp
Although both on-premises and cloud storage cannot be 100% safe, the latter is still more flexible, affordable, effective, and protected.
However, not all the companies are using all the security opportunities the cloud storage can promise. For instance,
&nbsp

of companies don't use multi-factor authentication for cloud data access

&nbsp

use the same access keys for a long period, without changing them

&nbsp

of the organizations are not aware that they have extensive read-write permissions provided to third-party vendors.
The only difference is that cloud data protection needs new tools, solutions, and approaches compared to protecting data on-premises, but in any case, the cloud storage provider has the major share of the data safety responsibility.
The leading cloud vendors provide additional data safety services, like &nbsp, &nbsp, &nbsp, and others, so storing your data in the cloud is a better option compared to on-premises storage.
For example, when performing a heterogeneous migration of SAP platform to Azure cloud, we achieved 60% fewer storage costs and 50% TCO cost savings for one of the largest pharmaceutical companies in Ukraine. This project is also an example of how we have achieved enhanced security and enterprise GDPR compliance with state-of-the-art cloud architecture.
Recommendations: When choosing a cloud service provider, take into account the level of data safety, along with flexible IaaS engagement models they offer. What is more, you are always welcome to use a hybrid approach, distributing your data between cloud and local storage.
We at Infopulse would also be glad to support you with cloud data migration, leveraging the best practices for cloud data security and cloud data protection.
Myth #5 – Cloud Migration Is Too Difficult and Costly
Yes, cloud migration projects are difficult. There are a lot of data migration risks to foresee and data migration techniques to choose from depending on the project specifics.
Given that data migration requires careful preparation, planning, and strategic thinking, such projects cannot be cheap as well.
There are also a lot of factors influencing the cost of moving to the cloud, including but not limited to the project's scope, moving, integrating, and testing challenges, the price for cloud transformation and development services, the cloud data migration strategy you choose, plus the costs of post-migration support.
But, even with such an impressive cost list, the price of proceeding with a legacy system is always higher than the cost of moving to the cloud. Besides that, you can choose a hybrid cloud infrastructure to reduce TCO like one of our clients did by migrating their SAP S/4HANA solution and its data to the Azure cloud, also benefiting from cost-effective resource management.
In addition, there are actually a lot of technical issues, pitfalls, and specifics of cloud data migration projects. According to Accenture, &nbsp report lack of in-house cloud skills as one of the main barriers to cloud adoption.
In response to this challenge, hiring a cloud development company can be an option. The practical experience along with the latest knowledge of the data migration best practices make the process of moving to the cloud more seamless and less risky, without sacrificing business continuity.
Recommendations: The only recommendation that can be given in response to this data migration myth is to choose the cloud migration service provider/enabler wisely. Their practical experience in cloud migration, implementation, and support services will allow you to reuse the life-proven approaches, tailor the cloud migration strategy to your business specifics, and save some costs along the way by moving only the most important data, ensuring business continuity, and following the data safety practices.
Conclusion
There are a lot of data migration challenges and even more myths and stereotypes around moving to the cloud. But practice shows that each challenge is possible to handle with the help of tech-savvy and experienced professionals, who can support you throughout the entire data migration project. Contact us to receive consultation on how to ensure a cost-efficient migration to the cloud.
---
Originally published January 07, 2022 Updated January 10, 2022