Article
IoT as the Core of Digital Farming and Agriculture
Originally published: August 29, 2023
Updated: September 04, 2023
10 min. read
Innovations
Digital Transformation
Software Engineering
Digital Experience
For centuries, the agriculture sector has sought ways to invest less resources to produce more farming products. In recent decades, the growth has become mainly technology-driven, as further land development is not an option for most regions worldwide. The growing consumer demand for agricultural products is another driver of global adoption of smart agriculture technologies. Among such are IoT solutions for agriculture that are expected to expand its global market from $30.51 billion in 2021 to $78.85 billion by 2030.
The Internet of Things, connected devices, and hyperautomation bring numerous advancements to agribusinesses across the globe. Among them is the ability to produce more within the same or less resources instead of developing problematic lands that place more challenges for traditional farming techniques.
In this article, we will review how IoT and other smart technologies transform modern agriculture, the key uses of IoT in agriculture and the benefits IoT brings to the industry.
How Are IoT Farming Solutions Shaping Modern Agriculture?
According to McKinsey's 2022 Global Farming Insights, modern farmers want to increase crop pricing, collect higher yields, and expand their market internationally. The most significant concerns in the industry are increasing input prices, processing costs, and supply chain disruptions: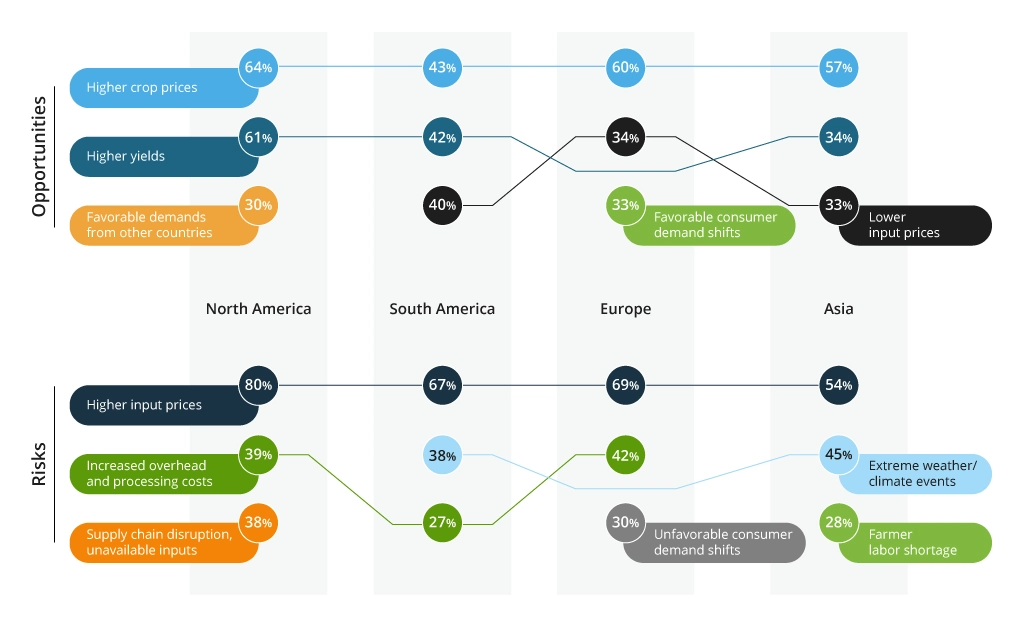 In addition, modern agriculture faces a food shortage problem. According to the latest meta-analysis, by 2050, global food demand will increase by 35-62% within the population growth of up to 9.7 billion.
The agribusinesses also need to comply with the latest chemical-use policies across the globe: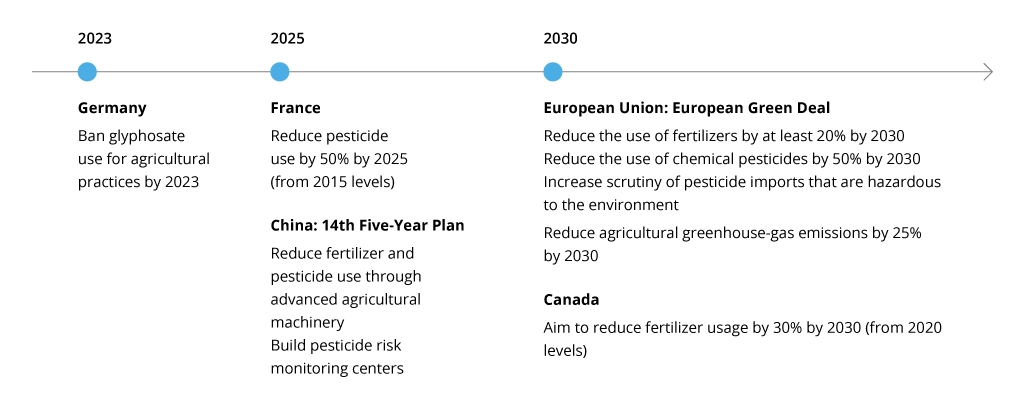 Applying IoT for agriculture and other innovations helps greatly reduce consumption of chemicals, environmental footprint, and improve resource allocation. Moreover, it will certainly help cut operational costs backed by real-time analytics, address the food shortage, and farming profitability issues. Other advancements that IoT promises to bring for agribusiness can be traced in each relevant use case.
Use Cases of IoT in Farming
Climate Monitoring
Monitoring of climate conditions is performed through smart weather stations that utilize sensors to collect various data from the environment across the fields. The data collected about temperature, humidity, sunlight, and other weather parameters is sent to the cloud. Further, analysis of the data collected is used for optimal crop selection, improving the yield potential, and planning farming operations per weather conditions.
Greenhouse Condition Monitoring
IoT sensors provide farmers with real-time data to control the greenhouse environment remotely and automatically. Lighting, temperature, humidity, and soil conditions can be accurately monitored and adjusted to the desired parameters. Greenhouse control automation helps increase yields, optimize water and electricity spending, and reduce manual effort in supporting the desired greenhouse state.
Crop Management
Crop management devices are placed in the fields to collect specific crop farming data. Overall crop health, leaf water potential, and other parameters are tracked remotely without requiring manual measurements. In this way, farmers can automatically monitor crop growth and detect anomalies like diseases or infestation to prevent yield damage.
Cattle Monitoring
Like crop monitoring, IoT sensors attached to animals help control cattle health and log animal activities. Such devices collect data remotely about livestock's physical location, health, and well-being.
Such sensors also help the timely identification of animal diseases and prevent the spread of infections. Also, drones used for cattle tracking help reduce human effort in controlling the livestock.
Equipment Tracking
IoT sensors installed on farming vehicles like tractors, harvesters, and other machinery help track run hours to optimize the overall vehicle performance and schedule preventive maintenance in a timely manner. As a result, such remote equipment tracking helps reduce fuel consumption, better manage labor costs, and keep the vehicles running longer.
These IoT use cases also suggest integration of other advanced technologies. Check our article about the top 8 solutions for digital farming to discover what they are.
IoT in Agriculture as the Key Playground for Innovation
'Going smarter' is the core idea of the current iteration in agriculture, the agricultural era 4.0 that is all about:
Internet of Things and remote sensing
Cloud computing and other technologies.
While IoT in farming allows collecting real-time data through different sensor types, other smart technologies allow its processing and further use for farm management, analytics, and decision-making.
The Role of Smart Technologies in Agriculture
We have gathered in a single table all the technologies that promise to positively transform agriculture, clearly defining their capabilities and the most common use cases.
Technology
Capabilities
The use cases in agriculture
IoT
IoT devices (sensors) collect and send large amounts of real-time data to the cloud or a data center.
Climate monitoring, greenhouse condition monitoring, crop monitoring, cattle monitoring, precision farming, equipment control.
Big Data
The collected data are compiled and stored in vast data sets (Big Data) to be further analyzed and to extract useful insights.
Greenhouse management, crop and cattle management, supply chain and logistics management
Machine Learning
ML algorithms can be applied to gain insights, make predictions, and control the devices.
Crop yield quality and quantity enhancement, plant disease, grading and sorting of fruits and vegs, indoor farming, phenotyping
Deep Learning
As a subsection of ML, DL is mostly used to analyze images by extracting features or objects and learning to differentiate between them.
Weather forecasting, plant disease detection, fruit counting, land classification, plant classification, weed identification, animal behavior classification, cattle health monitoring
Artificial Intelligence
Used to handle Big Data and derive meaningful intel to improve decision-making.
Soil inspection, plant health monitoring, livestock health monitoring, crop sorting and grading, automatic harvesting
Computer Vision
Helps auto-detect, analyze, and understand useful information from a single image or sequence of images.
Crop yield quality and quantity enhancement, plant disease, grading and sorting of fruits and vegs, indoor farming, phenotyping.
RPA
Streamlines repetitive tasks for planting, irrigation, and harvesting, programming robots and autonomous vehicles guided by IoT sensors.
Crop health and growth monitoring, irrigation optimization, pest infestation detection, supply chain management, quality control
Hyperautomation
A combination of AI, ML, and RPA that can automate complex, end-to-end business
Optimizing crop production, improving employee safety, automating crop and soil
Each use case of IoT in agriculture is individual, and its implementation can vary based on the business infrastructure and needs. Here is the generalized example of IoT, AI, and ML workflow agricultural solutions: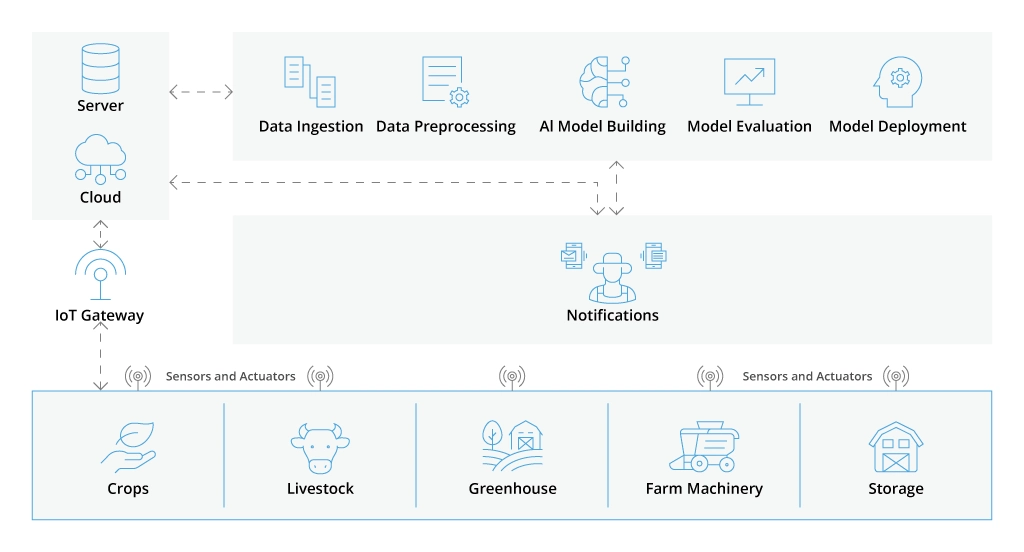 Infopulse applied a similar approach to create a robust land management application for Corteva Agriscience, a Fortune 500 corporation based in the USA. The solution allows for creating and managing farms from a smartphone or desktop, controlling field status through remote sensing and AI features. It also uses weather forecast data and issues notifications to plan field irrigation and other activities.
Given the limitless opportunities of IoT for agriculture, it's not surprising that about 80% of agricultural companies have fully deployed at least one IoT project. The remaining 20% are either trialing, planning to deploy, or trial at least one IoT project in the next two years.
Benefits of Embracing IoT for Digital Farming
Applying IoT for agriculture brings direct and indirect value to overall business performance by enhancing production, resource consumption, operations, supply chain management, and customer service. The key benefits of IoT in agriculture include:
Collecting and managing meaningful data to track the state of business, improve performance, production, equipment efficiency, etc. For example, the grain balance management solution that Infopulse developed for MHP, a large international agro-technical holding, allowed the company to significantly streamline calculations for balanced amounts of crops to be sold and preserved as poultry feed and optimize the logistics route management. The company no longer needs to perform all the required calculations manually that reduces error risks and operational expenses.
Lowering production risks: IoT in agriculture helps eliminate incidents related to weather changes, crops, cattle, and poultry diseases, and other disruptions. Coupled with AI and ML solutions, IoT will allow farmers to foresee the production output and plan distribution precisely. For example, an ML-based sales forecasting solution that Infopulse developed for one of the largest agricultural holdings in Ukraine, provides 80-90% accuracy in sales forecasts for two months ahead. The client obtained accurate poultry production planning, optimized warehouse stocks and space, and improved the use of capital that also resulted in higher profits.
Cost management: The agricultural IoT solutions help optimize fertilizer and pesticide consumption to decrease the production input price and maintain sustainable farming. Another cost-saving benefit of IoT technology in agriculture is optimizing warehouse space, energy, and other resources that also increases profitability. With added ML and AI, the use of IoT also simplifies budget planning by forecasting different expenses based on the farm history data. Infopulse has developed an inventory price forecasting solution that can also be applied for agriculture companies.
Waste reduction: The ability to detect any anomalies in livestock health or crop growth significantly lowers the risks of losing yield. Precision smart agriculture using IoT and AI-enabled resource planning applications also help minimize waste.
Increased business efficiency: RPA and hyperautomation with smart devices help automate multiple production lifecycle processes, resulting in lower resource consumption and faster delivery. For example, Infopulse implemented an RPA solution for MHP that heavily relied on manual product SKU insertion into the ERP system across the entire multi-branch infrastructure. By automating all processes related to entering SKUs and barcodes from the internal ITSM, the company increased organization-wide productivity, enhanced data accuracy and quality, and reduced the time for executing numerous operations.
Enhanced product quality: Using sensors and IoT in farming gives better control over the production process. It helps maintain higher standards of crop quality while automation streamlines capacity growth using the same amount of resources.
Higher sustainability: Automation and other smart farming technologies help cut down the consumption of fertilizers and pesticides and reduce greenhouse gas emissions.
Most companies that are working their way towards IoT-driven agriculture focus on solving their specific challenges based on current business needs. Continually, the integration of innovations would allow covering even more use cases.
So, what should be the first step toward IoT solution implementation? Infopulse, as an experienced IT service provider, recommends conducting technical assessment, solution discovery, and developing proof-of-concept (POC). As part of our custom software development services, Infopulse, together with the client, assesses the challenges to be solved and find a suitable tech stack to implement the solution. The POC allows for evaluating the viability of the chosen approach and trying the solution in practice before investing in its full development.
Key Takeaways
IoT is transforming the agriculture industry, providing capabilities to streamline operations, optimize resource consumption, reduce waste, and increase profitability. It also prompts the adoption of other smart technologies, including AI, Big Data, ML, RPA, hyperautomation, and many others. The agricultural IoT solutions can cover multiple use cases:
Crop monitoring and disease detection
Yield prediction
Harvesting automation
Livestock management
Supply chain management
Sales forecasting
Each solution requires an individual approach to fit the specific goals and business infrastructure. Infopulse has vast experience in IoT development related to agriculture, intelligent automation, computer vision implementation, and other intelligent business services. We help agriculture businesses adopt the best technologies to increase profitability and operational efficiency.