Article
How to Define the Level of Your Automation Maturity
Originally published: September 12, 2023
Updated: September 13, 2023
9 min. read
Cloud & DevOps
Innovations
Digital Transformation
Ongoing talent shortages, paired with declines in labor productivity are forcing businesses to look for new ways to achieve higher operational efficiency. Robotic process automation (RPA), AI, hyperautomation, and low-code applications, have emerged as a suite of proven solutions to these objectives.
In 2023, 80% of businesses, surveyed by Gartner, plan to increase or sustain hyperautomation spending. Leaders are penchant to capture more benefits of automation:
Increased automation of workflows
Scalable implementation
Reduced operating costs
Higher staff productivity
Faster time-to-market for new products
Amplified customer services
New low-code automation solutions like Power Platform greatly reduces the entry barrier for initial adoption, allowing businesses to prove the potential value of automation before investing in more complex intelligent process automation scenarios.
That said, automation is far from being a "mainstream" solution. Although 92% of leaders name "automation" as a vital element of their digital transformation strategy, only 12% said they had been implementing process automation as they had planned in 2022, according to Camuda's survey.
Adoption levels of automation services and solutions have also been largely uneven among small-to-mid-market companies and enterprise entities. Legacy technologies and processes often stand in the way of scaled adoption, followed by financial issues, and low prioritization of automation initiatives, compared to other digital transformation initiatives.
Start by evaluating your organization's automation maturity levels if you want to accelerate process automation.
The 4 Stages of Automation Maturity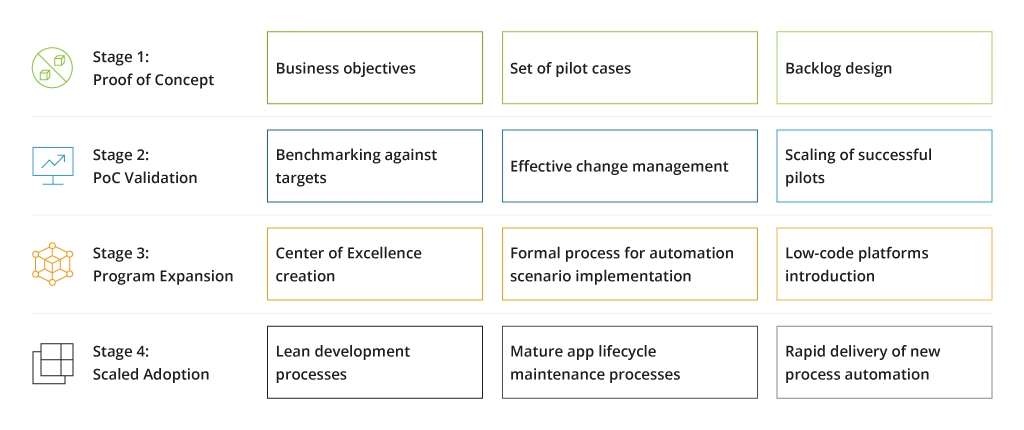 Stage 1: Proof of Concept
The goal of this stage is to battle the initial inertia and doubts around the adoption. Your main goal is to prove the value that low-code and RPA solutions can bring to your organization and secure a strong buy-in both from the end beneficiaries (users) and project sponsors (corporate stakeholders).
Typically, the PoC stage assumes a "trial run" within one department with less than four software robots deployed. It helps to select processes and use cases that are relatively straightforward and where you can deliver meaningful returns for a low cost.
For example:
IT service management
Help desk support
HR and payroll management
Accounting and finance
Example, Infopulse helped a Scandinavian Oil and gas company implement an RPA solution for automating the workflow of monthly financial reporting processes. With the new system, the company saves each employee over 12 weeks per year in productive time, plus reduces the error rates and overhead costs of delivering these reports.
Talk with your teams about their pain points within specific processes, then prioritize selected use cases for implementation.
Learn more about other promising automation use cases for enterprises.
In our experience as an RPA consulting & development partner, companies can implement automation for certain processes as fast as within several weeks, especially with Microsoft Power Automate technology to prove the potential and to scale the program further across more workflows and departments.
How to Succeed at This Stage
To establish a staunch mortar for your automation strategy, business leaders should:
Set clear business objectives for each pilot (e.g., reduce the number of errors, improve process execution speed, save labor hours, etc.).
Implement PoCs for 3-4 low-to-medium difficulty processes. Include processes from different departments (stakeholders), with a mix of different objectives to test the viability.
Focus on business results, rather than technologies. You don't need to strive for "cutting-edge" solutions, especially in areas where low-code tools and simple software robots can bring equivalent value.
Next Steps in Your Automation Journey
Benchmark the efficiency of automated processes against the manual approaches to quantify the value.
Measure the automated process performance against the initial requirements. Focus on identifying opportunities for further improvements.
Set up a backlog for subsequent workflow automation. Prioritize different options by estimating targeted impacts.
Stage 2: Validation
After a series of successful PoCs, shift the focus to automating multiple processes within a single business unit. This stage can typically take anywhere between 3 to 6 months. Your key objective is to validate the earlier results and demonstrate the future potential of scaled adoption.
Automation, as a concept, assumes the accomplishment of end-to-end process automation for an entire business function. Such scenarios, in fact, are already a reality. When Infopulse started working with a Nordic construction company, most of its customer support and back-office processes were largely manual, requiring substantial human resources.
Our team has successfully automated 98% of the company's business processes for invoice generation, customer inquiry processing, claims management, and task management. Each client case now gets processed 3X faster and the new RPA solution saves the teams over 800 hours every month.
In this particular case, we focused on automating processes from different units to promote higher RPA awareness across the company. With more people experiencing the benefits of automation, project leaders face less inertia and internal resistance. Such an approach also sets multiple business leaders accountable for the project's success and, therefore, makes them more engaged in the discovery of new potential use cases for the automation pipeline.
That said, no automation strategy is the same. Each company will need to determine the optimal approaches that fit with its organizational structure, governance model, technology portfolio, and risk management approaches.
How to Succeed at This Stage
Experiment with different types of processes to validate the earlier results and evaluate the feasibility and potential of wide-scale deployments for multiple business functions.
Address change resistance. Concentrate efforts on executing effective change management: Educate employees on the values of new solutions and the importance of the said changes. Implement feedback loops and training sessions to tackle existing concerns and resistance.
Consider the opportunities for scaling existing solutions. In particular, look for automating extra steps within the same workflows, as well as evaluate more complex automation scenarios, requiring changes in legacy technologies.
Next Steps in Your Automation Journey
Analyze and document all the results. Establish clear documentation for all automated processes, including criteria for process selection, infrastructure setup, security best practices, and application lifecycle management.
Re-evaluate your initial automation objectives. Determine which options still stand strong, and in which areas automation failed to deliver the expected results. Investigate the root causes of failures. Incorporate the lessons learned into the new set of objectives.
Build a full-scale process pipeline according to the refreshed objectives. Agree on the delivery/implementation approach(es) and schedules for different use cases. Implement benefit capture metrics and wider-scale reporting.
Stage 3: Expansion
The previous two stages of automation adoption are mostly driven by the question of "What can be automated?". A more mature approach, however, is thinking "What should be automated?".
On average, businesses have over 1,000+ business transformation scenarios identified but left untouched due to limited resources. Most leaders choose to concentrate on automating the top 20 percentile of processes that bring the most value to their businesses. Yet, the remaining 80% of largely manual processes end up requiring the most human resources, resulting in low workforce productivity.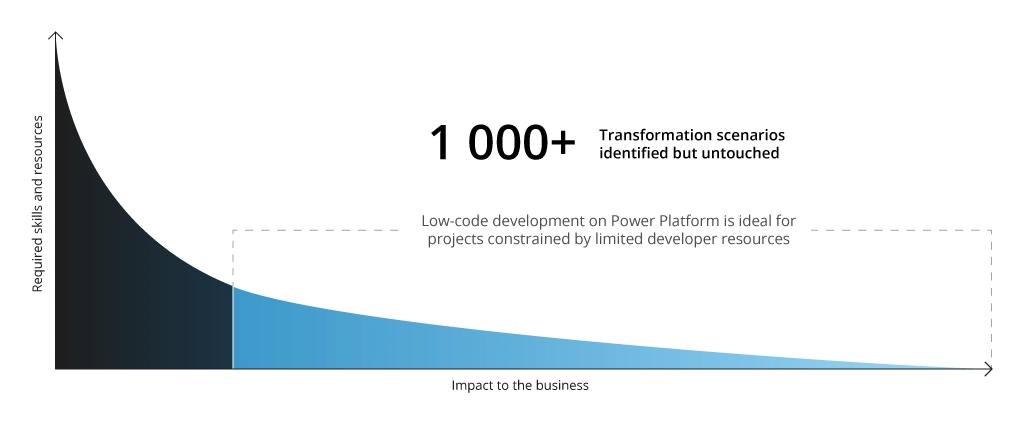 Therefore, we recommend focusing the effort on identifying the best contenders for automation. Engage more business analysts to help identify mission-critical automation scenarios, which will then be documented and added to the development pipeline.
To ensure the timely identification and delivery of new solutions, effective management will be crucial. Set up an automation center of excellence (CoE), which will focus on delivering high ROI opportunities with full-code solutions. Identify leaders who could promote citizen development on team-/department levels to automate simpler, lower-level, personalized processes with Power Platform.
Establish a clear ownership structure for different automation solutions, paired with a maintenance schedule. To capture long-term benefits, you need to ensure that your RPA solutions are based on the optimal license, updated in a timely manner and improved whenever the underlying systems are amended.
How to Succeed at This Stage
Establish a Center of Excellence: a dedicated unit, which takes full ownership over the identification, development, testing, and maintenance of various automation scenarios. It is also a good practice to establish a central code repository for different automation scenarios to promote reusability.
Strengthen the management processes. Ensure all stakeholders are on board with the designated roadmap and engaged in the implementation process. Set up a formal process for assessing different processes for automation. Estimate the costs and resource allocation for different projects; assign accountability and success metrics.
Empower business users. A lot of automation value potential will remain unrealized without a strong buy-in from the business users. Work with your teams to identify cases where automation can benefit individual users and provide them with low-code tools and training to pursue such initiatives. Deliver smaller-scale, cost-effective automation by nurturing a task force of citizen developers.
Next Steps in Your Automation Journey
Explore additional technologies to ramp up your automation. Tackle more complex scenarios, where low-code and rule-based RPA software currently falls short. Identify areas where intelligent automation (IA), powered by machine learning algorithms can be used to perform tasks, requiring conditional logic and analytics. Evaluate extra technologies such as intelligent document processing (IDP), optical character recognition (OCR), and natural language processing (NLP) for extra use cases.
Invest in employee upskilling. Not every employee needs to be a citizen developer, but they must have sufficient digital literacy to be comfortable with accessing, using, and customizing automation solutions available to them.
Chart the risk radar. Assess and communicate compliance requirements for different groups of automation being created. Ensure that all deployed solutions have appropriate identity and access management (IAM) policies and are secured against common cyber threats.
Stage 4: Scale
The final stage in our automation maturity assessment is scalable deployment across multiple business units, functions, and branches.
New automation solutions are effectively delivered by:
CoE that selects the best-fit automation technologies and approaches for approved candidates and ensures effective application maintenance.
Citizen development groups, operating on a team level, who tackle bottom-up initiatives for smaller, simpler, processes.
Each unit has clear policies for the delivery, deployment, and maintenance of the produced solutions, based on the identified compliance and security requirements.
Here's how scaled automation adoption looks in practice. Heilbrigðisstofnun Norðurlands (HSN), the largest national healthcare institution in Iceland, had a false start on its RPA journey. They started with a rule-based RPA system and successfully automated a range of internal processes. However, excessive licensing costs, paired with the solution's constraints, stalled HSN's automation journey.
Infopulse automation consultants stepped in to facilitate the adoption. Based on the audit, we decided to go with alternative RPA technology and selected new use cases in the HR function for a pilot deployment.
Being satisfied with the new solution's capabilities and PoC results, HSN green-flagged an expanded deployment. At present, the company has successfully automated 20+ HR and financial processes, with 50 new candidates now in the pipeline.
Scalability is what sets RPA apart from other solutions. The developed solution acts as a "marketplace" for automated workflows, which can be easily adopted by any Icelandic healthcare institution.
Building an Automation Roadmap for Your Organization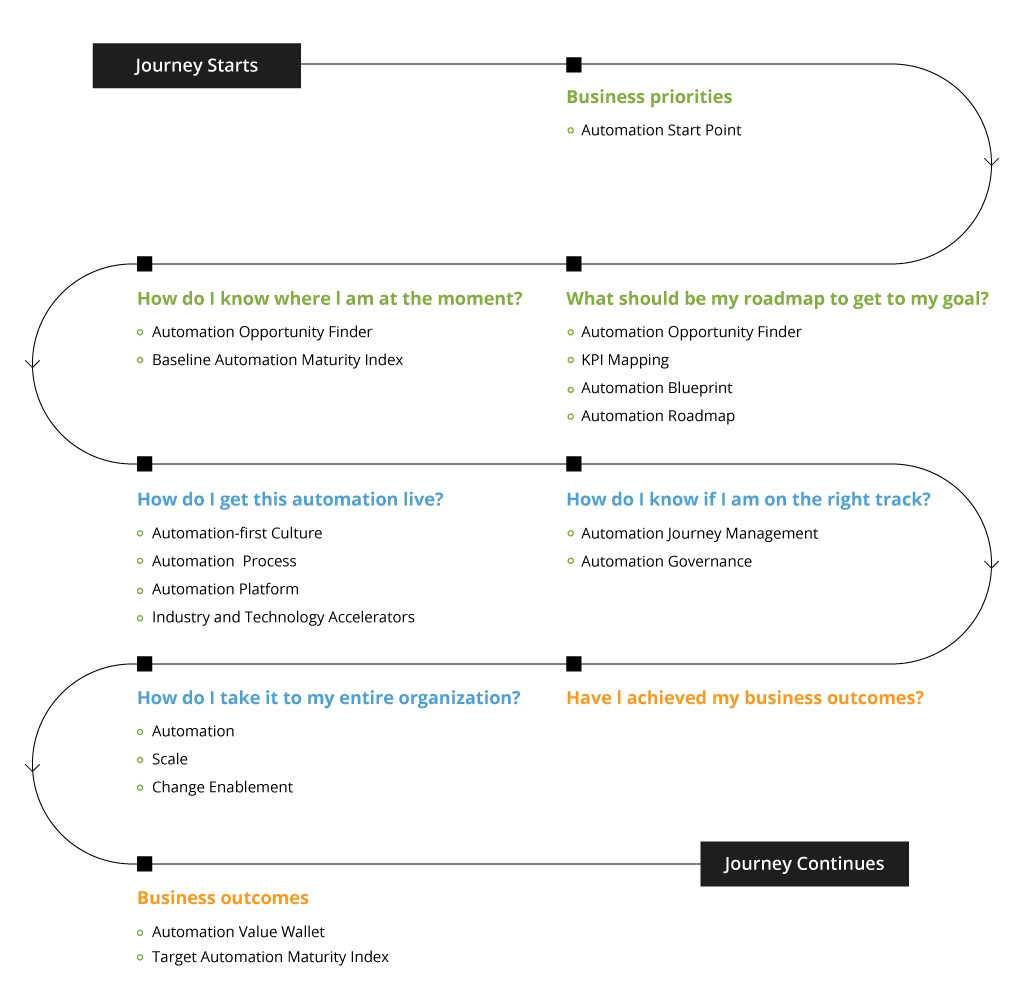 Automation is an ongoing journey, rather than a fixed destination. Use your business objectives as beacons for finding the best candidate processes for automation. Course correct your plans by analyzing results from pilots and benchmarking them against the initial requirements.
Progress from simpler use cases to more complex ones by exploring different automation technologies and evaluating the opportunity cost for each. Create effective change enablement processes to battle corporate inertia and the initial employee reluctance to explore the full spectrum of automation capabilities.