Article
Mastering Power BI Implementation: A Step-by-Step Guide
Originally published: May 31, 2023
Updated: June 05, 2023
7 min. read
Data & Analytics
Digital Transformation
Business Applications
Almost
two-thirds (64%) of digital leaders
believe that big data and analytics will be among the top two technologies for providing a competitive edge in the coming year. It's already widely recognized that data-driven insights help gain a strategic advantage in today's business landscape. In this article, we will discuss how to get such insights using Power BI's data analytics capabilities. Most importantly, we will share with you a stepwise approach to its implementation. Dive in!
While businesses are generating more and more data, the demand for robust business intelligence (BI) solutions is only expected to grow, with the global BI market size reaching over $50 billion by 2032.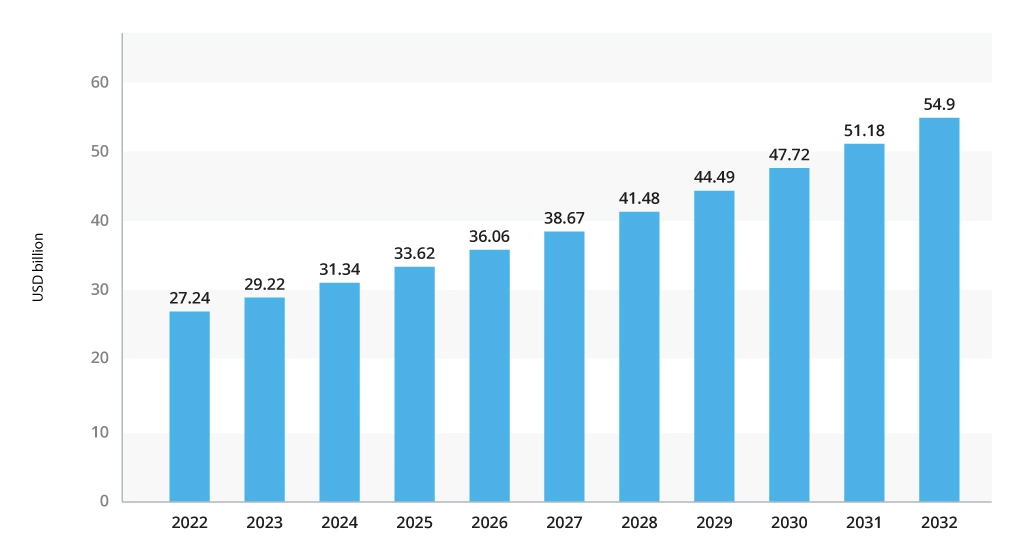 Microsoft Power BI, a cloud-based BI solution, has emerged as a leading tool in this market, providing users with powerful data visualization, reporting, and analytics capabilities. The platform has gained significant popularity in recent years due to its ease of use, flexibility, and powerful data modeling capabilities. At the 2021 Microsoft Business Application Summit session, Microsoft revealed that Power BI is now used by 97% of Fortune 500 companies.
So, even if implementing Power BI already makes sense for most businesses, many still lack enough knowhow to do it through less trial and error. Top-notch Infopulse experts in Power BI adoption has created a step-by-step guide for you to tackle all the implementation pain points.
Discover the comprehensive guide about the entire Power Platform to drive business digitalization!
How to Implement Power BI: Phases & Best Practices
As part of your Power BI adoption plan, you should well organize each phase since Power BI adoption necessitates proper preparation, execution, and oversight. Understanding the steps of an implementation process and applying the best practices will help you navigate the process. For instance, according to Microsoft, Power BI deployment consists of four key phases.
Phases for Deploying Power BI in Your Organization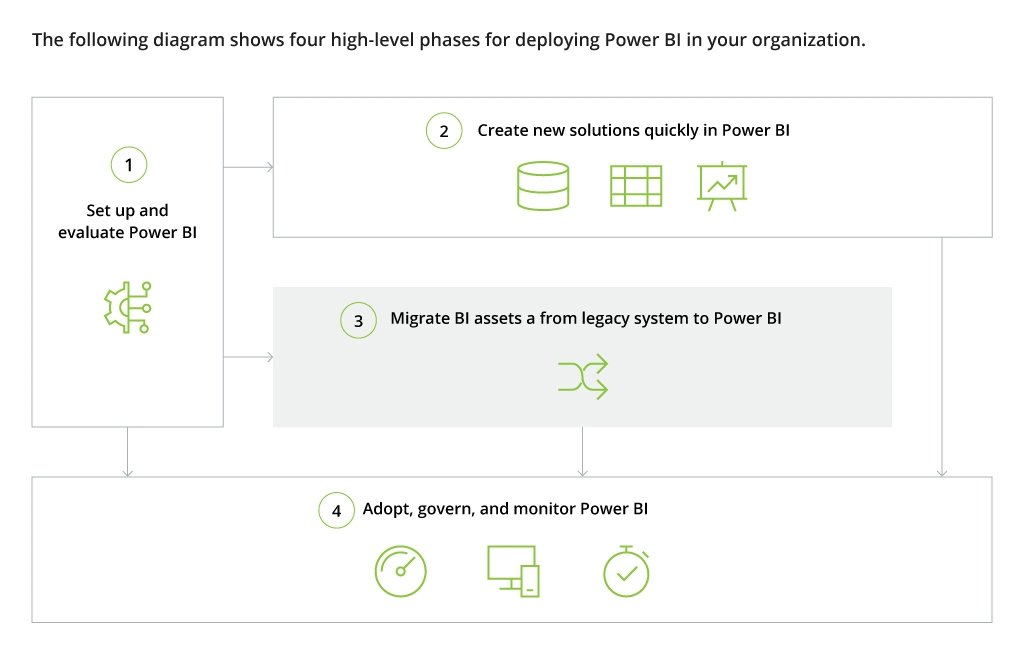 We suggest you consider an alternative Power BI implementation plan comprised of seven phases, each with its own set of activities.
Phase 1: Licensing and Setup
The journey begins with obtaining the necessary Power BI licenses and setting up the infrastructure. This involves acquiring the appropriate licenses based on your organizational needs and deploying Power BI to your desired environment, be it on-premises or in the cloud.
During this phase, it is recommended to perform the following tasks:
License Assessment: Evaluate the existing licenses within your organization, particularly the Microsoft 365 subscriptions, to determine if Power BI licenses are already included. Check the available license types, such as Power BI Free, Power BI Pro, or Power BI Premium, and understand the limitations and features associated with each license type.
License Procurement: If your organization does not have the required Power BI licenses or if additional licenses are needed, consider purchasing the necessary licenses from Microsoft. Explore the licensing options that align with your organization's needs, budget, and expected usage of Power BI.
License Allocation: Once the licenses have been acquired, allocate the licenses to the appropriate users or groups within the organization. This ensures that authorized individuals can access and utilize Power BI based on their roles and responsibilities.
Setup and Configuration: Having ensured proper licensing, proceed with the setup and configuration of Power BI. This involves creating a Power BI workspace, establishing data connections, and configuring security settings. Additionally, define governance policies and guidelines for data access, sharing, and collaboration within the Power BI environment.
Remember that establishing a solid foundation during this phase ensures a smooth transition to the subsequent stages of implementation.
Phase 2: Defining Business Needs and Use Cases
To maximize the value of Power BI, it is crucial to identify and understand your organization's specific business needs and requirements. Otherwise, there is a chance to fail as only 48.5% of organizations are driving innovation with data, according to the Big Data and AI Executive Survey.
Therefore, define the sources of data that will be integrated into Power BI, analyzing relationships between different systems and envisioning connections. During this phase, self-service BI becomes a primary consideration, empowering users to generate their own reports and visualizations, thereby fostering agility and accelerating the acquisition of insights.
In addition, construct report mockups to capture visualization requirements, data cuts, and filters, laying the groundwork for future phases.
This scheme illustrates the concept of managed self-service BI, showcasing the balance between user empowerment and IT governance. The latter allows organizations to unleash the full potential of their data assets.
Managed Self-service BI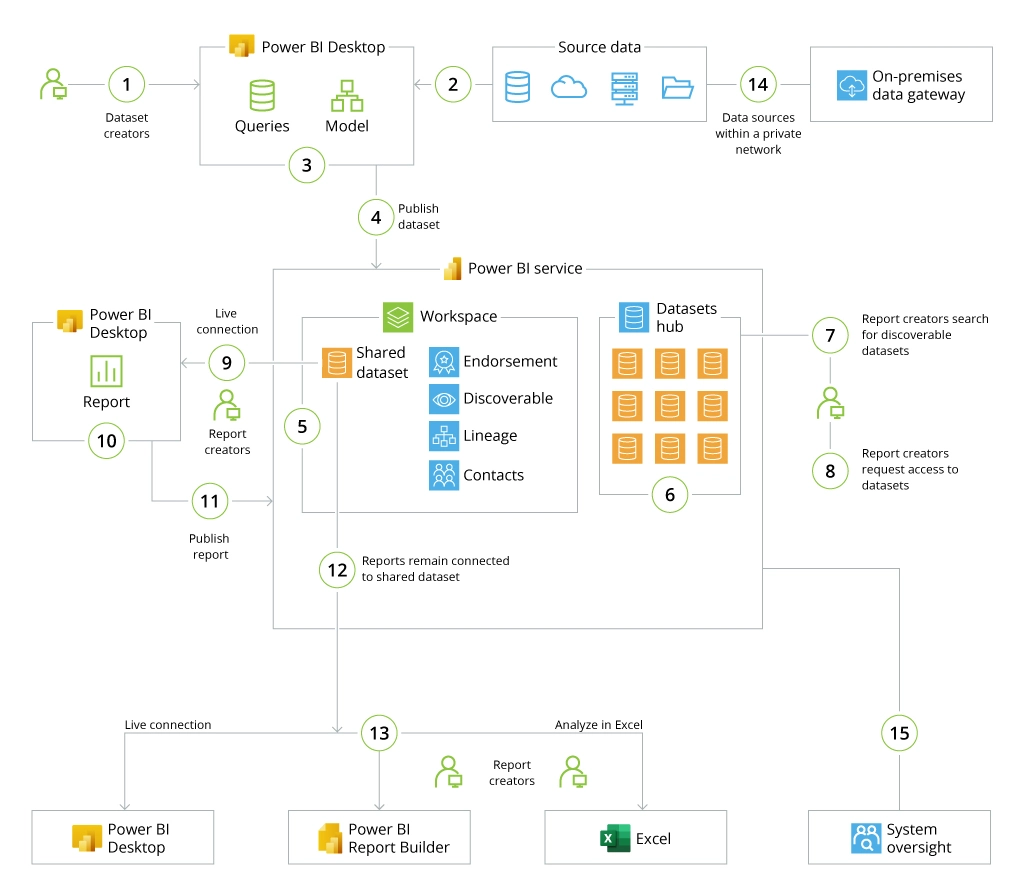 Phase 3: Building Data Models
With a clear understanding of business needs and requirements, you can already proceed to creating the data model in Power BI. As part of this process, you should develop a data structure that best suits your needs, identify the connections between your data, and integrate metrics that reflect your KPIs.
More attention to detail during this phase ensures accurate and reliable data analysis. Also, it's crucial to have strong collaboration between stakeholders, analysts, and developers to refine the models based on feedback and evolving needs.
By investing in robust data models, organizations empower data-driven decision-making within the Power BI environment.
Case in point. Infopulse empowered a security service leader with a seamless migration to the cloud. Leveraging Microsoft Azure and Power BI, we established a scalable data warehouse, automated processes, streamlined data flows, and ensured role-level security with Azure Active Directory. With the combined power of Azure and Power BI, our client achieved intelligent analytics and unlocked valuable insights from their data.
Phase 4: Visualization: Bringing Data to Life
Among the benefits of Power BI, is providing a rich set of visualization options, enabling you to transform data into compelling visual representations. Explore the built-in visualizations and templates that Power BI offers, and if needed, leverage custom visualizations or combine existing ones to meet specific business requirements. This phase emphasizes connecting the data model with the chosen visualizations, effectively conveying insights to your audience.
Case in point. Infopulse partnered with a leading duty-free operator in Ukraine to centralize their financial data management and enhance data visualization through Microsoft Power BI. Overall, the project streamlined operations, reduced manual efforts, and improved financial processes for our client.
Phase 5: Testing the Reports
Before presenting your reports and dashboards to end-users, thorough testing is essential. Power BI deployment pipeline offers a valuable tool to streamline the testing process and enhance the overall testing experience. It provides dedicated environments to verify the accuracy of the data, validate the functionality of interactive elements, and ensure compatibility across different devices and screen resolutions. Overall, rigorous testing ensures a seamless user experience and boosts confidence in the insights delivered through Power BI.
Unlock the power of your data with 10 steps to insightful Power BI reports.
Phase 6: Publication – Sharing with the Organization
With your reports and dashboards fully tested and validated, the focus shifts to publishing and sharing them with your intended audience. Power BI offers multiple publishing options, allowing you to distribute reports securely within your organization or externally with clients and partners. Don't forget to establish appropriate user access levels and permissions, ensuring the right individuals have access to the right insights.
Case in point. A leading agricultural company in Ukraine partnered with Infopulse to develop a mobile business application using Microsoft Power Apps and Azure services. The solution streamlined grain balance calculations, the results of which were presented in Power BI. The app included 30+ interfaces, 100+ calculation scenarios and thus, improved crop harvesting control, optimized logistics planning, and precise grain balance calculations.
Phase 7: Active Usage and Continuous Improvement
BARC's Data Culture Survey 23 shows that more than a third of the businesses have used data to continuously improve processes and cut costs. Also, nearly half of those businesses list enhanced decision-making as one of their accomplishments.

So, encourage users to leverage Power BI for their day-to-day decision-making, providing training and support to enhance their skills and understanding. Gather feedback from users to identify areas for improvement and refine your reports and dashboards continuously.
Common Power BI Implementation Challenges
Like any technology implementation, there are challenges that can arise during the Power BI adoption process. We will look at some of the common challenges and discuss strategies for addressing them.
Challenge 1: Power BI Provides Shorter Data Retention Time
One of the challenges that organizations face during a Power BI implementation is that the solution may not provide the necessary data history for certain analyses. Power BI has a default data retention period of 24 months, which may not be sufficient for organizations that require more extended data retention periods.
Solution: Evaluate data needs and consider implementing a data archiving strategy to store historical data separately. Alternatively, utilize tools like Excel or SQL Server Reporting Services for reporting and analytics on historical data.
Challenge 2: Limited Data Storage
Another common challenge during a Power BI implementation is the limited data storage capacity. Power BI has a limit on the amount of data that can be stored in the cloud-based Power BI service. This can be a challenge for organizations that have large data volumes or need to store data for an extended period.
Solution: Implement a hybrid solution by combining cloud-based Power BI with an on-premises data storage solution. This approach provides the advantages of cloud-based analytics while offering greater control over data storage and security.
Challenge 3: Lack of a Centralized Data Model
Lack of a centralized data model is another significant challenge during Power BI adoption. Power BI allows users to import data from multiple sources, which can result in a fragmented data model, making it challenging to analyze data consistently across the organization.
Solution: Establish a centralized data model that caters to the entire organization's data needs. For this, coordinate with different teams and departments to ensure the data model meets the requirements of all users. Leverage Power BI's data modeling capabilities to create a standardized data model for reuse in various reports and analyses.
Case in point. By centralizing data with Power BI, Infopulse provided a cloud-based data management solution to an agribusiness giant. Through modernizing their processes, the company accomplished quicker reporting, analytical insights, and streamlined operations. In general, with scalability, ERP integration, and self-service BI capabilities, the solution optimized performance and delivered valuable insights for the company's digital transformation.
Overall, by addressing these challenges and implementing the recommended solutions, your organization can overcome hurdles and successfully adopt Power BI for enhanced data-driven decision-making and improved business outcomes.
Conclusion
Implementing Power BI can be a game-changer for organizations looking to unlock the power of their data since it offers a range of features, including self-service analytics, customizable dashboards, and advanced visualizations.
To be effective, however, the implementation process must be meticulously planned, executed, and managed on-going. Finding a trustworthy development partner that can carry out the solution's implementation is crucial for a smooth rollout, as is following a staged implementation strategy and using best practices throughout the process.